A sense of resigned chaos reigns over the Ghaziabad courts and violence is routine.
Itake a seat next to Kamlesh Kumar*, who acknowledges my presence with a little nod. Intimidating at first pass, Kamlesh is timorous for an under-trial charged with a petty crime. His case has been dragging on at the Ghaziabad courts for seven years. When I ask him what he is in for, he just points to his handcuffs and says nothing.
My polite enquiries are met with answers about the state of Kamlesh's upset stomach. But he is happy to be here because of his companion, the policeman assigned to him who is scrolling through his WhatsApp messages and typing with one thumb. "This is my dear friend, Inspector Tyagi*," he says. Inspector Tyagi barely nods and continues to play on his phone. The two have developed a kinship arising out of forced intimacy. Their conversation is scarce, but they are connected by the comfort of mutual boredom.
I gently press Kamlesh again, and learn that he had stolen a cylinder from his neighbours because his mother was always complaining. "Jawaani thi," he offers philosophically. "Galti ho gayi. Sazaa de rahe hai." For this measly crime, Kamlesh is in and out of the courthouse, where his only pastime is to peek into Inspector Tyagi's phone.
For people like Kamlesh, the courthouse rarely offers any inspiration or departure from routine. The street outside is scattered with offices of advocates, as affidavit drafters and notaries line up next to men selling blenders. Police patrol vans are on standby in front of crowded tea shops. I walk in with false confidence, hiding my notebook and my confusion, passing little windows through which I spy men sorting huge stacks of papers.
I come to a stop in front of a man selling birds outside an advocate's office, but my attention is on a bunch of old bullets strewn across the ground. The bird-seller grins at my surprise. "Someone must have dropped them," he says. "There haven't been gun shots here of late."
Ghaziabad's streets and its courts are no strangers to violence. When the trial of the Noida double murders was at its peak, a young convict attacked Dr Rajesh Talwar with a meat cleaver. I remember asking a young lawyer if she had witnessed the attack. "It was terrifying," she'd told me. "I don't go to court anymore without a consultant by my side. I have seen cases being won through manhandling and threats. It is mob rule, here in Ghaziabad."
That conversation replays over and over in my mind in the two hours that I have spent here. When I hear a few shouts from inside a courtroom, slight paranoia settles in, and I expect to see a knife or two. I peek inside, only to find a room full of lawyers pushing and shoving each other. Punches fly and a woman screams, but the judge rifles through his papers, like an indifferent father to unruly children.
Lethargy and indifference cast their long shadow on these courtrooms. The building is poorly equipped and appears in a permanent state of incompletion.
"How is this allowed?" I find myself wondering aloud and realise that I'm the only one surprised by this. Kamlesh's mood, meanwhile, has taken a turn toward glee. "It is like watching TV," he says. "Better!"
***
The counter where cases are registered is packed with young men carrying loose notes. The under-the-counter slipping begins its long trail here and snakes around the entire courthouse. On an average, a man – and there are mostly men around me – spends at least ₹100 a day at court. If he's really lucky, he'll even get a hearing.
A senior lawyer tells me that each courtroom has close to 60 cases a day. Most of these go unaddressed. According to a National Judicial Data Grid survey, Uttar Pradesh accounts for 23.76% of total pending cases, the highest in the country. In November 2015, Ghaziabad was weighed under more than 1.4 lakh cases. Two-day strikes, although banned by the Supreme Court, are common.
"It is like being in a dark lake," says a senior resident lawyer who did not wish to be named. "You just keep swimming, eyes closed. Sometimes you gasp for breath." I'm a bit taken aback at the air of detachment he wears, but he explains that he and his colleagues are inured to the system: They have to grapple with 60-70 cases a day, where witnesses don't show up and evidence gathering is messy at best. Only about five percent of Ghaziabad's lawyers are allowed to pick the cases they fight; most are slotted at random. "Justice is not just slow, it is dispensable," says the lawyer.
Lethargy and indifference cast their long shadow on these courtrooms. The building is poorly equipped and appears in a permanent state of incompletion. The appellants seem exhausted, just like the people who are arguing and hearing their cases. I observe a stenographer writing statements without any supervision; an accused stands texting in one corner of a courtroom. And then there is the cursed north-Indian summer. As an ex-advocate puts it, "Who can serve justice in 45 degrees?"
I've already spent hours trawling the corridors of the courthouse, and I am tired and beginning to feel a little numb. The courthouse's passages have grown dark; the chaos of the afternoon has fallen silent. Only a deep smell of despair infiltrates the empty rooms around me. On my mind is the thought of the hundreds that come here every day, holding on to a fleeting sense of hope; and on my lips is a silent prayer – that I may never have to return again.
* Name changed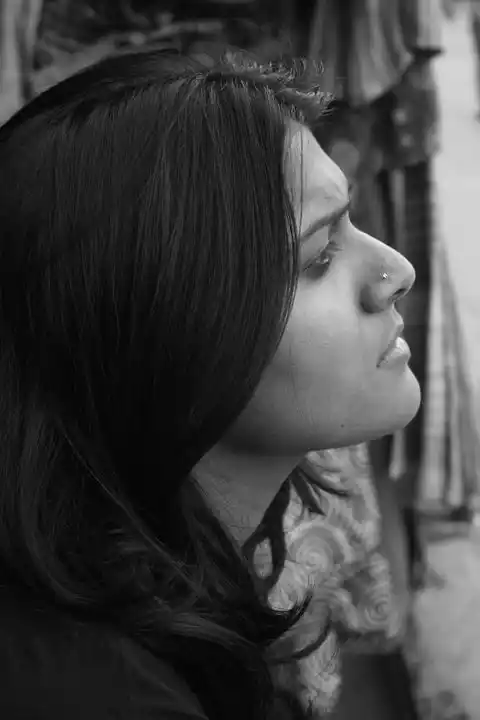 Sharanya Deepak is a writer, currently based in New Delhi. Her work has appeared in Tehelka and Roads & Kingdoms. She has also written a book for children and hopes there will be many more.