While details of the tragic death are yet to emerge, sources recall that Valentine was unable to come to terms with things like "hook ups" and "pyaar ek dhoka hai".
February 14, Mumbai: In an incident that is simultaneously being described as "tragic" and "lol", the saint of love today committed suicide in the city of dreams. He was 1782. Saint Valentine is survived by no family, but is being mourned by multiple greeting card companies, hotels, bars, and other cogs of the love industry.  
While details of the tragic death are yet to emerge, initial reports suggest that the saint had arrived in the city around noon, and had decided to take an Uber pool to a pub for a quick pint of beer before starting his Mumbai darshan.
According to an unnamed eyewitness present in the cab, the saint was sitting quietly, calm and composed, when he couldn't help but overhear the pretty girl on the front seat. She had reportedly decided to put an end to the business with her boyfriend who was accused of liking "that slut Sneha's" picture on Instagram. "She just yelled, 'Who the hell do you think you are Kunal! Jump off a cliff,' and hung up on her lover." The eyewitness also said that the girl began yelling, "All you men are dogs! Kutte ho tum. Bhauko na!" This caused a minor palpitation for Saint Valentine, who, it is well known, has a weak heart.
Soon, the cab stopped at a Khar pub, and out of severe distress, Valentine, decided to switch the beer for a whisky neat. A girl approached him and asked if he was new to the city. She promised to show him around a few local bars, and Valentine, in his state of confusion, agreed. Soon after entering the next bar, he realised he had unwittingly became a part of Galantine's Day.
"Only words like 'right swipe' and 'Netflix and chill' and 'fuckbois' were thrown at him," said an eyewitness.
Valentine, said sources, was aghast when he learned about Galantine's celebration, where single women come together to bring down the mushy spirit of Valentine's Day by mostly hating on men. "Look at this! What a pathetic attempt at sliding into my DMs," said a girl. Sources present at the bar said that Valentine attempted to establish what a DM was and when he learnt that this is how people asked each other out now and the proposal was long dead, a part of him broke.  
This was followed by a speed-lesson on Tinder and hook-ups. The girls reportedly explained to him that a hook-up was when a guy and a girl made out because, as Hank Moody puts it, "a morning of awkwardness is far better than a night of loneliness".
Sources recall that by this time, Valentine was just desperate for someone to utter the four magical letters L-O-V-E. But today was not his day. "Only words like 'right swipe' and 'Netflix and chill' and 'fuckbois' were thrown at him," said an eyewitness.
CCTV footage of Valentine running out of the bar, holding his chest has been doing the rounds of Facebook. He was last seen interacting with members of the Dry Spell Healers Club. "We told him about Mumbai's biggest V-Day event," a member of the club told News Weed.
Gasping for breath Valentine headed for Senapati Bapat Marg in Mumbai, hoping to see couples gathered, holding dil-shaped balloons and singing love ballads like "Pyaar Deewana Hota Hai" and "Pyaar Kiya Toh Darna Kya." Instead what he saw was a gathering of single protestors, screaming and shouting, "Pyaar ek dhoka hai" and "Tera Bhi Katega" and claiming to #represent the Sakht Laundas and single women, who couldn't care less about the Sakht Laundas.
This was the moment Valentine's heart really broke. According to sources, he was seen running toward Marine Drive, screaming, "Ye bik gayi hai gormint" before jumping into the sea.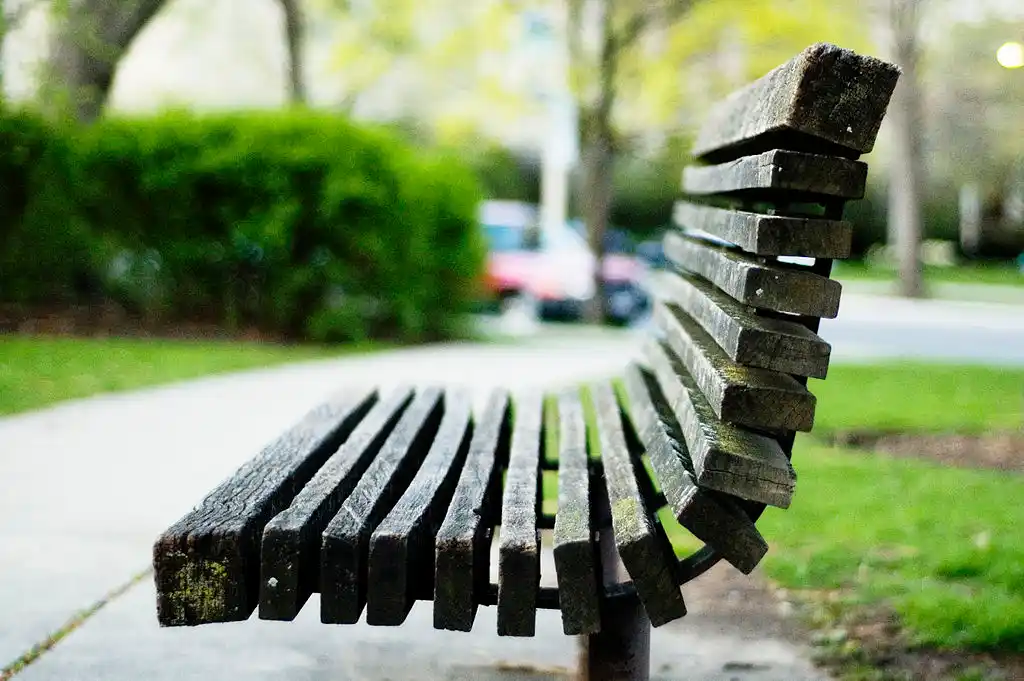 The Arré bench delivers stories that mattress. It hasn't achieved much sofar. But it's getting bedder.