Hey Gurgaon Mall Lady, what is it about me that irks you so much? Is it the fact that I'm short and make women who wear me comfortable? Or is it just your expertise in misogyny?
Dear Gurgaon Lady who confuses me with an invite code for rape,
Congratulations! You are now the new poster girl for the rapist bhaiyas and uncles of Gurgaon. For too long, they've had to make do only with the support of rape apologist taujis, whose focus has been to absolve the sexual aggressor. Who can forget Tauji-in-Chief Mulayam Singh's "boys will be boys" remark?
But these creatures who fancy themselves as the "shagun ka lifafa" bestowed on their mother's womb now have you, their favourite cheerleader didi, instigating them to unleash their inner dick at the mere sight of me. For all this while, it was my sister – jeans – who was blamed for rape. But now all eyes are on me. I guess because I'm short. My shoulders are stooping, lower than the men's collective self-esteem. I'm worried now because the last thing I want to be is off-shoulder and short. Because that's just going to make you more mad.
Hey, Coco Chanel di, beam me up, will ya?
Look, I get it, my lack of length upsets you, dear Mall Lady and you end up sounding like an incoherent banshee. But I am hurt that you confuse me with an invite code for men to assault the poor girl whose shoulders I am hanging from. I agree that Churidar Aunty and Salwar Tai often accuse me of being the black sheep of the family. I am that bad apple that refused to conform and reach for the ankles; instead I settled somewhere near the thighs.
But tell me, is it my fault that the female species chooses me over sanskari sacks when the mercury breaks the glass ceiling? I know you think women are overstepping their limits by daring to feel well-ventilated, especially when their mothers mummified themselves in yards and yards of cloth to shield themselves from the male gaze. But that of course hasn't deterred any assaulter, as you should know.
I am airy AF, feel super fun, and I assure you I'll help you keep your cool if you happen to catch a sight of naked limbs
Also, what is it about women feeling comfortable in their own skin that irks you so much? Heck, I was even willing to take responsibility to be the one to goad her into embracing her sexuality like a boss. It's hardly a surprise, she fell in love with me, hook, hemline, and zipper.  
All these years, I believed a woman may have many reasons to pick a short dress – because it's hot, she wants to flaunt her body that she's worked hard for, her legs could do with some sunshine. It might never be about seeking attention and it's definitely not an invitation for assault, I thought. But looks like I was in the wrong. I guess you'd know better with your PhD in misogyny.
After all it's 2019 and how could you blame a man for anything? And if chow mein and cell phones can cause rape, what's stopping a dress, especially a short one, who has the audacity to rise so high.  
My other sisters, the burqa and the ghoonghat tell me that there is some sort of debate on banning them. But if everyone sees the world through your eyes, there'll soon be a ban on me and fellow short dresses as well.
Chhota dress, badi baat, here's a shot of advice from me: Why don't you try slipping into me one of these days? I am airy AF, feel super fun, and I assure you I'll help you keep your cool if you happen to catch a sight of naked limbs.
For the moment, though, I think I owe you, dear Mall Lady, an apology: I'm so sorry that it's you, and not me, a short unsanskari dress, that's now being branded as a national shame. Anyway the damage is done. Maybe things would not have gotten so bad if you had the grace to realise your mistake and apologise to the girls and women you shamed.
But hey, I also have to thank you: Your bile has strengthened my resolve to be myself – just a dress, hanging in front of a girl, waiting for her to fall in love with me.
Cheers,
A proud short dress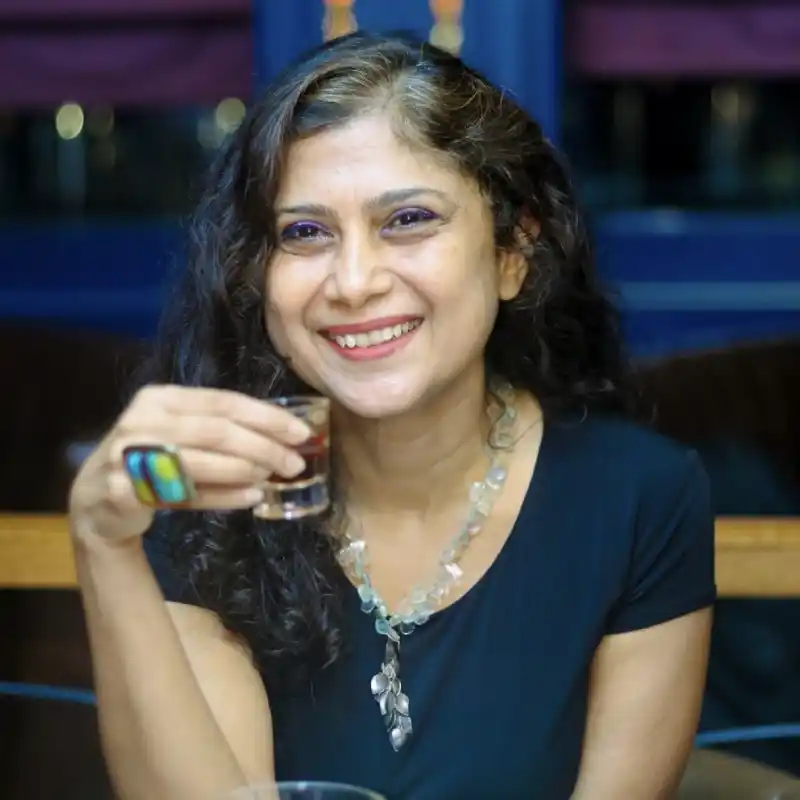 Nearly funny, almost liberal, rarely serious, Purba likes to keep a safe distance from perfection. Unfortunately she has an opinion on everything, fact or fiction, beginnings or ends, light or heavy, long and short.