Dear Meghan Markle, don't you know your job as Royal bahu is to wave vacuously into the horizon, nibble on pâté, and give birth to babies named Margaret or William? What gives you the right, then, to force a 35-year-old unemployed prince out his grandparents' house?
Meghan is finally showing her true colours. She has engineered a #Megxit.
The Duchess has fled to Canada to be with her son after recusing herself from Royal duties, leaving her husband to clean shit off the ceiling. I mean, what's not to like about being a Royal? It looks elegant from this side of the fence. It's suffocatingly luxurious, full of rules, complex protocols, and centuries old laws and injunctions.
Your only job is to wave vacuously into the horizon, sip champagne, and nibble on pâté with other horse-faced housemates. As a Royal bahu, you have an unlimited budget for hats that look like two birds midway through a mating ritual. Your only real contractual obligation is to have a perfectly working uterus so you can pop out a battalion of future royals, who will no doubt be named Margaret, William, Charles, Elizabeth, or Anne.
It's not as if Marvellous Mrs Markle was expected to scrub the floors of Buckingham Palace, polish the jewels stolen by the empire, or make chicken tikka masala for dinner for her Suraj Barjatiya-sized family while they play Antakshari. All she had to do was put up with some toxic scrutiny by tabloids and a lot of racist vitriolic abuse disguised as criticism. I mean that's the least you can expect in exchange for a grand title like the Duchess of Sussex.
Didn't Meghan get the dossier for coloured people? The one that states no matter how accomplished you are, as a woman of colour it is your duty to put up with barbs? Clearly not, because she's gone ahead and had the temerity to flee my favourite city for one devoid of palaces and a general air of animosity from the public.
What an ungrateful wench. How dare she seek peace of mind and financial independence when she could have spent the rest of her life as a buttoned up Duchess, cutting ribbons? Splendid teeth she has as well. No cavities.
As a Royal bahu, you have an unlimited budget for hats that look like two birds midway through a mating ritual.
I always knew Meghan Markle would turn out to be an American arriviste who had wheedled herself into the Royal loins. What did she have to lose but her flourishing career, her life, her freedom, and friends when she was invited to cohabit with a man who lives off the riches plundered by his grandma(s).
It is so obvious that the Duchess of Sussex never had any intention of respecting the life, the protocol, and the status her dear husband was born into. And now she is making a Helpless Harry out of him too. Forcing him to give up his freeloading. Telling his family he will still honour them but no longer live near them. Only an ingrate of dubious origins will have the audacity to say to her husband — "Look, you are 35, unemployed and still live with your Grams. Don't you think we should do something about it?"
You silly girl, don't you know, this move is expected to cost Hapless Harry millions of dollars. At this point, he's only worth around $60 million, while his wife is worth around $7.6 million. He's obviously under duress. Not-so-dear Duchess, can you please free him from this spell so that he can go back to behaving like a boorish Royal?
Don't you see, you have stolen our favourite prince with your emotional blackmailing. He was "the most popular royal the country has had for many years." He had the humility of his mother. He married a woman who was welcomed to this country with stiff upper lips and bad jokes about her race. And now he might not even get a full episode dedicated to him in future seasons of The Crown.
What a terrible shame!
Meanwhile, while you may go back to acting, I can't help but wonder what His Highness will do? Start a daddy blog? Become an Instagram influencer? A male Nigella perhaps, who cooks dishes dripping with butter and oomph?
Didn't Meghan get the dossier for coloured people?
How will he survive the rest of his life as a commoner? Who will the British press spew bile at? Where will you find a ready retinue of house-staff, nannies, footmen, horse nurturer, nappy sniffer, teacup holder, absolutely free of cost. Do you think you'll ever find a playground as big as Buckhingam in Canada? Poor Prince Archie will now have only Beverly Park to run around. How will the fragile British economy and Harrods survive Megxit? Are you sure you haven't been watching so many Indian saas-bahu series that you've reimagined your in-laws as outlaws?
I can already hear a sad violin playing in the background.
In conclusion, all I have to say in my capacity as a fan of the Royal Family is that Meghan you are doing princessing wrong. You should have sacrificed your life for a title and a new family familiar with systematic oppression. Instead now you'll be able to travel freely, speak freely, and support causes of your own choosing. What a royal mess!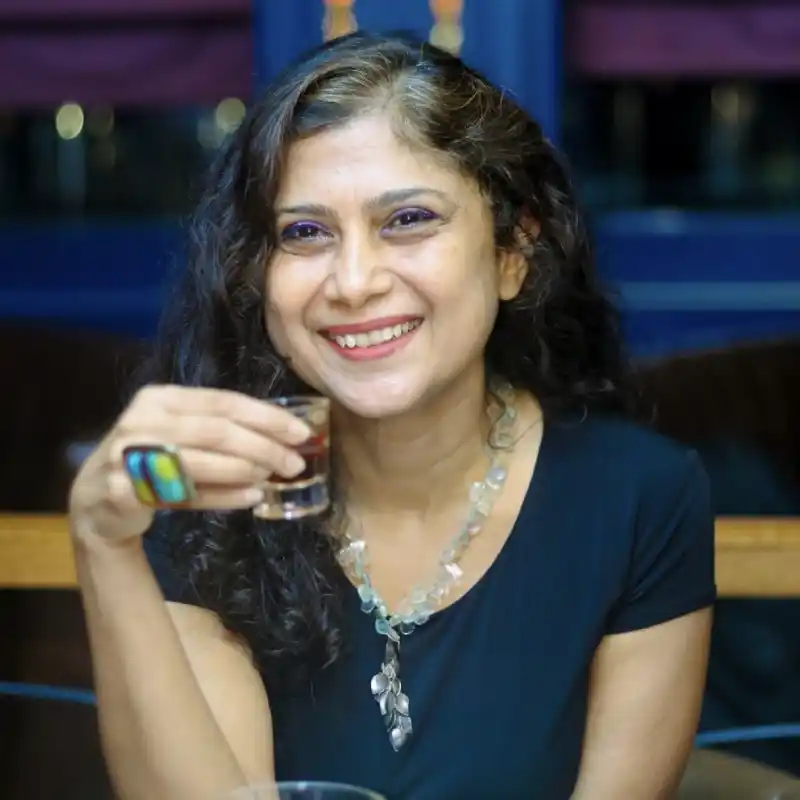 Nearly funny, almost liberal, rarely serious, Purba likes to keep a safe distance from perfection. Unfortunately she has an opinion on everything, fact or fiction, beginnings or ends, light or heavy, long and short.