Kanye West has not been at his Kanye Best. His Twitter rants to cause Kanye Unrest seems to have left the world Kanye Unimpressed.
Lately, Kanye West has not been at his Kanye Best. In fact, he seems a little Kanye Messed. His Kanye Quest to cause Kanye Unrest has left many of his fans Kanye Distressed.
West took to Twitter on Wednesday, where he Kanye Expressed his love and support for President Trump, including pictures of a signed #MAGA hat and a reference to Trump as his brother in "dragon energy". The string of cryptic and rambling tweets continued for several hours, which seem to have pleased the President, "despite the constant negative press covfefe…"
Kanye, I assume, sent out the tweet minutes after opening his takeout lunch in LA.
A fortune cookie probably fell like magic into his lap. Miles and hours apart, Donald Trump had been forced to dine at a Chinese restaurant in DC. After Trump spent the meal mostly complaining that the steamed rice was too spicy, the two bravely decided to try a fortune cookie each. They cracked open their cookies and read the legend below at the exact same moment. The rest is Twitter history.

The endorsement of Trump has naturally prompted criticism. It came from singer-songwriter John Legend, and veteran rappers Snoop Dogg and Ice Cube, with many fans and public figures calling for a full-blown cancellation of Kanye. But Kanye could not care less. After earning a "thank you" from his "brother" The Donald, he continued on the path of Twitter enlightenment.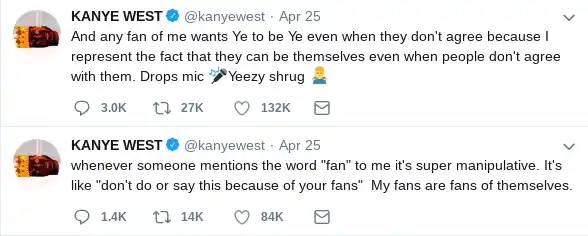 Kanye was so pleased with the profundity of this thought about the nature of fans, that he got his assistant to transcribe it, with actions, on Twitter. (A Yeezy shrug, for the uninitiated, is just a regular shrug that doesn't like Taylor Swift.)
It's difficult to wrap our heads around Kanye's philosophy. What can you say about a person aspiring for presidency in 2024 but who is "not even political". It's true he's "not a Democrat or a Republican". Because do not ever forget that he loves Hillary too.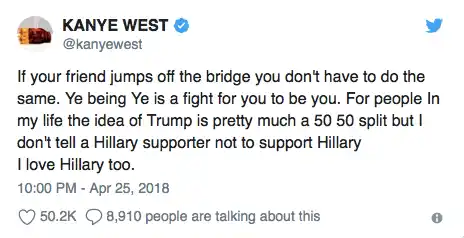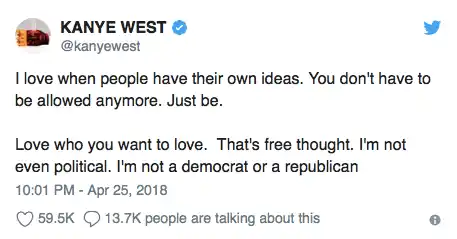 So how did Kanye West lose that Kanye Zest? Was this a momentary lapse of reason or a complete defection?
Some say it was caused by the advent of Pulitzer-winning rapper Kendrick Lamar, the Second Coming of Black Jesus, who took the #Wokandan throne that was not being watched closely enough. Hip-hop is having a serious moment, and it's that much harder to leave fans Kanye Impressed. West's last album, The Life of Pablo, dropped in 2016 to critical and commercial acclaim, but this success was followed by a long period of isolation from the public.
Perhaps this debacle is a testament to West's seemingly endless ability to get a reaction, even when we're suffering from outrage fatigue.
Now, West is returning with not one but two new albums, plunging back into a music landscape that's been dominated by young artists like Lamar, Tyler, the Creator, Travis Scott, and Chance the Rapper. Meanwhile, West's more established peers have kept up with the kids, with Drake and Jay-Z churning out critic-approved hits in 2018 and 2017, respectively. We've even seen a hoodie-d zombie of Eminem return from the dead to roast Trump in a parking garage.
Maybe, just maybe, this entire thing is a play by Kanye to make Yeezys the Greatest Sneaker Of All Time – and himself the next Steve Jobs.

Is this why West doth Kanye Protest? This is not the first time he's drummed up controversy prior to an album release, with The Life of Pablo preceded by a Twitter defence of Bill Cosby. West's legend has relied on being a purveyor of outrage, where everything from declaring himself God to marrying Kim Kardashian has made the public Kanye Obsessed. As he recently tweeted: "Truth is my goal. Controversy is my gym. I'll do a hundred reps of controversy for a 6 pack of truth." In a time when even pop stars like Rihanna are outspoken about their views, it's easy to forget how West's perverse contrarianism paved the way for this age of political legitimacy in music – even though there's nary a hip-hop artist, young or old, who doesn't cite Yeezy as an inspiration.

("Fear is the path to the dark side. Fear leads to anger. Anger leads to hate. Hate leads to suffering." – Kanyoda. Kanye is campaigning for this character to feature in the next Star Wars. So far, Donald Glover hasn't returned his calls.)
The fact is, Kanye West is too Kanye Blessed to be Kanye Stressed about getting attention or being relevant. His upcoming albums were already some of the most hotly anticipated releases of the year. He fired his manager, Scooter Braun, and chose to go his own way.

Then there's his previous endorsements of the President that Kanye Suggest his genuine commitment to loving Trump. It's hard to believe when even the First Lady is incapable of the same, but then, West's stock in trade is what-the-fuckery – whether he leaves us marvelling at his talent or wondering why we're staring at a wax nude of George W Bush.
Could this be just another social experiment, a sort of Kanye Test made in Kanye Jest? Since his return to Twitter two weeks ago, he's shared many of the criticisms that have poured in, including Pigeons and Planes series of New Yorker cartoons captioned with absurd Kanye tweets. Perhaps this debacle is a testament to West's seemingly endless ability to get a reaction, even when we're suffering from outrage fatigue. It's as deeply narcissistic and mind-numbingly meta as you would expect from Kanye Pest, the ultimate troll in the dungeon.

Because in Kanye's world, hindsight is always 20/24.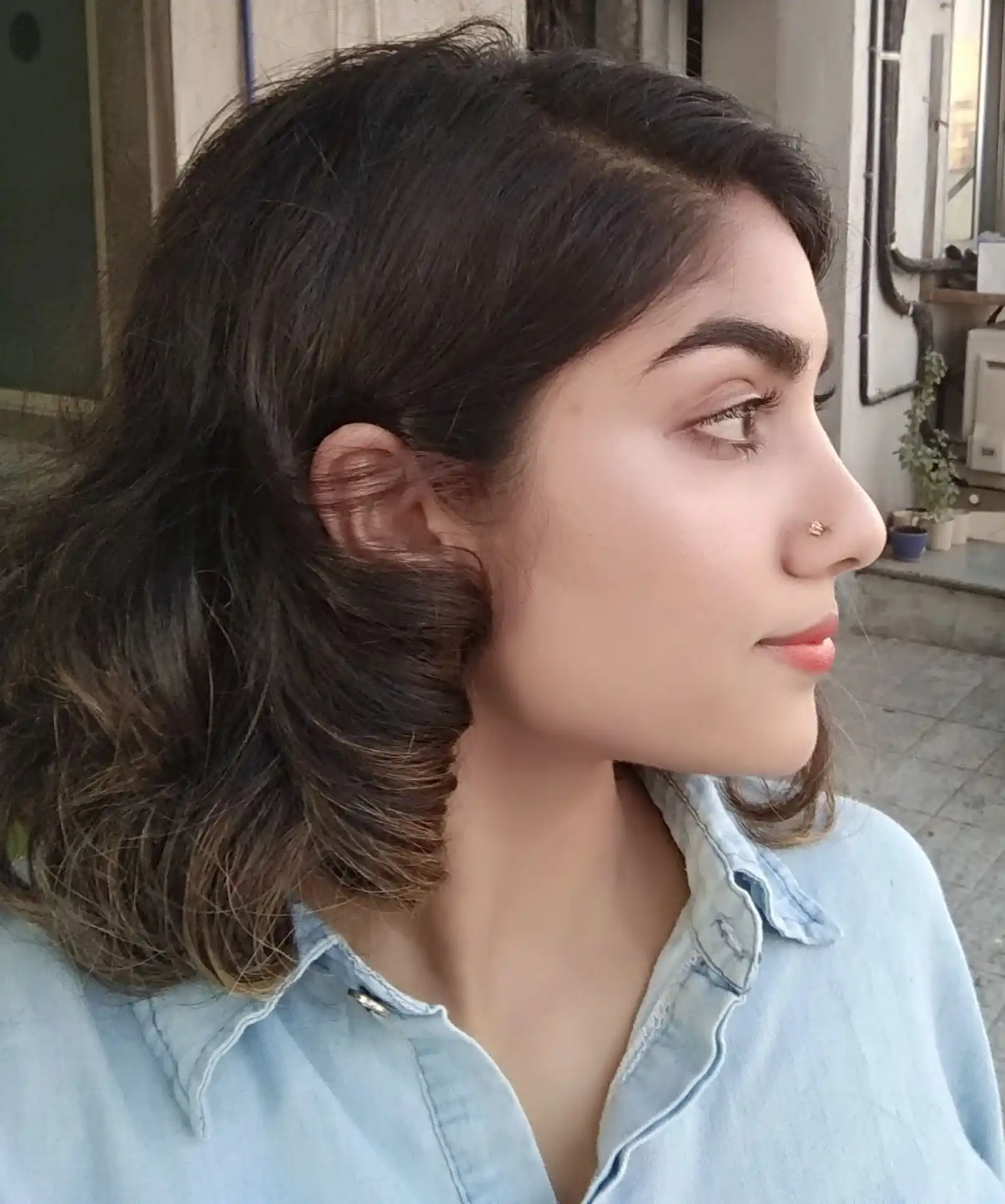 Kahini spends an embarrassing amount of time eating Chinese food and watching Netflix. For proof that she is living her #bestlife, follow her on Instagram @kahinii.