The world's best make-up and skincare influencer (in the under 10k followers category) tells us how she went from being as plain as tawa roti to causing asthma with her booty. All it takes is a gut-wrenching and haunting skincare routine.
Hey bitches, Gorgeous Ginnu, this side.
Allow me to introduce myself for those who don't already know me — I'm not just bold and beautiful like the rest of the fluff heads on the 'gram, I'm the hottest beauty influenza in town. I come bearing magic, like a pari who will change your sad AF lives with her magic wand (available for ₹1,799 only at www.fooledyaa.com). So pay attention, because what you are about to read could potentially change your life.
Exactly seven weeks ago, I was just like you — a loser. As plain as tawa roti, as laachaar as a woman post sundown in India, and with only half a dozen desperate men in my inbox. It's not that I wasn't trying my best to be as Fair and Lovely as other heavily photoshopped celebrities, and attempting to cause severe asthma with my booty. I too would marinate my face and underarms with skin brightening creams, and wait for job offers to pour in like Indra's bounty. I would stand on my balcony and stare soulfully at the horizon waiting for a stampede of lovesick mards (but ended up getting bird droppings).
I just wanted to be as beautiful as my profile pics. Tell me, is that too much to ask?
So one day I told myself, "Bahut ho gaya Ginnu, your zindagi cannot be jhand anymore." I realised that only I could take charge of my own life, and be my own fairy godmother! Tumhe "kaddu" se "dhansu" wali journey khud hee find karni padegi, girrl! 
And now, seven weeks later, guess what? I've rebranded myself as Gorgeous Ginnu (GG) — the world's best make-up and skincare influencer (in the under 10k followers category). In the last 48 hours, I've made hundreds of desperate men go weak in the knees, much like arthritis. These men are so lovestruck by me, all they can say is "Hai hottie, show bobs and vagene". But GG ignores them all… like a kween!
In the last 48 hours, I've made hundreds of desperate men go weak in the knees, much like arthritis.
New Ginnu's hair is so smooth that she can now play with others' feelings. Her cheeks are so soft, acquaintances mistake it for a baby's bottom and start looking around for diapers. And her gori twacha? It could give even a freshly cleaned toilet bowl an inferiority complex.
I know you bitches are dying to know the secret formula to tumhari GG's fab makeover. Don't die just yet, cuz in just a minute Mama's gonna be showering you with all that beauty advice you didn't ask for, and more. 
Mama's favourite product is Chalkalingam — a miracle face pudding made out of the marrow of chicken bones, with lashings of chalk powder sourced from the upper east side Balkans. This magic mixture makes GG's skin glow so white, her friends-turned-fans often mistake her for a ghost. Plus, on the rare days Ginnu is starving because she spent all her money on her beauty regimen, she takes a teeny-weeny scoop of this protein-rich chalk mousse for instant nourishment. With a side of happy pills, of course!
(Chalkalingam is available for an unbelievable price of just ₹29,999 at www.fooledyayetagain.com. Use code GORGEOUSGINNU to get 0.02 per cent off, T&C apply)
Our next wonder product, PuffPuffHotaHai, is a unique snail mucus-based youth-boosting under-eye gel. Ginnu religiously applies this product 15 times a day, which is the recommended amount for the "de-puffants" to start taking action. Sometimes this cream backfires and makes my eyes as puffy as the pillows I wish I had. Too bad I can't put my head on it and sleep. Alas, I'm no Ramdev.
But it does do a fab job of covering up Ginnu's dark circles that she gets from stalking her former friends on Facebook who won't reply to her messages anymore. You get me sis?
(Buy PuffPuffHotaHai Under-eye Rejuvenating Gel for ₹6,700 plus taxes plus shipping plus at www.gullibilityonsale.com)
Once when a drop of Ashtdhaansu fell on my chest, a small tuft of hair sprouted overnight.
Since all body parts should technically glow together with the same intensity, don't you dare ignore the down-under, bitches! The Not-So-Honest vagina whitening serum is da bomb! It changed my life, I swear. True, your bush may look and feel like a Californian wildfire, but at least it can breathe easy with the knowledge that it's well on its way to becoming tight and as cheerful as the "Good Morning" messages in my WhatsApp group!
On days that I can't bear the pain anymore, and start to cry, it's handy to have a stick of MainBhiLine's Overly Dramatic Intense Dark Crime Noir Tattoo eyeliner on me. This bombshell stays on longer than all my boyfriends combined and can even survive a drowning or two.
Plus, any sad boys immediately run in the opposite direction the moment they get a whiff of my Ashtdhaansu Triphala Kesh Nikhar Hair Revitalising Nutrient. The odour is but a small price to pay for my shimmering tresses, which cascade down my shoulders like fresh tar. This exclusive hair oil has more unpronounceable jadi-bootis and rare herbs than the number of onions in the market. Once when a drop of Ashtdhaansu fell on my chest, a small tuft of hair sprouted overnight. Gawd, that thing is so potent!
(NotSoHonest Serum and MainBhiLine tattoo eyeliner are both available on www.WhatItsYouAgain.com. Buy Ashtdhaansu potent potion at www.divyaastufarms.com.)
Anyway, Ginnu is now tired from all this typing, and unless you PayTM me for the emotional upheaval, I'm soon going to run out of time and energy. But don't lose heart. I'm not giving up on you babes just yet. Next time I'll tell you all about contouring and uplifting lotions that I use to excavate my inner Sunny Leone, and the 24k skin toner that was so expensive, I went to jail for shoplifting last month.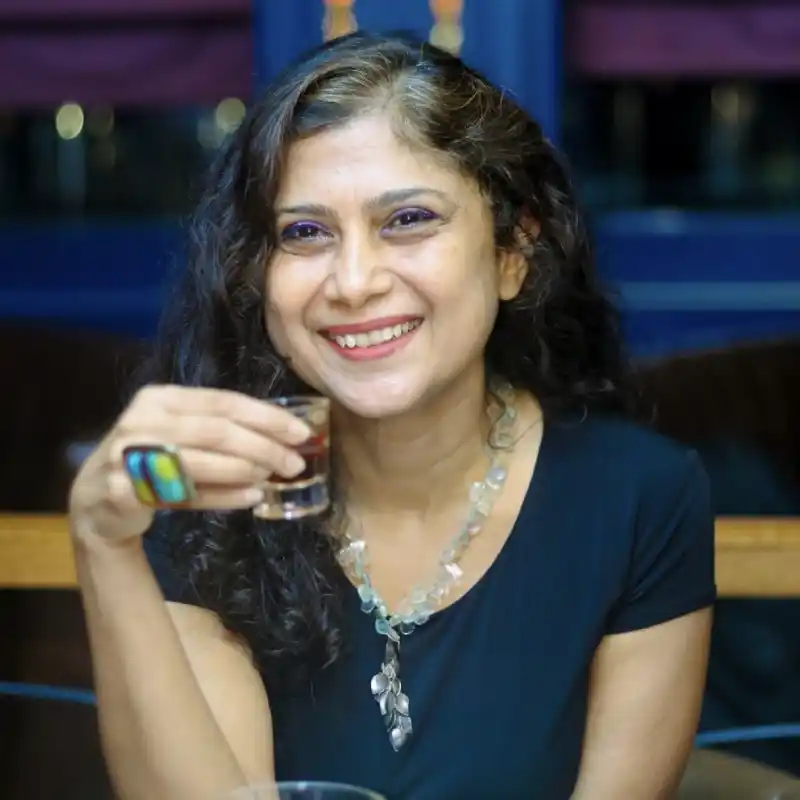 Nearly funny, almost liberal, rarely serious, Purba likes to keep a safe distance from perfection. Unfortunately she has an opinion on everything, fact or fiction, beginnings or ends, light or heavy, long and short.