It's truly a man's World Cup. In Russia, women reporters have been harassed, Burger King has put out a derogatory ad. Will sexism be given a red card already?
Day 1
I can't believe I'm finally here, in Russia, for the FIFA World Cup! I'm ready to live a dream I've nursed since I was a little girl watching Zizou headbutt Materazzi.
The atmosphere here is electric, crackling with the energy and smelling vaguely of beer and testosterone. There sure are a lot of rowdy fanboys here, but that's just part of the World Cup experience, right? What's a good game of football without a riot or two?
To add to my joy, I just got an alert on my phone: Brazilian Fernanda Colombo is going to be the first woman to referee the matches! Could this be a sign that football culture is changing, and becoming more welcoming for the female fan? Plus there are so many wonderful women around: journalists, commentators, stadium officials, and spectators.
Indeed a beautiful day in the history of the beautiful game!
Day 2
Time for a reality check.
As I'm making my way to the stadium, I nearly bump into a cameraman filming a young sports journalist, as she enthusiastically reports on what is undoubtedly the greatest gig of her life. But it is not to be. A husky man with a chinstrap interrupts her broadcast by grabbing her and planting a kiss on her cheek. She is shaken, but soldiers on as if nothing has happened, wrapping her report with utmost professionalism.
Day 5
I'm trying to put the negativity behind me and just enjoy the World Cup. Nothing could possibly spoil my fun, except Germany being knocked out.
Okay, so that Burger King ad is derogatory – the one that offers women a lifetime supply of Whoppers and three million rubles to have a child by a footballer. I just saw it on a hoarding and thought it may be a promo for The Handmaid's Tale, but then a man who looked suspiciously like Saif Ali Khan helpfully explained to me that the idea is to introduce great footballing genes into the Russian pool.
Still, that's Burger King Russia for you. They're known for stirring up sexist controversies. After all, we are in the land of the manspreader.
I felt a lot worse when I found out that Fernanda Colombo is #fakenews, and there are no women referees at the Cup.
Oh well, maybe Fernanda will be at the Women's World Cup next year? Until then, I'll be looking forward to the Spain-Iran match, which will be broadcast in Iran's aptly named Azadi Stadium, and, for the first time in decades, will allow women spectators to come and watch.
Day 8
So Spain vs Iran didn't go quite as I expected. Outside the stadium gates, I was confronted by an ugly scene: A woman holding a sign that called for Iran's ban on women spectators to be lifted completely. It looked like something out of an Orwell novel. There she was, being chivvied away by security, her cries of protest cutting through the roar of the crowd inside. Men walked by, sparing barely a glance for the woman, in their eagerness to get inside the stands. I watched helplessly, as she was detained.
Suddenly, I didn't feel so enthused about the game.
Day 11
Another day in Russia and the excitement is building up. Still, my enthusiasm is tinged with dread. Yet another woman reporter – Brazil's Julia Guimarães – was assaulted before the Japan vs Senegal game. A rowdy football fan tried to kiss her and she told him off in front of the cameras.
He said, "I'm sorry." Apology not accepted.
A husky man with a chinstrap interrupts her broadcast by grabbing her and planting a kiss on her cheek. She is shaken, but soldiers on as if nothing has happened, wrapping her report with utmost professionalism.
Day 13
With all the tension in the air, some eye candy would sure be nice. And, with the best timing possible, Getty Images has just published a photo set of the sexiest fans at the World Cup. Finally, something for us girls to check out, instead of being ogled every time we wear our jerseys. Cannot wait!
But well, fuck, what is this?! The Getty gallery is just collection of pictures of a whole bunch of hot girls. I really should have known better.  
Day 20
I wander through the crowds, not caring when men roughly brush past my shoulders, or shout "Smile!" at me in different languages. I see them harassing other women, trying to teach them to say demeaning words in Spanish and Portuguese. Others are filming, laughing at the women.
Above me, a massive screen broadcasts the news. I see former Chelsea defender Jason Cundy apologising for saying that women aren't fit to be sports reporters. It rings hollow, even as I watch, another reporter is being catcalled on the very same street.
Give sexism a red card already. Ideally, before the final whistle blows, please.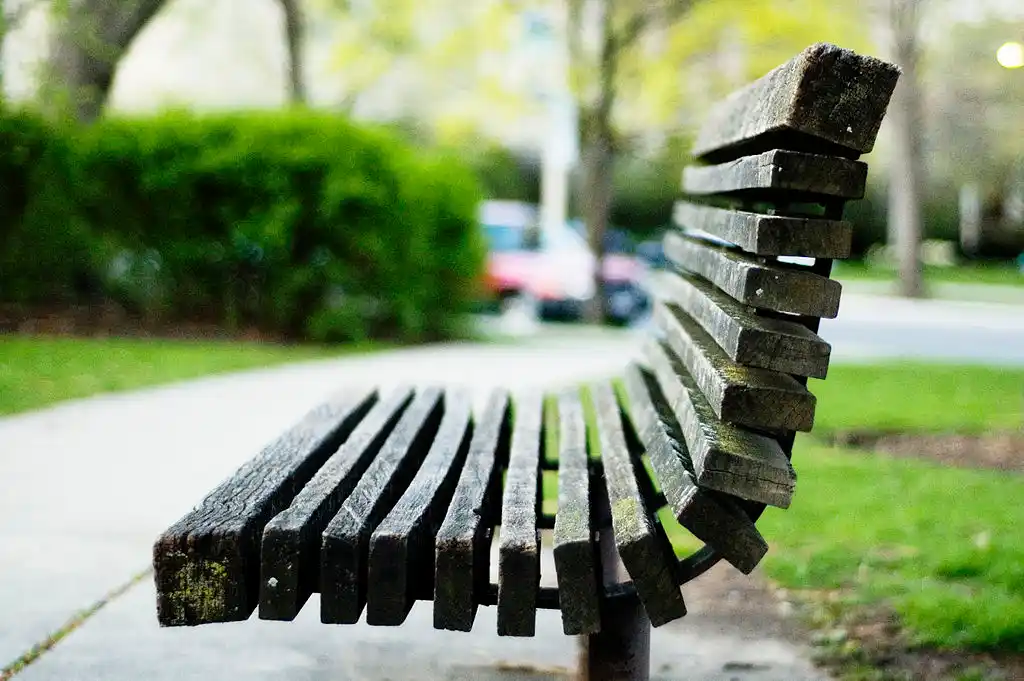 The Arré bench delivers stories that mattress. It hasn't achieved much sofar. But it's getting bedder.