We should have guessed it when she attempted to tarnish a beloved Rajput queen's entirely fictitious reputation by showing off her perfectly toned abs in Padmaavat, or when she didn't appear in a selfie with the PM. But now that she has turned up at JNU without a mask, it's official: Deepika Padukone is an anti-national.
Deepika Padukone's cover has been finally busted: She is an anti-national, a notorious member of the "tukde tukde gang". Why else would she turn up at the Jawaharlal Nehru University without a mask, not armed with an iron rod or acid to fling at someone in "self-defence"? To promote her movie Chhapaak, what else?! And what a fantastic promotional strategy it has been. All she needed to do was make one short appearance at JNU and that was enough to trigger every true Indian, the protectors of our Constitution, to boycott her film, cancel bookings en masse, and post pictures of cancelled tickets (or, one cancelled ticket, as this report shows) block her, and instead go watch Tanhaji: The Unsung Warrior – the perfect nationalist movie for our nationalist times. I'd say her cynical hunt for publicity for her film really paid off.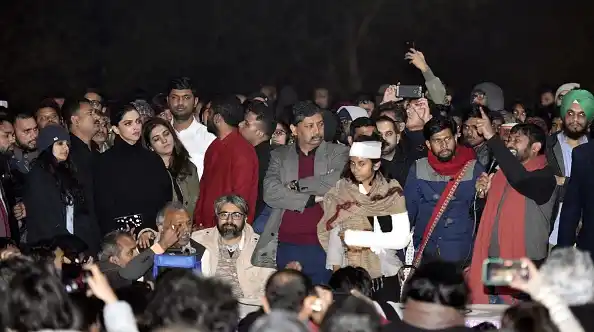 Actor Deepika Padukone is seen at a gathering at JNU in solidarity with the students against Sundays violence in the presence of JNUSU president Aishe Ghosh and CPI(M) leader Kanhaiya Kumar on January 7, 2020 in New Delhi, India.

Vipin Kumar/Hindustan Times via Getty Images
Deepika ji should have known better. Only if she'd watched enough Republic TV – or followed Vivek Agnihotri's Twitter feed – she would have known that JNU is a dark place filled with alcohol-consuming, condom-using Urban Naxals. Had she paid attention to Arnab, she'd have known that when universities become spaces that celebrate debate and allow for ideas that don't conform to the status quo, they automatically become a hub of terror. Only if she'd been an ardent consumer of Modia, she'd have been rightly cheering CAA and NRC like the rest of us deshbhakts.
Only, if like the sensible have-beens of the industry (one of whom is known for a role where he comes back from the dead… the jokes just write themselves), she'd attended a meeting with Piyush Goyal – the minister who enlightened us with the fact that Einstein discovered gravity – she'd have learnt how "inclusive" CAA was. Which is about the only thing the industry-wallahs also learnt. Not only would she have had dinner at a five-star Mumbai hotel, she could have appeared in this amazing informative video and given us "clarity" about this "humanitarian act" instead of joining the protests in Delhi's biting cold. Dear Deepika, the formula for success is simple: RTs by BJP IT cell = #DeshbhaktDeepika.  
But the truth is we should have seen this coming. Deepika Padukone has been conspiring to destroy our history and sanskar since 2017. After all, she attempted to tarnish the beloved queen Padmavati's entirely fictitious reputation by showing off her perfectly toned abs in a midriff-baring lehenga-choli. The proud Rajputs had gotten their chaddis in a twist and threatened to chop off her nose. But clearly, Deepika doesn't seem to value it. Madam, plastic surgery won't be able to fix anything.
Dear Deepika, the formula for success is simple: RTs by BJP IT cell = #DeshbhaktDeepika.
Looks like Deepika has forgotten the basic rules of Bollywood. The first step to becoming an A-lister is getting your spine removed. What's the point of hanging out with the Khans and KJos of B-town if you can't be comfortably supine and apolitical?
Deepika spoke with her head held high, when it should have been at the feet of a "certain gent who loves taking selfies". We almost choked on our favourite gutter gas wali chai and pakodas when we heard her say that she was proud that people were thinking about the country and its future. Hello, did she not get the memo? The future of the country will be written by the maked men and women who enter colleges with lathis and acid.
Deepika, you had so many versions of "acceptable" to choose from. As a sanskari wife, you could have happily posed for selfies with Modi ji like your pati parmeshwar. You could have chosen to wave ABVP flags at their rally, like your colleague Akshay Kumar. Or you could have gone the path of least resistance, the path of complicit silence, like Shah Rukh Khan and Aamir Khan.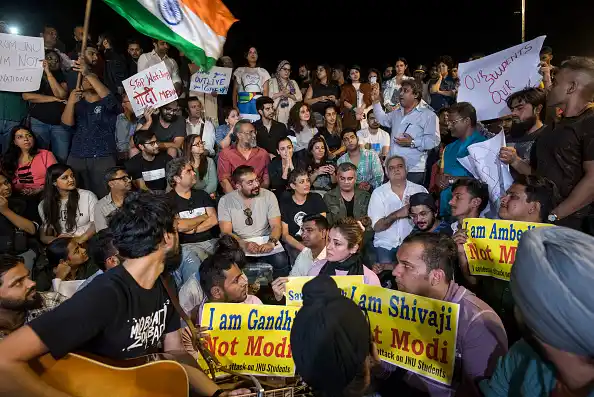 Bollywood filmmakers Anubhav Sinha, Zoya Akhtar, Vishal Bhardwaj, Anurag Kashyap, actress Taapsee Pannu and others participate in a peaceful protest against the attack on New Delhi's Jawaharlal Nehru University campus, at Carter Road, on January 6, 2020 in Mumbai, India.

Satyabrata Tripathy/Hindustan Times via Getty Images
Why can't you be more like Payal Rohtagi, who asserts her proud Hindu-ness by doing backflips and courts arrest? Or like Juhi Chawla, who attended a protest against the "tukde tukde" gang and made a nationalist film like Son of Sardaar? If nothing, you could have just channelled your inner apathetic Mumbaikar and remain undecided about whether the ones running amok in JNU were Leftist goons or members of the friendly ABVP.
What a tragedy that you chose to be yourself and side with the tukde tukde gang, giving them hope and their struggle some much-needed mainstream legitimacy. But I guess this is what happens when they launch outsiders in Bollywood. They care too little about films being boycotted or being cancelled. What a danger you are to the future of the industry, which has been safe all these years in the hands of Kapoor and Sons and Daughters.
Look around Deepika, you are all alone with only the usual anti-nationals Anurag Kashyap, Swara Bhaskar, Vishal Bharadwaj, and Richa Chaddha for company. Look what you've done, Deepika. You have anointed yourself as B-town's only A-list anti-national. Looks like we'll have to find another heroine to jack off to!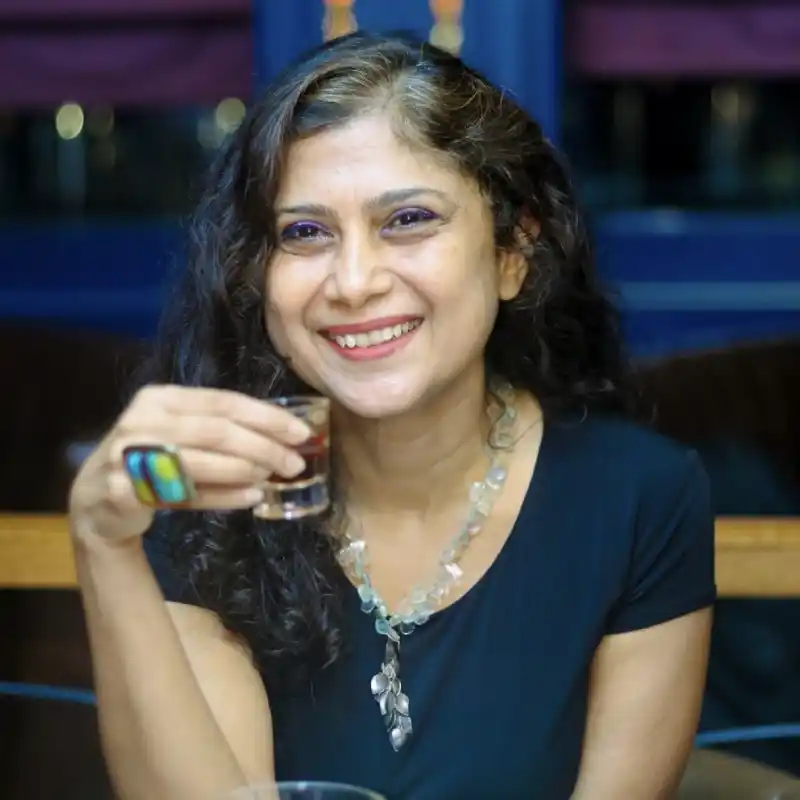 Nearly funny, almost liberal, rarely serious, Purba likes to keep a safe distance from perfection. Unfortunately she has an opinion on everything, fact or fiction, beginnings or ends, light or heavy, long and short.