The Congress has set up a crowdfunding website where citizens can pitch in to fill the party's coffers before the 2019 elections, but what would really help is a sweet Kickstarter campaign. We took the liberty of putting one together.
The Congress has recently admitted that it is facing a paucity of funds. How the mighty have fallen. Who knew that the party that presided over the 2G, CWG, and Adarsh scams during its two terms would face such a day?
Now, instead of taking the public's money on the sly after winning elections, politicians are openly soliciting donations so that they can win elections, and go back to taking taxpayers' money on the sly like everyone remembers. To this end, the Congress has set up a crowdfunding website where citizens can pitch in to fill the party's coffers before the 2019 elections.
What it needs though, is a sweet Kickstarter campaign, a prerequisite for any hip, indie enterprise in this day and age. We've put together an outline of what it could look like. Happy to help!
India INC 2019
Old wine in a new bottle, because the old bottle is full of gomutra
Have you recently contemplated selling your kidneys to pay for petrol? Do you miss the days when Christmas was just Christmas, and not Good Governance Day? Remember when we had a Prime Minister who had nothing to say on important eve-oh, never mind. But if you feel like the Gandhi family has been given enough of a punitive time out, then you're going to want to hop on board India INC 2019!
What We're Offering: An alternative to the present government. A well-informed, globally raised visionary from a long line of great leaders, with the ability to see the morning light at night and eradicate poverty by changing the frame of his mind.*
*Pssst: It's Rahul Gandhi.
How You Can Help: Four years of losing election after election can be rough on the wallet, even if you've spent the previous ten years lining them. India INC 2019 will disrupt the economic dynamics of the political marketplace, upending the traditional equation of public servants taking money under the table. Now, we're proud to take your money both before and after the elections. Just think of us like your bank, except your money doesn't go into a vault, it goes into buying a babu a new SUV. If you think there aren't already enough political convoys and traffic snarls in your city, then this is the best way to spend your salary.
What's in it for you?
For those interested in maximising their commitment to India INC 2019, we're excited to announce a bevy of offers that give you maximum bang for your buck.
The Family First Package: If there's one thing that we've stood for ever since Independence, it's good ol' family values. Signing on for this package ensures hereditary membership for all your descendants. You will be constantly updated via a daily email bulletin on the minutiae of India INC 2019's progress, even if you have no proven ability to understand the data. Mother-son duos can avail a special discount too.
The Karnataka Package: This package is for two people to co-invest in, and share the benefits. Along with an India INC 2019 badge, the both of you will also be given a single membership to a health club. There's only one rider: You have to reiterate time and again that you are at the mercy of the Congress. The INC does not assume responsibility for any friendships/alliances that are broken when the inevitable power-sharing struggle begins.
The Reparations Package: This is for fans of He of the Florid Tongue, the bane of the British, the sole reason dictionaries are still used in this day and age – Shashi Tharoor. When you buy the Reparations Package, we'll throw in a specially made book called Learn to Speak Tharoor, with a compilation of all his tweets, and footnotes by Tharoor himself explaining the linguistic etymology of each composition. This is required reading for anyone who has been exposed to more than one Chetan Bhagat book/tweet/Nach Baliye appearance.
The Manmohan Package: If you're not too politically inclined, the Manmohan Package – a very financially prudent one – is perfect for you. Once you give us the money and subscribe to the services though, we guarantee to leave you alone and not say a word to disturb you after that. The Manmohan Package prides itself on a zero spam mail policy, which is why you won't hear any unnecessary statements from us.
Visit our website for more exciting loyalty packages, and book your ticket to the future, today! Just don't be surprised if the future looks exactly like the past. And as with any political promise, terms and conditions apply.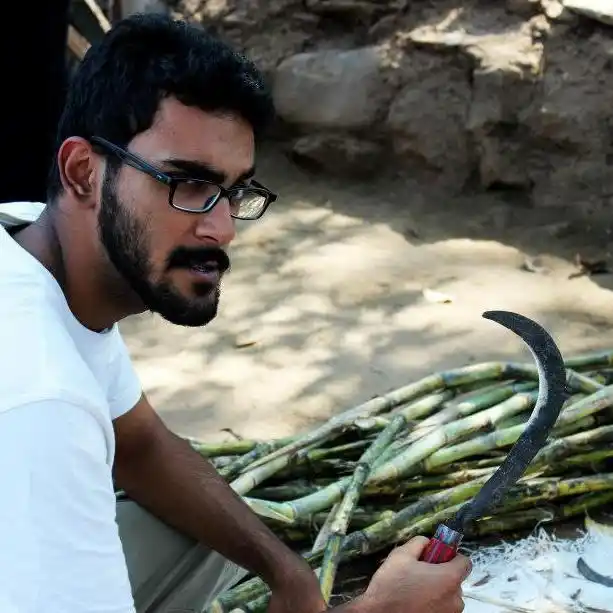 Dushyant Shekhawat really likes his mustache. He grew it himself. You can find him on Twitter at @SeriousDushyant.