Pakshas and pournimas are its mainstays. But Kalnirnay, the world's best-selling calendar-cum-almanac, has a secular take on it.
KISSsssss… The word hangs like a hiss in the tiny office. The air is heavy with incense smoke and the scent envelops all those who enter. It's a cluttered space and peering down from the wall is an eclectic bunch – BB King, Sharad Pawar, Buddha, and Botticelli's Venus. Jayraj Salgaonkar is sitting in the middle of it all, sipping coffee, as he spells out the mantra for Kalnirnay's success.
The world's best-selling "calmanac", which tells millions of Indians around the world when Ramazan ends and Govardhan Pooja begins, when to fast during Pitru Paksha, and whether onions are kosher on Dussehra, has been put together from here for 42 years now.
Before Kalnirnay married the Hindu calendar with the Gregorian one, communities had their own timetables tracking the moon. So the Malayalis had the Panchangam, Maharashtrians used ghati and pal to chart rituals, and the vagaries of a lunar calendar meant that the dates of festivals varied from village to village. The confusion was made bigger by the fact that more and more Indians were as keen to observe St Valentine's Day as Sankashti Chaturthi. So this institution introduced the Western method of keeping time to the country.
"My father was an influential man with political and social clout, but even he was afraid of mixing the Western regimen with Indian religion. But the backlash never came thankfully and today we publish in eight languages," says Jayraj, whose father Jayant, a renowned astrologer first hit upon the idea of a multi-cultural calendar in 1973.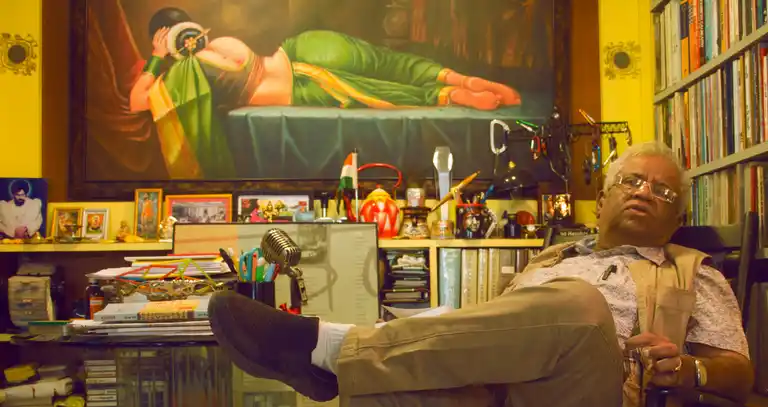 Jayraj Salgaonkar's father Jayant, a renowned astrologer first hit upon the idea of a multi-cultural calendar in 1973

Image credit: Abhinav Sharma
Their method has remained the same since then. The Positional Astronomy Centre in Kolkata provides government-approved data to Kalnirnay, which is then packaged into a repository that amalgamates Sundays with sankrantis, with a dose of culture for those who want their calendar to double up as light reading material.
Over the decades the no-frills, no-fuss minimalist design of Kalnirnay has spread across homes in India, with the Malayalam edition being the latest one. And in step with the renewed interest in Hindu religious and cultural practices, the Kalnirnay app was launched in 2014, touted as "the cultural symbol of national integration". For Salgaonkar, a digital avatar was a natural progression. Last year, they launched a Ganesh puja app for free as well. It was downloaded by 1.75 million users over the 10-day festivities. To put that in perspective, that is more than what social media phenomenon Dubsmash scored in its early days.
"…But religion is such a heady mix of behaviour and thought, that it will never be obsolete. "

Jayraj Salgaonkar
Salgoankar considers the app a personal victory. He says he knew that he had a hit on his hands, when the pandit conducting the Ganesh puja at his family home, whipped out his phone to take cues from the app.
"In the '70s, the rationalists predicted the demise of religion by the time the 21st century dawned. But religion is such a heady mix of behaviour and thought, that it will never be obsolete. Only the ways in which we interact with it and respond to it may change," he says.
And indeed, our response to religion has made headlines over the past year. While the Islamic State's quest to establish a Caliphate has brought religious extremism to the forefront globally, closer home rationalists have been murdered and vigilante gaurakshaks have Facebook fan pages.
But Salgaonkar asserts that the continuing popularity of his brand is not a result of the Hindutva wave that's apparent. He insists Kalnirnay is a completely secular product, pointing out that the calendar also lists important dates for Muslims, Sikhs, Parsis, and Jains. The print edition, subsidised by advertising, had Parsi industrialist Naval Tata's TOMCO among its first sponsors, he adds.
"Do you know who my most loyal customers are? It's the butchers, many of them Muslims. Meat is not consumed on religious holidays and my calendar warns them of the days when business will be dull. And we have always got the Eid dates right. The Delhi imam may be wrong in his pronouncements, but never Kalnirnay."
Kripa Krishnan is a Delhi girl living in Mumbai, she is a hunter-gatherer of information and has spent the past decade justifying her love of both Germaine Greer and misogynistic rap.