It wasn't JNU students who went around smashing heads with iron rods, it was the masked thugs. It wasn't JNU students who vandalised ambulances trying to enter the campus, it was the masked thugs. Regardless of your political ideology, JNU students were under attack. They aren't the villains here.
The violence at the Jawaharlal Nehru University campus in Delhi on Sunday took place between two groups: masked thugs carrying iron rods and hammers and fearful students making desperate dashes for safety. You would have to be wilfully blind to not see the weapon-wielding assailants as the greater threat here. But still, because this is Jawaharlal Nehru University, so long misrepresented by the right-wing as a hotbed of seditious anti-nationalism, rather than a show of universal solidarity for the injured students, there have been calls to shut down JNU on social media. How broken has our moral compass become, that even attacks by faceless goons cannot evoke in us any sympathy for these students?
Look at the visuals: female students running in fear at Sabarmati Hostel, overturned desks, smashed window panes, doors hanging off their hinges, JNU Students' Union President Aishe Ghosh speaking to cameras as a crimson curtain of blood veils her face. Call JNU's students anti-nationals, call them tukde-tukde gang, question their patriotism; just don't pretend that they aren't the victims here. This isn't even about politics any more. It's about recognising people's right to dissent without fear of violent reprisal. If free speech is valued in this country, then dissenting opinions cannot be so brutally suppressed.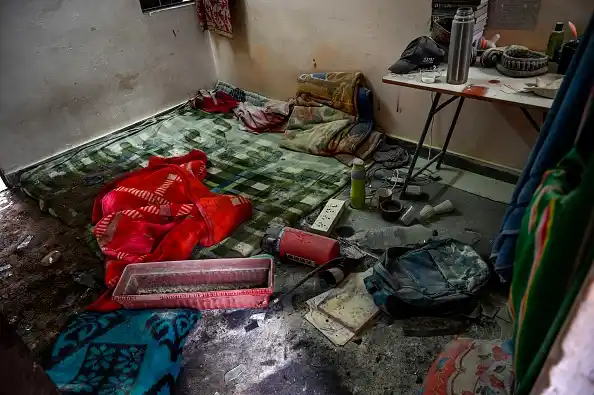 A general view of a vandalised hostel room at the Jawaharlal Nehru University (JNU) campus in New Delhi on January 6, 2020. – Authorities deployed riot police at a top New Delhi university on January 6 after a rampage by masked assailants sparked nationwide protests. The attack on students and teachers at Jawaharlal Nehru University (JNU) came as a new challenge to the government that has been battling to put the lid on weeks of protests against a contentious citizenship law.

Photo by MONEY SHARMA/AFP via Getty Imagess
A short timeline of the events that took place on Sunday, published in Indian Express, shows that concerned students had contacted Delhi Police about the presence of outsiders in campus on the same day that JNU's students and teachers were planning a protest against the university's fee hikes. The first calls to police were made by 6 pm. However, reports say that police took an inordinate amount of time to respond, and the armed mob of around 50 unknown individuals had free run of the campus, terrorising students and destroying property for about three hours under cover of darkness, before streetlights were turned on by 11 pm and police presence increased.
Finger-pointing has already begun – Leftist student bodies point the blame at the RSS-affiliated Akhil Bhartiya Vidya Parishad, while ABVP, the students wing of the BJP, is claiming the entire attack was orchestrated by the Left. However, screenshots from WhatsApp groups that went viral as the attack was taking place and in its aftermath dent the ABVP's insistence on their innocence. Reports in multiple publications, including Indian Express and Scroll, have found that the numbers that sent messages to plan the violent attacks were linked to members of the ABVP and other right wing-affiliated organisations.
The cowards who hide their faces behind masks while claiming to be ridding the country of "anti-nationals" are certainly no saviours.
JNU has a certain reputation as a wellspring for student activism. The prevailing stereotype about the JNU student body is that of the "jholawallah" – an idealistic layabout, pursuing a supposedly "useless" humanities degree unlike his more pragmatic engineering and medical student brethren, who is happy to be a rebel without a cause and badmouth the establishment just for the sake of it. But even if this stereotype could be honestly applied to every student (and it cannot), that would still mean the worst crime they are guilty of is a difference of opinion. And it's foolish to act like an outspoken activist is a greater threat to this country than a masked thug.
It wasn't the JNU students who destroyed a public university's campus on Sunday, it was the masked thugs. It wasn't JNU students who caused dozens of people to be admitted to hospitals with injuries ranging from cuts and bruises to severe fractures, it was the masked thugs. It wasn't JNU students who tried to bar the way of ambulances trying to enter the campus to provide help to the victims of the violence, it was the masked thugs. The JNU students aren't the villains here. And the cowards who hide their faces behind masks while claiming to be ridding the country of "anti-nationals" are certainly no saviours.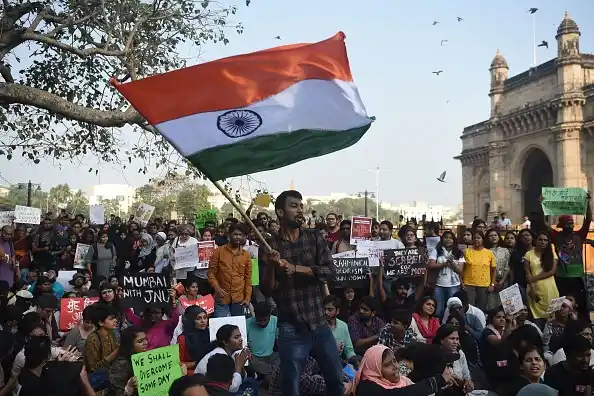 Protesters and students shout slogans and hold Indian flags as they protest against the violent clashes at the Jawaharlal Nehru University (JNU) campus in New Delhi a day before, in Mumbai on January 6, 2020.

Photo by PUNIT PARANJPE/AFP via Getty Images
JNU's students deserve our support and our sympathy. It doesn't matter if you're right wing or left wing, liberal or conservative, pro-CAA or anti-CAA. Diversity – of opinions, religions, and languages – is the bedrock on which the Indian republic was founded, and it has to be preserved. "I disapprove of what you say, but I will defend to the death your right to say it," was a phrase used by the French philosopher Voltaire's biographer to describe the principle of free speech. After Sunday's violence, those trying to silence the students of JNU would do well to remind themselves of those words.

Dushyant Shekhawat really likes his mustache. He grew it himself. You can find him on Twitter at @SeriousDushyant.