The relentless rains in UP and Bihar have now claimed over 100 lives, with the downpour predicted to continue for several more days. With so many deaths, why are we not protesting on the streets? Would we have looked the other way had these many people died in a terror attack?
After Kochi, Mumbai, and Pune, it is now Patna's turn to face the wrath of this year's monsoon. The death toll for the past few days of downpour has crossed 100, and it's not even the first life-threatening rainfall we've had this year. According to an article published in The Times of India, 138 people died in Maharashtra because of rain-related incidents in the past few months. Across the country, people drowned in waterlogged areas, buildings and walls collapsed on unsuspecting victims, while municipal bodies and state governments declared multiple public holidays as a means to tackle the situation. I guess this is how they saw it: 
Public: Why aren't you doing your job?
Municipal Body: Why you so jealous buddy? Here, you also take holiday. 
If the same 138 people had lost their lives in a terror attack, things would have played out very differently perhaps. There would have been candlelight vigils for the deceased, marches and protests on the streets, 24/7 news coverage, and dozens of celebrities and influencers condemning the act. Compare that to the ongoing conversations around monsoon-related deaths this year. Well, that conversation has drowned. It was the last casualty of this season.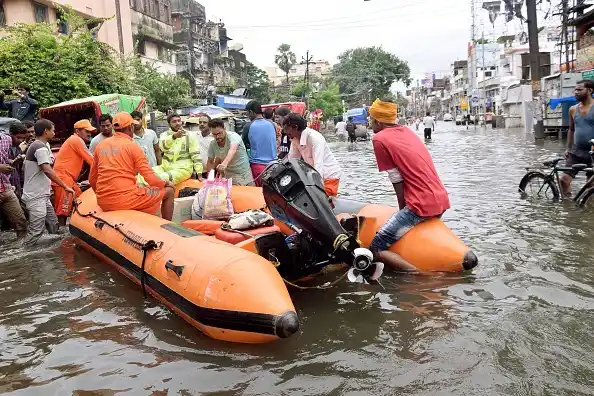 The death toll for the past few days of downpour in Patna has crossed 100, and it's not even the first life-threatening rainfall we've had this year.

Santosh Kumar / Hindustan Times / Getty Images
Of course, the rains have been incessant. Natural events are beyond human control. But the apathy of our institutions doesn't depend on the earth's revolution around the sun. And yet stupefying incompetence and lack of accountability are a seasonal affair in our country, costing hundreds of lives each year. 
If loss of life due to a militant strike is an institutional failure at some level, shouldn't the same rigour be applied to collapsing walls, crumbling bridges, and open sewers that lead to significantly more civilian deaths per year than terrorism? 
I think this disparity in our reaction to terrorism compared to systemic infrastructural breakdown has a lot to do with how we see "control" and "death". 
In case of a terror attack, we hate that we're not in control. The fact that anyone, anywhere, at any time can attack us when we least expect it makes us very angry. But we feel like we're in the driver's seat when it comes to facing the monsoons. We decide to leave our homes only when absolutely necessary. And when we do, we only take Ubers and Olas, provided we have those luxuries. The truth is only some of us enjoy this privilege, a majority of India does not. 
So when a bridge collapses because the BMC failed to rectify the problem in time, we don't see it as an institutional failure; we see it as a one-off incident that can never happen to us if we took the necessary precautions. Which is exactly what they ask you to do. They say, "Don't go to work today. Don't go to school." They never say, "We're sorry that most of you have to go to work today because you have no choice and you may die on the way because we haven't done our job right." 
What if terrorists gave us the same illusion of control? Will we only be monsoon-level mad at them too? For instance, what if they gave us an official heads-up before the attack? Just like a weather report. 
Or maybe we need to invite Greta Thunberg to question our authorities and ask them, "How dare you?"
In today's Terrorist Activity Forecast, heavy explosions are expected in parts of Chembur along with a drizzle of gunfire in Andheri. Please carry your kevlar umbrellas to avoid shrapnel. 
Obviously, those with unavoidable reasons will have to step out, but you and I can totally make a meme out of this and work from home. 
It's the same when it comes to road and fire safety. Hundreds die every year because of faulty traffic signals, massive potholes, and general non-enforcement of rules and regulations. You don't even need to know how to drive to get a licence. But all that doesn't offend you as much as a gun-wielding fanatic who's responsible for remarkably fewer deaths in your city. Because you're literally behind the wheel here. You're convinced you're in control. 
Maybe the authorities will start holding themselves more accountable if we start reporting the cause of monsoon-related deaths more accurately. 
Instead of having headlines like "Monsoon Strikes Again. Mumbai Sinks", we should have ones like "Incompetence Strikes Again. Mumbai Sinks." Instead of saying "32 Die As Wall Collapses Due To Incessant Rains," we should report "32 Die As Wall Collapses Due To Incessant Negligence." 
Maybe we should start reporting the depth of waterlogged areas by using a unit that is reflective of the inaction responsible for it. I propose a new unit called Government Apathy Unit (GAU). 1 GAU = 1 inch of rainwater. 
Or maybe we need to invite Greta Thunberg to question our authorities and ask them, "How dare you?" Although Greta would be surprised to find out that water levels can rise in our cities even without climate change.
Whatever the solution is I hope we find it soon. After all, there's no surefire way of knowing when and where will be the next terror attack. But guess what comes every year without fail. A heavy downpour of institutional failure. 

Girish Narayandass is a Mumbai-based writer/director who is deeply in love with chilled beer and great ideas. You can follow him on Twitter (@naachtibotal) and Instagram (girishnarayandass).