Being a footballer in India is an exercise in loss. It comes burdened with aggressive cynicism. And the U-17 World Cup might match up to the spectacle of the IPL, but I wonder what it will do for the sport.
We are gathered in a corner of a ground in South Delhi's Siri Fort, as we usually are on weekend mornings. It is a bunch of misfits or people past-their-time for the sport they are all dressed up to play – football. These are men with paunches and receding white hairlines: lives that begin and end behind the steering wheel of a car. They leave the field with bruised ankles and the growing sense that the day of hanging their boots is fast approaching. But try dampening their will to give up the extra hours they could sleep on their days off.
This little time here, before we say goodbye and return to a world where we are all still strangers, is the time we discuss the Neymars and Pogbas of the world: An open, free-for-all conversation about European football and the second-hand football clubs we pretend to support. It is a bit strange to invest in something that occurs thousands of miles away. Constant with this gulf between the event and its audience is the bitterness that is always missing — a bitterness that can only really emerge for something you have an actual stake in. Something local, something you help build in some way.
Only a handful of Indian football clubs offer this, and they have been long overdrawn for inspiration and reference. Nick Hornby wrote in Fever Pitch: A Fan's Life that "the natural state of a football fan is bitter disappointment, no matter what the score." I couldn't agree more.
Of late though, our conversations have cautiously anticipated the arrival of this warranted bitterness. India's U-17 team is prepared make its bow at a World Cup that the country is hosting. But will it change anything?
Depends on how you look at things. Will it make our players better? Sure, it will. Will it establish India's pedigree as a potential host? It will. But will it do anything for the sport in general, independent of the arena? I wouldn't hold my breath. The likes of USA (1994) and South Africa (2010) have been down that road, trying to stir the game by bringing home the spectacle. It hasn't really happened for either. Because the spectacle isn't the process to build a culture. It is merely the climax.
Much that is wrong with the state of football in India can be extracted from a summary of casual conversations.
I'm not referring to problems with infrastructure and a weak national football league. But the fact that – with the exception of perhaps, Bengal, Goa, and the Seven Sisters – the rest of country is overwhelmingly agnostic toward the game.
For any sport to flourish, not just financially, but take hold of the collective consciousness of its people despite confounding odds – think Brazil, Cameroon, Colombia, Mexico, most recently Iceland and so on – it has to start from the ground up, grow within communities, and channel, both identity and commonness. The way most continental football clubs are local entities, founded initially by people, even villages.
But Indian football lags in two major arenas. First, football is bogged down by the perception of "violence" that originates in the heads of those who probably can't or don't want to play. Parents consider it too aggressive, the old reject it as nuisance, and the ones in between consider it too arduous an exercise. Hell, why not play a little one-tip-one-hand game of cricket at the curb instead, or badminton in the parking lot, or carom in the living room? It is the literary novel to the school textbook.
Cricket's popularity has grown through the years, not because of the hours people spent glued to televisions or radio-sets, but because at any point of the day, a family or a small community could step out and have a game of their own. You weren't merely a bystander: You could touch, and feel, and participate, and consider yourself integral to the rituals of a religion that requires you to experience the bitterness of loss and the godliness of victory.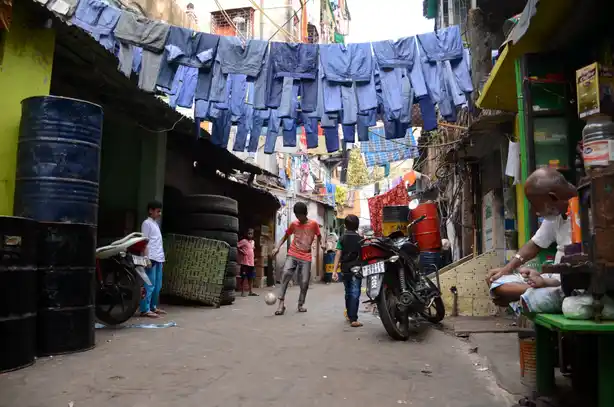 The second problem, sadly, is the doorstopper every other sport faces: a lack of places to play in.
(Image Credit : Getty Images)
The second problem, sadly, is the doorstopper every other sport faces: a lack of places to play in. Football really isn't the kind of game that can be played in the gully, in the attic, or in the garage. All it needs is a clear, open field. Grass or no grass, rocks or pebbles, a piece of land will eventually surrender to the will of the footballer who is hell bent on having his game. But try telling that to people in a country where land is opportunity, a space to fill up with malls and residential societies.
Hosting a World Cup – even for under-17s – is of course no mean feat. Maybe it will help, and so will the Indian Super League in the long run. But the problem is that people who'll fill stands in the upcoming days, are people who really don't need initiation or an invitation. A majority of them will gobble whatever native relativity football in this country is willing to throw at them because there is hardly any on offer. There are countless enthusiasts who are hyenas when they are together but turn into sheep when they return to the circle of indifference. They give up sleep to watch games that do little for us. Theirs is a breed that is brimming with energy, with passion, with curiosity but also a loneliness that strings all of those together. Their disappointment and bitterness arises from reasons entirely different from what they wish it did. They'd love to have grounds to go to, local teams to support, men and women to discuss them with and carry with them the genuine burden of a football fan's sinusoidal life.
Being a footballer in India is an exercise in loss. It comes burdened with aggressive cynicism. In the pall of this darkness, an event like the World Cup is a loose rope hanging by the stirrup of a lonely, immovable horse. At this weekend's game I'll again play with a middle-aged man, in his mid-forties who has had two surgeries on his knee and can hardly jog. He comes to play goalkeeper. In the last few minutes he stands up-top as the striker. On the odd day that he shoots and places the ball between the two bags we use as goalposts, he is as childishly boastful as the best of them in the world.
It is a joy to witness this life-affirming image in that moment of collective abandonment. It is even more hurtful, to see him limp back into a life where football and his little victories in it, stand for nothing.
Manik Sharma writes on Arts and Culture.