Twinkle Khanna has proved her mettle as a fair-weather feminist whose online persona rests on personal convenience. Her stance on the Mallika Dua controversy makes it clear that her online avatar is just an act of performative coolness.
Once upon a time, Twinkle Khanna was a star.
As a retired actress (or as they are popularly known in Bollywood, interior designers) with frighteningly little fandom cred, she effortlessly succeeded in doing something most A-listers have gloriously failed at: Decoding the secret to online stardom.
It all started with 140 characters. She was to Twitter what Rahul Khanna is to Instagram — a breath of fresh air that is responsible for our rising levels of phone addiction. Twinkle stood out from the sea of B-town celebrities trying to up their game on social media by vehemently refusing to be a Bollywood caricature. She didn't exploit the microblogging site only to plug her upcoming projects at inopportune times, or send out congratulatory messages accompanied with a picture of herself. Instead, she dominated the elusive currency of online coolness by being the straight-talker no one in Bollywood could afford to be, combining it with a generous and genuine dollop of humour.
With a weekly column that displayed her wit, a Koffee with Karan appearance that further cemented her savage, no-fucks-given personality (Who can forget her asking Karan Johar to go to jail for 377 days or her acknowledging on national television that her relationship with Akshay Kumar started off as a fling?), and two book deals that mainstreamed her relevance as a cultural icon, her metamorphosis into Mrs Funnybones from the awkward Bollywood misfit, was complete.
For me, her biggest triumph, was the way she owned her brazen identity, without the aura of her husband's steadily rising surname. She didn't shy away from mocking his film choices, or rolling her eyes at the pointlessness of family gatherings during religious festivals. Unlike the Kajols and Ranis of the world, her individuality didn't just start and end at supporting her husband in all his duels. And, Khanna ensured she reiterated that part of her woke persona day in and out on social media.
Or maybe, we were too hurried in ascribing her a woke persona.
We embraced her with open arms, naively convinced that she was different, and readily put her on a pedestal, awaiting her unabashed opinion on all things trending, not knowing that she had a weakness too: her husband.
As it turned out, Khanna was Mrs Funnybones only until the trending topics on the length and breadth of the internet were devoid of the name Akshay Kumar. The moment any conversation or controversy steered toward the National Award-winning 100-crore-club hitter, she brought out her weaponry as the wife who's convinced her husband can do no wrong. Even if it meant going against the very persona she had carved for herself.
In August, it was lauding Akshay Kumar for ending open defecation by acting in Toilet: Ek Prem Katha. As the paean to Narendra Modi continued breaking all box-office records, she displayed peak supportive wife behaviour by tweeting a picture of a man defecating on Juhu beach during her morning stroll. As a response, when people and publications pointed out her blindness to her privilege, she replied nonchalantly asking why people don't pay to use a toilet, or have tea at a stall with a washroom. Not only did she not have any inkling about the politics of a public washroom or the unending queues in front of them, but also mistook roadside tea stalls for Starbucks.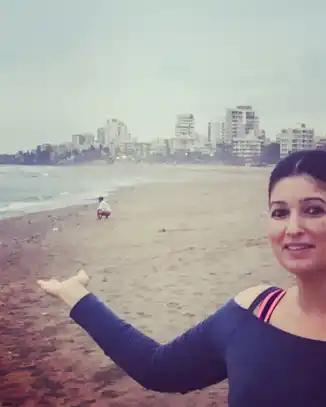 In August this year, Twinkle Khanna displayed peak supportive wife behaviour by tweeting a joke accompanied by a picture of a man defecating in the open.

Image credit: Twitter
All was fine until a few days ago when stand-up comic Mallika Dua expressed her outrage at Akshay Kumar's sexist comment aimed at her. Khanna, otherwise a beacon for feminism, sincerely justified her husband's actions, and pointed out how Dua was accusing her husband of 15 years of sexism when he's hardly capable of ever acting that way. However, it was only when she decided to go ahead and crack two tasteless jokes on the incident — furiously hoping her funnybones would make up for her lack of spine — that it became clear that her online avatar was just an act of performative coolness.
It's one thing to defend your husband from the cruel, judgemental opinions that the world may be too quick to jump to conclusions about, but another to trivialise an accusation of casual sexism. It's perfectly alright for her to not agree to join the Dua herd, and side with her husband's innocence, but to make jokes on his fondness for "bell gadis", and his urgent need to get some "duas" reeks of her implying that no allegations against her husband should be taken seriously.
In doing so, Khanna is no different than Matt Damon, or Ben Affleck, who have both slammed Harvey Weinstein on social media, only because it was the cool, trending thing to do, not because they genuinely were aghast at all the sexual assault allegations against him. Damon wouldn't have been this angry had he not been the father of daughters, and Affleck's availability to support victims who have been sexually assaulted should extend to his brother as well.
Twinkle Khanna was to Twitter what Rahul Khanna is to Instagram — a breath of fresh air that is responsible for our rising levels of phone addiction.
Twinkle's wokeness is as artificial as Amitabh Bachchan's, who paints the town red writing emotionally haunting open letters to his granddaughters; educating them of the importance of creating their identity, and being aware of gender issues. The superstar followed it up by casually ignoring the very women who made a film on women's empowerment possible while celebrating its one-year anniversary.
Just like Bachchan, Damon, and Affleck, Twinkle Khanna has proved her mettle as a performance artist, a fair-weather feminist, and a celebrity whose online persona rests on personal convenience. And, there's no reason we shouldn't treat every opinion of hers from now on with a pinch of salt, aided by an eye-roll or two.
Moreover, her occasional U-turns beg a pertinent question: What does it take for a celebrity — peddling an image of absolute coolness — to step up, and admit that maybe they, or their loved ones have screwed up instead of acting unaware of their follies? Earlier in March, Twinkle had penned a column on women facing sexual harassment at the workplace. She wrote, "In order to merely do our jobs, we ignore the hostile work environment, keep quiet, smile politely at sexist comments, and pretend that the pepperoni pizza we are being served masquerading as a margherita is acceptable." Her stance is fairly similar to what Mallika Dua wrote about while describing the incident a few days ago, "As women, we are used to normalising this kind of banter at workplaces because there are much bigger issues at hand, and that's exactly what I did."
Had this incident unfolded in March, Dua might have had the good fortune of having the support of Mrs Funnybones. In October, she's the butt of jokes by the very same columnist. In these winds of change, one thing is for sure: Twinkle Khanna's performative coolness has made it acutely aware that she's incapable of being the Mrs Funnybones she made us believe she was, anymore.
Not on social media, and definitely not in real life.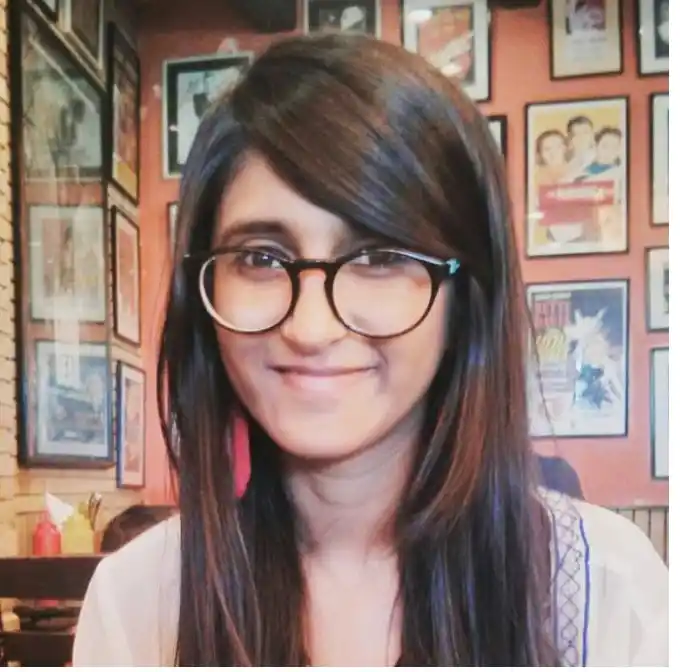 When not obsessing over TV shows, planning unaffordable vacations, or stuffing her face with french fries, Poulomi likes believing that some day her sense of humour will be darker than her under-eye circles.