The creator of Old Monk died yesterday and the boys clubs of WhatsApp were called upon to "take a minute" to mourn him. On behalf of all Old Monk-drinking women, can we also take a bloody minute?
L
ast night, WhatsApp groups began to get flooded with a forward on the passing of Kapil Mohan, the creator of the drink that has launched many a boozy night – the venerated Old Monk. The Padma Shri awardee who created the celebrated dark rum, passed away at 88, a teetotaller.Attached to the newsclip that was circulating among my groups was a single-line message, "Let's take a minute, boys". And all the boys clubs of WhatsApp, made up of old college mates, school mates, and mates of any kind, forwarded it with gusto. "Let's take a minute, boys," was a perfect little homage – it was respectful, reinforced nostalgia, and established group identity.  
As staunch Old Monk loyalists, the instinctive reaction of a handful of women in these predominantly male groups was outrage, but we held it in check. After all, we've always known that the known and unknown, real and imagined legends of the drink have been intensely masculine. A piece by Ashish Shakya in the Hindustan Times a couple of years ago gave us a run-down of these rum legends. According to him, the drink may or may not have been brewed by an actual monk. It's the drink that may or may not be made from the moustache hair of an army officer. It's the drink fermented out of the tears of every engineering student who has ever been dumped or never been laid. And that bottle? Surely that weird bloated shape cannot be anything but a giant fuck you to the ideal feminine figure.
Women who drink Old Monk then, are nothing but temporary encroachers on a male territory. Just like women who drink beer, ride a Bullet, or "fart the opening riff to 'Smoke on the Water'". Yeah they're cool but they're #NotAllWomen. All women are generally wine drinkers, who cannot handle more than a glass or two without feeling dizzy and giggly, and excuse themselves from the drinking table to quickly prepare a plate of snacks for the men. The men they know will continue drinking into the night and exchange stories of how they chased A, B, or C girl through college, or how they scaled that massive hostel wall to continue chasing girl A, B, or C, or how they fought this great war while thinking of A, B, or C. Old Monk: Fuelling male nostalgia since 1954.
The iconography is set in stone. Old Monk is indeed made from the invisible tears of male nostalgia and that is where it will remain.
As for the women? The price of admission to this club is the glass of the good stuff, but even then, you only get ringside tickets. Watch the show and its mighty participants, but don't try to enter the arena.
Out there on the internet, there is a 2015 tribute film to Old Monk starring Sanjay Mishra. It is the story of a man who buys his stock of rum every day to recollect his youth with a friend. Just like these all-male drinking clubs, it rummages through nostalgia of the times that once were and in the light of that gentle intoxication, the men are one with the world and yet stay indifferent – just like monks. A monk, a man who is defined by his disavowal of all things woman. The circle is complete. The iconography is set in stone. Old Monk is indeed made from the invisible tears of male nostalgia and that is where it will remain.
As an Old Monk-swigging woman, I have no problem with that of course. I drink my Old Monk all alone, unrepresented by the iconography of the brand but I'm just as loyal. I swear by its hangover-less world, grateful for the nights it has kept me tethered. But I do it on my own. Without a club.
So when the creator of Old Monk passes away, or maybe one day the unthinkable happens and it leaves our shelves and our lives (God forbid!)… Sure, I have no place to pour my feelings unless I insert myself into the boys club and seek a forum for my entry, but that's fine.
I can mourn alone. I know there will be no message that will say "Girls, let's take a minute." But on behalf of all the Old Monk-drinking women out there who have not been invited to mourn, can we, with your esteemed permission, take a fucking minute anyway?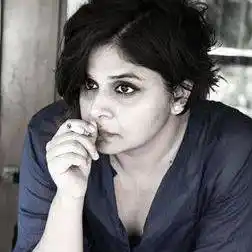 Sharan Saikumar is the Creative Director at Arré.