All through last 10 days, the police crackdown, the imposition of Section 144, and internet shutdowns over the Citizenship Amendment Act saw many BJP loyalists turn. They have a common complaint – they were banking on Modi's development agenda not divisive politics.
In May 2019, The Caravan published an article decrying "The liberals who loved and lost Narendra Modi". Pointing at public figures such as Pratap Bhanu Mehta and Sadanand Dhume, the piece not only upbraided liberals for their intellectual dishonesty, but also tried to be a mood-lifter for those despairing of India's future. For the article also purported to say that the mood in the country had changed. 2019 wasn't 2014. Many who shunned Hindutva, but had lost their way due to the Congress party's devotion to dynasty, or Modi's development rhetoric, had finally woken up.
Of course, the election results proved that this was merely grasping at straws. Despite demonetisation, a slowing economy, lack of jobs, lynchings, and a poorly implemented GST, not enough people were disgruntled with the ruling party. On the contrary, the BJP returned with an even larger majority. Modi Sarkar 2.0, in fact, set about to fulfil the agenda it set in its election manifesto with such vigour that it appeared to shake the very moorings of our Constitution.
The strikes came thick and fast. Kashmir, predictably, was first to fall. Section 370 was read down: Political opponents in Kashmir were put under house arrest, communication was cut-off, media and other parties were only allowed selective entry. Then came the National Register of Citizens in Assam, ostensibly to weed out illegal Bangladeshi migrants. It rendered 19 lakh people stateless — among them a Kargil war veteran and his children, a sitting MLA, and the family of a freedom fighter.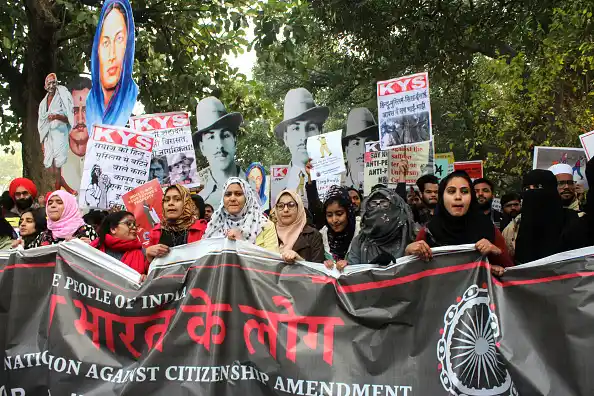 Demonstrators shout slogans and display placards to protest against the government's Citizenship Amendment Bill (CAB) and National Register of Citizens (NRC) at Jantar Mantar in New Delhi on December 24, 2019.

Photo by Mayank Makhija/NurPhoto via Getty Images
Just when we were trying to wrap our heads around all these developments, the Supreme Court pronounced that a Ram Mandir would be built at the spot the 500-year-old Babri Masjid was razed in 1992 by Hindutva goons. The verdict was dubbed as flawed by experts, and was in favour of those who have been for five years insisting, "Mandir wahin banayenge."
But around this time, news about the economy had also started making headlines. India's growth was in the worst shape in years. Finance Minister Nirmala Sitharaman was busy blaming millennials and handing out huge tax breaks to corporations. And then, amid this gloom, came the controversial Citizenship Amendment Act. Coupled with previous proclamations of a nationwide NRC (both in the BJP manifesto as well as speeches by Home Minister Amit Shah), this Act led to the very real fear that the CAA could be used to discriminate against Indian Muslims.
Suddenly the match that India's liberals were hoping for back in May seemed to have been lit. Not only did it burst into flames, and swamp the streets of India in the form of millions of protesters, it saw many prominent BJP sympathisers appear to turn. Arnab Goswami, shouter-in-chief at Republic TV, and cheerleader for the ruling party, slammed the CAA-NRC process. "The BJP is making a bigger mistake through the Citizenship Bill… The BJP is trying to appease the Sangh parivar," he said.  Author Chetan Bhagat also suddenly shed his soft-Sanghi credentials with an all-out Twitter attack: "Those who fantasise about India with a Hindu king and his subservient subjects, remember this… you can't wish 200mn Muslims away. Try that and India will burn, GDP will crash and your kids will be unsafe and jobless."
Meanwhile, more people marched in the face of brutal police repression, the imposition of Section 144, and internet shutdowns. So could this backlash finally be a moment of vindication for those of us who badly wanted to proclaim that we'd seen this coming?
For a couple of months, I've been noticing murmurs along those lines in my extended family and friends groups. An NRI aunt in Australia, and a former ardent attender of PM Modi's rallies, was the first to change her tune. She claimed she wanted a better India, not an India that hates a particular community. Where were the jobs? The economy was in a shambles.
If the government backpedals and softens its stance on CAA-NRC, will we forget the fires it has stoked?
Australian newspapers, it turns out, cannot be controlled by the establishment.
Another person I know distantly — a flag-carrier for the RSS — went all out on Facebook, and called "the BJP government the real tukde tukde gang". While that's a clear exaggeration, on further prodding, he disclosed that "his business had been hurt because of Modi's shenanigans". He claims he knows many others who feel similarly about the BJP now: "Humne socha tha ye economic development karega," he said.
For the past two weeks, Twitter users have been sharing stories of how friends or family they have had fallings out with in the past over the government, have changed their stance. When Twitter user Sunanda (@YoursLegally) shared a screenshot of a friend who had "finally returned", several others quote-tweeted her story with similar experiences.
Another Twitter user Disha (@sonofadish) wrote how her father, who voted BJP in 2014 and 2019 turned against the party because of the CAA-NRC machinations. She implored others to keep the dialogue going with BJP supporters, because, "If my father, a hardcore Sanghi can change, so can yours."
In September, Pratap Bhanu Mehta wrote of the first hundred days of Modi 2.0: "Is somehow, this exaltation of power, control, and nationalism a completion of our own deepest desires? We are not in the grip of an illusion: This is who we want to be." But the ongoing protests, and these online anecdotes, lay to rest — at least for the moment — this theory of the inherent vileness. Most people who appear to have joined the anti-CAA brigade, have done so because their pockets have been stung. Money is now raising its voice against the PM. That is both fortuitous and troubling.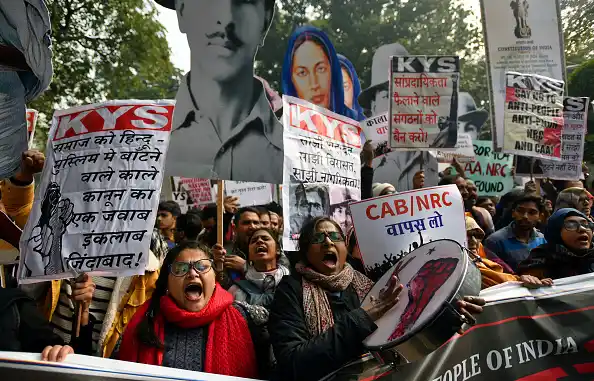 Demonstrators hold placards and raise slogans during a march against the Citizenship Amendment Act (CAA) and National Register of Citizens (NRC) at Mandi House, on December 24, 2019 in New Delhi, India.

Photo by Amal KS/Hindustan Times via Getty Images
In a recent interview, Arvind Kejriwal turned the CAA-NRC issue into an economic one. "India is simply incapable of footing the economic costs of the Act," he explained. But some one needs to ask him, "What if it were?" What if the economy was booming? What if there were jobs aplenty? Should these acts of discrimination be allowed if everyone had jobs? At the moment, for some of us, it appears our wallets — and not our hearts or humanity — are turning us against the establishment.
Yet it is the beginning of a change of mood in the nation. Recent events have proven that the idea of India espoused by Mahatma Gandhi, BR Ambedkar, and Jawaharlal Nehru hasn't been decimated. However, the dangers of this moment fizzling out are very real. Modi 2.0 still has four years to run the country. If the government backpedals and softens its stance on CAA-NRC, will we forget the fires it has stoked? If the economy comes back on track, will talks of vikas once again cloud the insidiousness of a contentious sarkar?

Shubhodeep Pal is a writer and photographer. He tweets as @diaporesis.