Jerry Seinfeld's new Netflix special releases tonight. The man has been an inspiration to several budding comics, but would he have been written off as a fluff comic with no spine today?
Jerry Seinfeld is the person I think of when I stand up to perform on most nights.
I wanted to be a stand-up comic because of Seinfeld which is hardly saying much since Seinfeld is perhaps the biggest influencer in the lives of nearly every stand-up comic of today. We were, at least most of us, shaped in some way by this guy who pulled off a whole show of nine seasons on the subject of…. absolutely nothing!
But as much as I have Seinfeld to thank for nudging me along on my journey, I can't help but wonder how the world that Seinfeld occupies, is so vastly different from the one in which I perform my sets every other night. If Seinfeld were a part of the current stand-up scene in India, would he hit it out of the park or would he go out on duck?
My suspicion is that Seinfeld would be written off as a boring hack by his fellow comics. His is the kind of act that would play it safe with censor-board-approved humour and pander to the insights of the masses. He would have come with trademark quips on modern-day India that would include something simple like "Hey, did you ever notice how surge pricing only happens when you're desperate to get somewhere?" and genuinely baffling questions like "Millions are linking their Aadhar cards to their bank accounts! Who are these people?!"
This simplicity goes to the heart of Seinfeld's act, which is marked by a complete absence of sex and swear words in his four-decade-long career. Unlike the current crop of A-list Indian comedians, Seinfeld didn't have the luxury of scandalous Snapchat filters, applause-worthy cuss words, or FIRs against his name to further his brand because that's where the easy laughs are. If I had a thousand-rupee note for every time a fellow open-micer cracked a dick joke, I'd have a lot of useless currency. Any established comic will tell you that casually uttered "chutiyas" and "behnchods" certainly arouse a few chuckles but they don't guarantee longevity for your set. Nobody understood this better than Seinfeld.
Why would I spend one month writing a set on a supermarket if I can get more views by writing an easy one on sex?
Seinfeld has made a career out of jokes on airport bathrooms, supermarkets, milk (MILK!), how doing nothing is not as easy as it looks, and other undeniable simplicities of human existence. Today, in a time when comedians are taking on the Prime Minister of the country and helping make nepotism our biggest national preoccupation, these seem boring as fuck. I mean why would I spend one month writing a set on a supermarket if I can get more views by writing an easy one on sex?
Given the abysmal state of affairs and the stimulus that we receive just from reading the newspaper, it's no wonder that so many of us try and incorporate hot-button issues like feminism and right-wing politics into our material and also take off on a rant or two. You can't really blame us. After all, we're living in a country where taxes are higher, our jobs aren't secure, and we have foreign degrees that we'll be working off until our forties. It doesn't help that we have a government who is busy making jokes of its own by making cash obsolete overnight, creating cow ministries, and surgical striking away merrily.
People don't want comedy as much as they want to live vicariously through their stand-up comedians which is why acts like "middle of the road cows" and "bullshit outside their doorsteps" are such big hits.
But can we push ourselves beyond the hot button? Can we ever find socks and candles fascinating subjects? Remember, we were once a country that watched Dekh Bhai Dekh and Jaane Bhi Do Yaaron. In those simpler times, we could laugh for a full ten minutes at a well-dressed man making wisecracks about socks being easily misplaced. Sometimes, I wish we could be that nation again. Because really, the thing is that Dekh Bhai Dekh's comedy of manners and the dead man in Jaane Bhi Do Yaaron will always be funny, even if the country gets better and the government stops behaving like a bully.
It is a brand of gentle humour that lives on because it does not rely on offending someone. It is not trying to be cool or edgy or on point. If Seinfeld were to ever talk of demonetisation he would at best do it with an observational piece like, "So demonetisation is all over the papers these days. It's amazing that the amount of news that happens in India every day, always just exactly fits the newspaper!" His beef ban set would pander to leather-wearing elites with, "Why does moisture ruin leather? Aren't cows out in the open most of the time?"
It is the reason that you can look back at any Seinfeld taping from the 90s and discover that all the jokes STILL work. A lot of the lines, even with their cutesy nothingness, remain timeless. Our comedy, on the other hand, will start to appear tired. Much of it already has.
I am, of course, including myself in this malaise. Just last week, I did a set on posting selfies with our voting finger and getting shown the middle finger in return. I suspect that set will have the longevity of a Snapchat story.
As I gear up to watch the Netflix special, I can only think that Seinfeld is the reason I became a stand-up comic. Now, I also hope he's the reason I become a better one.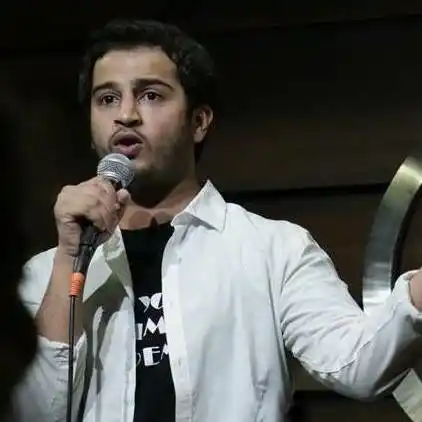 Masking anxiety with humour. Living with his dog, cat, and mediocrity. Creating content aur life se kaafi discontent. Tweeting as @juvenile_jack.