Daisy Irani's story of abuse has put a spotlight on children in entertainment, a distinctly adult industry which is no place for a child. The world of showbiz is a murky one that commodifies children and catapults them into adulthood.
W
hether or not Bollywood has its #MeToo moment, the story of Daisy Irani, one of India's most popular child actors, has sounded the alarm over the safety of the only group in the entertainment industry more vulnerable to abuse than women – children. Irani, who has been a Bollywood mainstay since she debuted as a child artist in the '50s, was raped when she was six years old while on a film shoot, reports the Mumbai Mirror. The perpetrator of this heinous act was her guardian, the man her parents handed her over to, entrusted with the responsibility of making her a star. Irani said the motive for sharing her story, sixty years on, was to make parents of children entering the entertainment industry aware of the dangers that lurk here.
Much like #MeToo pulled back the curtain and revealed that the scale of abuse suffered by women was much greater than anyone had previously imagined, Irani's exposé hints at the sordid reality of showbiz. An increasing number of children's reality shows on television means more kids are entering the entertainment industry than ever before. Navigating this distinctly adult sphere can be harrowing for children, as the recent incident involving Assamese singer Papon proved.
There is good touch, there is bad touch, and then there is Papon. The playback star crossed the limits of "bura na mano, Holi hai" last month when he posted a Facebook Live video with contestants of The Voice India Kids, a show on which he is a judge.
The minors performed a rendition of "Rang Barse", after which Papon, their mentor and guide, smeared gulaal on their faces. With Holi around the corner, that was fine by itself, but what happened after, was not. Singling out one girl, Papon followed up the gulaal by grabbing her face and planting a kiss right on her lips. While the girl stood behind him, the festive colours on her face masking the flush of embarrassment, her smile fading as she tried to process what just happened.
Predictably, Papon's inappropriate actions generated a massive outcry. The clip of the kiss went viral, news channels picked up the story, and social media was abuzz with condemnation of the singer's act. But there was one voice that was exhorting everyone to take it easy. The father of the young girl asked for the act to be taken "in the spirit of affection".
Is this statement to be taken in the spirit of a mature adult stepping in with perspective or an ambitious parent, fearing the end of his child's career with this fracas?
The world of reality television starring children is a murky one, a recipe for a disaster in the making. You have, on one hand, a sea of young, hopeful, and fairly vulnerable children, and on the other you have an industry with people in power who they worship. Between them – where there are supposed to be parents or gaurdians exercising control and advocating restraint on behalf of the minors – are instead adults who are so badly bitten by the ambition bug that they're thrusting their children into the limelight at the cost of their education and innocence.
For parents with dreams of raising a star child, it's not enough that a kid can enjoy singing or dancing, they have to be the very best and prove it in competition.
Remember the nerdy kid in school, who would score 98/100 in his math exam and cry over the two missed marks because he was afraid of what his dad would say? The fact that the boy topped the class was not enough, only perfection was accepted. In the same way, for parents with dreams of raising a star child, it's not enough that a kid can enjoy singing or dancing, they have to be the very best and prove it in competition. A good barometer of this conveyor belt of ambition is the number of shows we watch on a weekly basis: Indian Idol Jr, Sa Re Ga Ma Pa Li'l Champs, and DD Li'l Masters. The audience creates a demand which enables parents to push their offspring into an industry that ends childhoods and commodifies children.
Having a talent is a gift, but for the kids on these shows, it is their curse. In the days of the vintage Doordarshan Meri Awaaz Suno, the only prize was the honour of winning the competition. Yet today's shows come with the promise of parlaying the talent displayed in the competition into full-blown stardom, either by signing a deal with a studio or being mentored by a celebrity. Much like was the case with Papon.
In today's TV environment, where channels are hyperactively competing against one another, there is an abundance of these shows, each featuring a cast of precocious child stars who have been thoroughly groomed by adults to meet audience expectations. In this factory, cuteness is the product and the kids who've outlived their cuteness are the waste material.
At an age where I was trying to catch frogs in my snack box, these kids are expected to put on a performance of "Chikni Chameli" that will bring the judges out of their seats on national TV. The scenario plays havoc with their development, often resulting in them being thrust into distinctly adult scenarios which is no place for a child; again, much like the case with Papon. Even Papon's fellow Voice India Kids judge Shaan has gone on record to state how he believes the tremendous pressure of competition on these shows affects a child's natural development.
As these children walk under the spotlight week-in and week-out, trying to navigate the treacherous landscape of the entertainment industry, the parents stand by the sidelines, participating and fuelling this madness. Sometimes the parents want this stage more than their child.
Everyone remembers Michael Jackson for his eccentricities and the controversy-riddled final days of his reign as the King of Pop. Far fewer stop to think about what impact fame during childhood might have had in producing such a complicated personality. Jackson's father put him front and centre of his family group The Jackson 5 when he was just six. Michael also spoke about how his father used to whip him with a belt to achieve excellence during rehearsals. Joe Jackson's hunger for fame propelled Michael to the top of the world, but at what cost to Michael?
The minor girl from The Voice India Kids and her father have both tried to brush away Papon's act as mere affection being blown out of proportion. In a statement, Papon has also declared that "a faulty camera angle cannot be considered sexual assault".
It all boils down to quid pro quo. The girl and her father retain her chance of finding 15 seconds of fame, while Papon clings onto some shreds of decency. Until parents realise that putting their children on national TV to be idolised and laughed at while going through the wringer of one of the most toxic industries is bound to have fallouts, we're always going to have innocent victims like Daisy Irani.
This is an updated version of an earlier published story.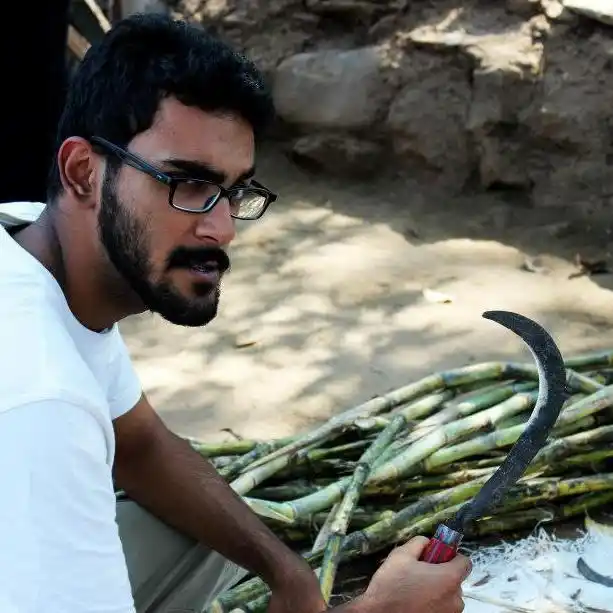 Dushyant Shekhawat really likes his mustache. He grew it himself. You can find him on Twitter at @SeriousDushyant.