You remember sport for the moments, not the statistics, and ten years ago, the inaugural T20 World Cup is the moment cricket changed forever.
It was March 2007.
The Indian squad, led by Rahul Dravid, landed in the Caribbean for the fifty-over World Cup. The squad boasted of legends – Sachin Tendulkar, Sourav Ganguly, Virender Sehwag, Yuvraj Singh, MS Dhoni, Harbhajan Singh, and Anil Kumble. The much-feted Goliath-like line-up lost to the David-like Bangladesh in its first encounter, and later to Sri Lanka, thus crashing out and returning home to their effigies being burned.
That wasn't supposed to happen.
Even Dhoni must have felt what all of us did – is this even cricket?
Five months later, Greg Chappell, who would in the years to come assume the status of wrecker-in-chief of Indian cricket, resigned after the World Cup. Rahul Dravid quit captaincy abruptly a couple of months later and the untested MS Dhoni, who sported a long mane, was given the mantle in the limited overs format.
That wasn't supposed to happen either.
The unknown Dhoni, with a hairdo that resembled actors from the '80s, was given his first assignment – the inaugural ICC World T20 being played in South Africa.
"T20? What's that?" This was not just the world's reaction to this strange, crunched version of the game, but perhaps even Dhoni must have felt what all of us did – is this even cricket?
The BCCI itself saw the format as an aberration, a passing fad that wouldn't go the distance. The team didn't even have a full-time coach – Robin Singh and Venkatesh Prasad toured with them as the fielding and bowling coaches respectively. Former players laughed it off as an ugly mutation of the sport, one that would corrupt the very soul of the Gentleman's Game. Veterans like Rahul Dravid, Sachin Tendulkar, and Sourav Ganguly opted out, philosophising that it was a young man's game. Later, all of them would go onto captain sides in the IPL.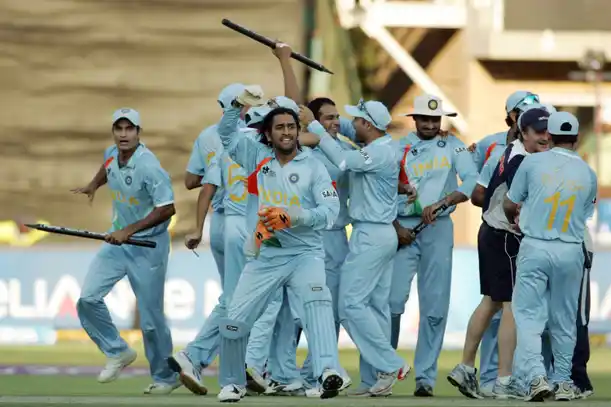 The young guns of India celebrate its win after beating Pakistan in the Twenty20 Championship Final.

(Photo by Hamish Blair/Getty Images)
When Kerry Packer ushered in the limited overs format in the '70s, purists cried foul. Nearly three decades later, purists again bemoaned what was being inflicted upon the game. If coloured clothing and limited overs were considered deadly sins, then T20 was the original sin. It brought with it cheerleaders, loud music, over-the-top commentary, ludicrous sums of money, teams owned by egoistical film stars, and wild slogging, all of which would have the game's founding fathers twisting and turning in their graves.
With all of this going on as background noise, the then 26-year old captain took a shot at this new format. The rest, as they say, is history.
***
We still remember those two weeks of September. We remember how India's first encounter against arch-rivals Pakistan ended in a thrilling and tense bowl-out. How Andrew Flintoff walked up to Yuvraj Singh and gave him an earful, and how young Yuvraj earned his side six unforgettable deliveries and in doing so cemented the future of T20 cricket. How South Africa played its role of chokers to perfection, and collapsed and capitulated in front of their home crowd. And how in that epoch finale between India and Pakistan, one shot stood between Pakistan and a historic win. Even now 10 years later, that moment can give you goosebumps. When in the sky, Misbah-ul-Haq's scoop shot in that final over, looked like it would cross the boundary. In its descent, a blue figure appeared beneath it and held onto the ball. On air, Ravi Shastri enshrined himself into the moment with the words, "Sreesanth takes the catch. India win!" Everything else that followed, the bench running onto the field, the celebrations, the fireworks, is a blur.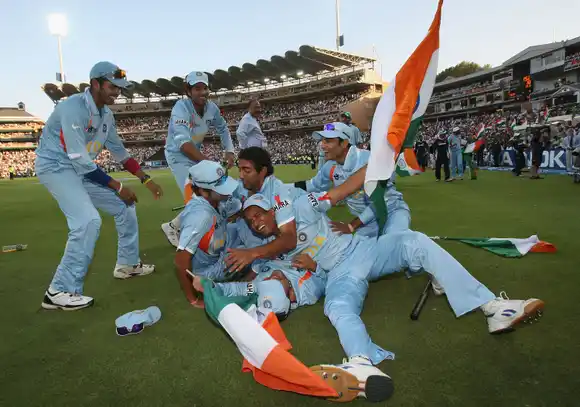 MS Dhoni and India celebrate their Victory in the Final of Twenty20 World Cup held at the Wanderers on September 24, 2007 in Johannesburg, South Africa.

(Photo by Duif du Toit/Gallo Images/Getty Images)
In the end, you remember sport for the moments, not the statistics. 
Eight months later, the Indian Premier League, the mastermind of Lalit Modi, exploded onto television sets and changed the face of cricket as we knew it. Fast forward to current times, where Star India won the television and digital rights for the IPL for five years by paying a whopping ₹ 16,347.5 crore. Back in 2007, we didn't realise it but what we were actually witnessing was the birth of a phenomenon. To see that footage is to see a bunch of cricketers finding their feet in a new format, playing without any weight of expectation on their shoulders and with a freedom not seen since. It seemed like we were all testing the waters with them.
Now, 10 years since that day, much has changed. 
Mahendra Singh Dhoni has resigned from all forms of captaincy and is attempting to take one last swipe at glory in the 2019 World Cup. He is older, wiser and a tad slower. Joginder Sharma, who bowled the last over in both the final and semi-final of that World Cup, slowly faded away from the game and is now a deputy superintendent of police. Sreesanth sold his soul, his dignity and his self-respect, and got a life ban in return. Yuvraj Singh would repeat his heroics four years later and help India win the fifty-over World Cup in 2011. A few months later, he would fight for his life and win again. He is no longer in the current scheme of things and we may have seen the last of him in India colours. Lalit Modi is living a life of exile, watching from afar as his baby takes giant leaps without him to fawn over it. 
Years from now, when cricket is swallowed whole by T20, and all of its other formats mere artefacts in a museum, you can tell those who come after you that you were there when everything changed, when it all began in those two weeks in September.
You were there, when cricket changed forever.

Pawan has lived in Bangalore all his life and gets withdrawal symptoms if he misses South Indian food for more than two meals in a row. He can be found @thehipporules.blogspot.com and @pagesofsport.wordpress.com.