After a relatively tame first two episodes, the 82-minute third Game of Thrones episode gave fans a dose of what propelled the show into must-see TV in the first place - the gruesome and unpredictable deaths of their most beloved characters. Warning, an article has many spoilers!
For the last few weeks, the dirt sheets and fan theory forums have been running amuck with wild predictions of just how many people will die in the newest episode of Game of Thrones. And after watching, "The Long Night", a lot of them might be feeling pretty smug. After a relatively tame first two episodes, the 82-minute long spectacle gave GoT fans a dose of what propelled the show into must-see TV in the first place – the gruesome and unpredictable deaths of their most beloved characters.
Warning, spoilers ahead!
It hasn't been a great weekend if you're an ardent lover of fantasy franchises. Fans had just barely begun to recover from the trauma of Avengers: Endgame, when Game of Thrones dropped its much-awaited third episode. An hour and a half-long roller coaster ride of emotions, S08E03 manages to encapsulate the visceral, edge-of-your-seat combat sequences from "The Battle of Bastards" with the mass culling of main characters associated with "The Red Wedding", leaving you reaching for the tissue box.
While a few foresaw the deaths online, not many expected Westeros' most eerie Laal Dupatte Wali, Mellisandre, to make a comeback. The Red Priestess' return remained the first true shocker in the episode, as she egged on the Dothraki forces to charge ahead and fight the Night King's army, giving them magically lit af swords, just because. The Dothraki were, however, thwarted by the wights pretty easily. Undead: 1, Humans: 0. Ser Jorah and the remaining Dothraki retreated back to Westeros faster than Pakistani forces fled post-Jackie Shroff's appearance in Border.
At this point, Jon and Khaleesi Bua joined in on the action. As expected, Dragon Amma flew down, Dracarys-ed up the place, serving up tan-tana-nana tandoori wights as if her war cry was "How's The Ghosht?" But eventually, both Jon and Dany get caught up in what looks like part-snowstorm, part-90s Ramsay brothers title sequence. By now, I had spent most of my time adjusting the brightness on my laptop, because I legit thought there was something wrong with my screen. It's one of the darkest episodes GoT has aired, which makes sense, but seriously, it's so dark it has to be careful it doesn't get pulled up by the LAPD.
The human army continues to get their asses handed to them, and eventually, even the second line of defence against the Night King's army begins to retreat. Their plan to set fire to the trenches around Winterfell isn't exactly working. You'd imagine an army fighting literal ice-zombies would have accounted for frozen trenches, but, hey, who needs to thaw ice when you have Mellisandre, amirite? Homegirl can simply use her clout with the Lord of Light to barbeque those pesky Wights.
As a ring of fire surrounds Winterfell, the undead are kept at bay, for now. Aunty Dany and Bhateeja No 1 by this point are embroiled in a mid-air dragon brawl with the Night King. Eventually, Jon manages to buck the Night King off his not-so-trusty steed and abandons his own crashing dragon so fast, it made Wing Commander Abhinandan proud.
With "The Long Night", the makers have put out a very strong message for the last three episodes: Let's Make Thrones Great Again.
Down in the castle, tragedy ensues as a giant Wight breaks in and destroys everything. Enter: the fiercest Lady of Bear Island and someone I'd pay good money to see on Kya Aap Paanchvi Pass Se Tez Hai?, Lyanna Mormont. In perhaps the most riveting sequence on the show in ages, YaasKween Lyanna challenges the undead giant, before getting crushed in its grip. Defiant to the very end though, she uses her last breath to stab the mammoth in its eye, taking it down with her. The universe collectively stans!
Outside, Dany is trying to make herself a BBQ Night King, but alas, dragon fire is but a spa treatment for Icy Tiara Man. He simply squints his eyes as a subtle smile lights up his frozen, usually expressionless face (Arjun Rampal, take notes). Things get worse when the Night King wakes the fallen dead to build another wave of Wights and all integral characters like Ser Jorah (sigh! RIP, sweet mayor of the friendzone), Lord Commander Dolorous Edd, and a redeemed Theon Greyjoy among others meet their eventual demise.
It's also not a good time to be Bran Stark. Westeros' own part-Anand Bhai from Munnabhai MBBS and part-Don Salamanca from Breaking Bad, the youngest Stark seems to be staring at his death as the Night King gets ready to stab him with its ice dagger. Before we delve into what happened next, let's take a minute to talk about Arya Stark.
There's no denying Arya Stark's claim as the most badass resident of Westeros. She's an underdog who saw her father's beheading, has risen against all obstacles, and avenged those who wronged her and her family. So it was doubly special to watch the little Easter eggs that the show's makers dropped earlier in the episode, in the lead up to one of Arya's character-defining moments. The foreshadowing included interactions where Arya tells Sansa in her classic "behen-tu-rehne-de" tone, to "stick them with the pointy end", a reference from her training days in Season 1, as well as the way Arya uses the skills she learnt from the faceless men to distract and eventually escape the Wights baying for her blood.
But the greatest instance of foreshadowing came from Melisandre telling Arya, "Brown eyes, green eyes, blue eyes. You'll shut them all", followed by asking her the familiar, "What do we tell the Lord of Death? Not today" quip. While Lord Frey could be the brown eyes and Cersei might well be the green, by the end of this episode, we certainly learn that the blue eyes in question belonged to the Night King.
Arya steps in, literally out of nowhere, rescues Bran and kills the Night King. Seemingly, along with most of his army, including that god awful ice breathing dragon. A girl has slain the night king and it seems Winterfell will live to fight another day.
After eight seasons, GoT fans can blame all their trust issues on the show's uncanny ability to kill off beloved characters. The unforgettable Ned Stark beheading, the heart-wrenching "Red Wedding", and the shock of Oberyn's mind-blowing death in the Mountain and the Viper, are all moments that left us in shock. With "The Long Night", the makers have put out a very strong message for the last three episodes: Let's Make Thrones Great Again.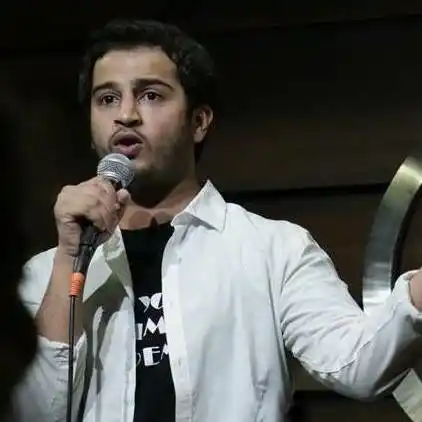 Masking anxiety with humour. Living with his dog, cat, and mediocrity. Creating content aur life se kaafi discontent. Tweeting as @juvenile_jack.