There's lot more to Netflix's Bridgerton than steamy sex scenes. While everyone's going gaga over the delicious Duke of Hastings, it's the women who are the real heroes of the show. You need to look beyond their flouncy skirts.
I am not what you would call a "binge-watcher". But that doesn't explain why I spent hours camped in front of a screen watching Netflix recently. I hadn't gone totally cuckoo; but I was hooked like never before right from the first episode of Bridgerton. If you haven't yet heard of it, Bridgerton is a period drama, on track to become one of the biggest hits in Netflix's history. Because unlike The Crown or other so-called "serious" series, Bridgerton is unafraid to put the drama in period drama. Think Pride and Prejudice meets Gossip Girl. Everybody is watching it. The mamas and the daughters, the schoolteachers and the lady bosses.
And this strongly feminist writer.
I love Bridgerton. If my fellow feminists are reading this, so be it. Hang me dead. Yes, I do see why the feminists are shredding the series to smithereens. Bridgerton revolves around young women whose life's purpose is to snag a groom. All they do is dance in ball after ball, dressed to the nines. They spend hours at the modiste (lady tailor) for fittings and they promenade prettily with silly little fans and cutesy puppies. There is dance practice, singing at the piano, and high-decibel reading of gossip rags. The gentlemen drink fine whiskeys in venerable clubs, play whist, and occasionally duel for their ladies' honour. At the close of the season, everyone retreats to their country seats to live in rustic splendor. Talk about a life of purpose.
But who cares?
It's a bit too late to raise slogans over the gender politics depicted in Bridgerton. It's like watching a fairytale. This is a series set in the 1800s. It talks of times that are long gone and never to return. We can't change them and we don't have to. Those attitudes, mindsets, and social mores do not exist. So can we please just watch the series like the well-made fairytale it is? Kindly suspend judgment. Allow suspension of disbelief.
Bridgerton is unafraid to put the drama in period drama.
Just look at the casting, if you please. The British queen is black. The delicious Duke of Hastings and his aunt Lady Danbury too are played by coloured actors. Historians can protest that this is a distortion of the past. But I for one love the fact that coloured folk have been depicted thus. They dance and socialise in the same balls as the white-skinned and what could be more democratic or wondrous? And the Duke of Hastings is the stuff wet dreams are made of: Tall, dark, and handsome, with a side of damaged, complicated, and very human. Which woman doesn't get attracted to a flawed character, feminist or not?
Which brings me to the women in Bridgerton. Let's start with Daphne, the lead character. She is declared the debutante of the season by the queen herself. So many men chase her but she is wise and cautious, until she falls for the Duke of Hastings. Of course, she loses her mind. They get married and have tumultuous sex, but the Duke will not have children. Daphne is devastated, until she discovers that it is not that the duke cannot have children, rather he will not. And she actually takes charge in bed, refusing to let the Duke pull out in time, (his contraception method) as he always does. Talk about women on top.
Then there is Marina Thomson, a woman who is pregnant with her lover's child. The lover is a soldier who's gone off for war. He doesn't know. She hides, even tries to terminate the pregnancy. She attracts the unsuspecting Colin Featherton and persuades him to marry her, but she is found out. The marriage is called off. Then word arrives that her soldier lover has died. His brother arrives and proposes marriage to Marina. Desperate, exposed and done for, she turns him down because she says she doesn't know him. Pretty revolutionary for a Regency damsel in distress, don't you think?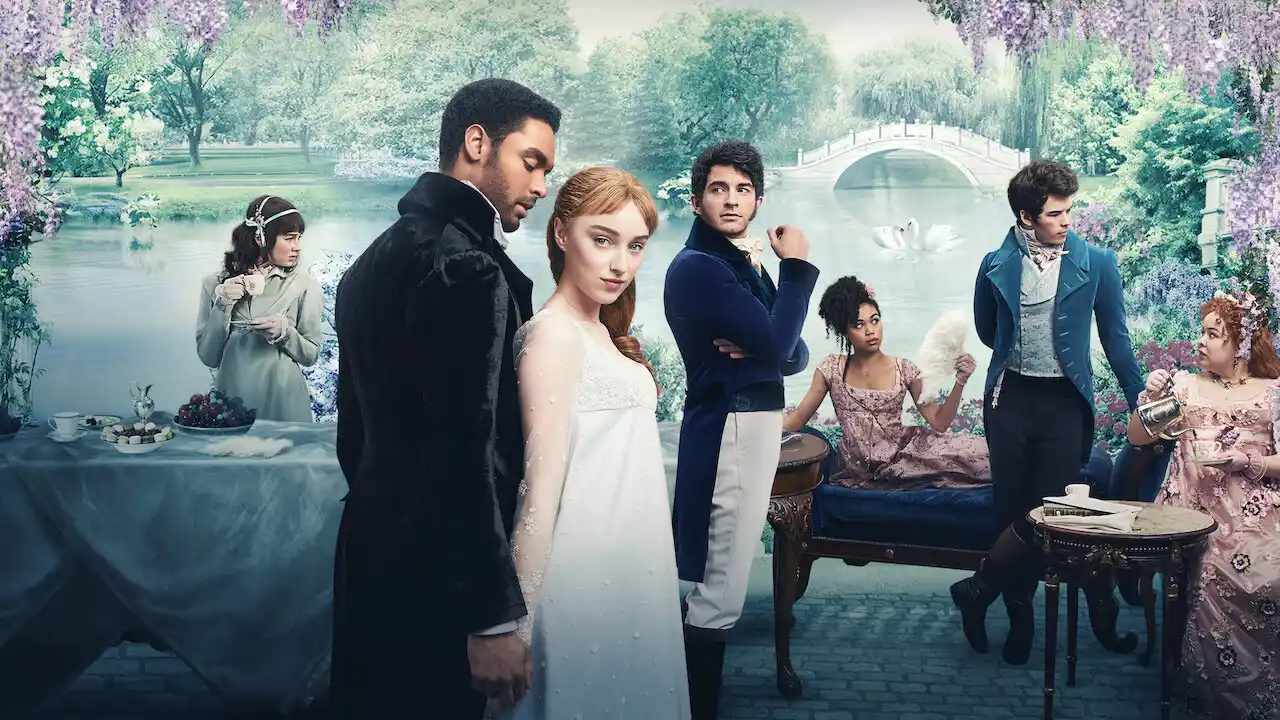 Bridgerton is a fabulously made series that gives you plenty of food for thought and turns the table on convention.

Netflix
Queen Charlotte and Lady Danbury are both women who are living on their own terms. The queen's husband is mentally ill. She runs the kingdom. Lady Danbury is a woman with stature and means, living life on her own terms. There is no husband in sight.
The men, on the other hand, are foolish and weak.
Lord Featherington gambles away his home and his daughters' dowries, leaving his wife to pick up the pieces. The Duke of Hastings suffers from childhood complexes, which he deals with by sparring with a punching bag and a boxer friend, solving nothing. Anthony Bridgerton is madly in love with a prostitute but doesn't have the courage to do anything about it.
The women are the winners all the way.
And then there is the sex. Bridgerton is surprisingly steamy. The Duke and Daphne, along with Anthony Bridgerton and Siena, are the couples whose sex lives are notable. Notable because the women are as active in the act as the man. It's a two-way thing. She doesn't lie back demurely. That's pretty feminist.
Bridgerton is not an easily dismissed soap opera, a Karan Johar film set in the Regency era. It's a fabulously made series that gives you plenty of food for thought and turns the table on convention. The admirable women characters and their friendships, their agency, the open, natural approach to sex, and the pleasant surprise of coloured actors in pivotal roles, these are some of the things that make Bridgerton a show to reckon with. Watch it if you haven't already. You will discover that underneath their flouncy skirts, the Bridgerton women are feminists.

Shubha Menon recently dropped the 'copy' from 'copywriter' to become a writer.
She is the author of The Second Coming, romantic fiction, published by HarperCollins India; and RESILIENCE – Stories of Muslim Women published by FrontPage Publications. A mental health advocate, she is also a peer support specialist certified by DBSA (Depression and Bipolar Support Alliance) USA.