Vikramaditya Motwane's Trapped goes to the heart of an inherent paranoia that cityfolk are programmed to feel. We run to these stories for the morbid fascination of possibility.
About halfway through the taut runtime of Trapped, a dejected but resolute Shaurya (Rajkummar Rao) mumbles to himself "Kuch bhi ho jaaye, mujhe yahaan nahi marna hai" (Come what may, I'm not going to die here). Shaurya is locked inside the 35th floor of an uninhabited high-rise in a South Mumbai neighbourhood and with each passing day, his hopes of escaping keep receding. In its immediate context, the line is a testament to the protagonist's will to resist the fear and terror accompanying his isolation, but if you go beyond, it is also a representation of the feeling every outsider has when they live in this city of dreams, squashed into their matchbox apartments, crammed themselves into their box cars, far away from the open spaces they once called home.
In his third directorial venture, Vikramaditya Motwane turns the innocuous setup of a high-rise (ironically called Swarg) into a brutal battleground for survival. Duped by a broker into renting a modest 1-BHK at a discounted rate, Shaurya soon realises he's stranded without running water, food, and even electricity. His phone battery gives up soon after, leaving him almost incommunicado with the rest of the world. His attempts at screaming and wailing for help are also utterly useless.
The film's premise is so simple and everyday as to be completely horrifying. In 105 minutes, the realities of urban isolation and the complete breakdown of community aided by our built-up environment, come alive. Upon the release of the film's trailer a couple of weeks ago, urban India had lapped it up in a flurry of #sorelatable tweets. And it is relatable, because it only takes a mishap with our keys for any of us to be in the same situation.
We've been there, you and I, stuck without a way in or out of our homes. We've heard the urban legends and seen the headlines that terrify us for weeks. The case of the woman who was robbed and killed in her apartment that nobody discovered for eight weeks. The man who was torn to shreds inside an elevator because he couldn't get inside on time. The old woman who died of natural causes in her apartment, eaten away by her own cats.
We run to these stories for the morbid fascination of possibility, for the spike of adrenaline that courses through our systems when we place ourselves in the midst of these dire situations. We love microdosing ourselves with fear to confront our own mortality with narratives that come close to our real lives. In these times of urban paranoia, Trapped is exactly the entertainment we deserve.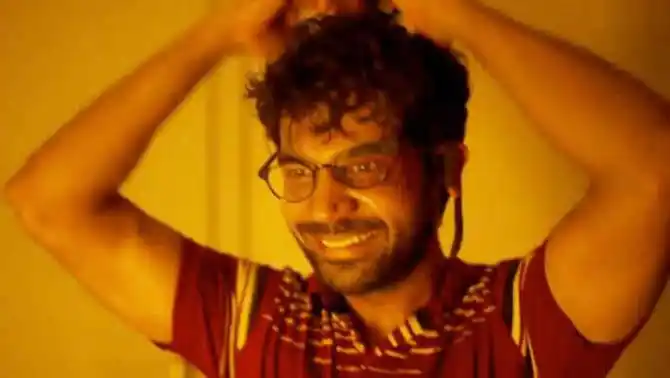 Shaurya (Rajkummar Rao) is locked inside the 35th floor of an uninhabited high-rise, and with each passing day, his hopes of escaping keep receding.
Courtesy: Phantom Films
Urban paranoia has been a staple of entertainment for some time now. It is the fear of being cyber-hunted that keeps us watching Black Mirror; the terror of being attacked by a mob of violent rural offenders that makes us enjoy NH10. Shows and films like The Twilight Zone, The Texas Chainsaw Massacre, 127 Hours, and Deliverance are all urban paranoia films that cater to our psychosis – and succeed in feeding it.
What indeed is urban paranoia?
It is the term given to a condition of mild psychosis that stems from living in cities. That fear of constantly being watched, of the traffic drowning a more ominous white noise in the background, the inexplicable routine of checking and re-checking that all the doors and windows of your minuscule apartment on the twentieth floor are bolted… It's not just you. People who live in confined spaces in an ecosystem overrun by traffic and concrete landscapes tend to gravitate towards schizophrenic tendencies a lot more than our fresh-air-breathing country cousins. For some reason, we think our cities are killing us.
An article in The Atlantic magazine pointed out last year: "There are good reasons to think that city living might be the cause of some of these problems. The two big psychological negatives of city living, social isolation and social threat, are already well studied in mental health. They are risk factors for a range of psychological difficulties but have been particularly associated with misperceptions and paranoia. And for people who are already experiencing paranoid delusions, there is good evidence that urban environments amplify anxieties, increase the intensity of hallucinations, and weaken self-confidence."
Courtesy: Phantom Films/ Youtube
The answer to this most oddest of fears could lie in genetics. People with certain genetic markers are more likely to gravitate to urban life and these same genetic markers make them vulnerable to schizophrenia and hallucinations. But why are cityfolk so afraid, given that most cities are chock full of policemen and enough infrastructure to ensure the safety of their residents?
Some experts believe that therein lies the problem. As it turns out, the more we resort to increasingly extreme forms of security, the more we feel afraid for our safety. Control and paranoia are directly proportional to each other – an upswing of one leads to a spike in the other. It is societally understood that urban life is a mixed bag of control and chaos, and constantly flipping the switch from one mode to another is what exacerbates the inherent paranoia that we're programmed to feel.
Trapped goes to the heart of this inherent paranoia and as a movie it also marks Vikramaditya Motwane's resounding return to form and a celebration of Rajkummar Rao's power as an actor. But more than either of these things, Trapped could be interpreted as our collective broken love-song to a city we love but with the secret knowledge that if we don't leave, it may kill us one day.
With inputs from Poulomi Das

Nimisha likes ditching plans, drinking coffee and talking about Maynard James Keenan. She spends her free time silently judging everything and brushing her bitch face off as PMS.