With Monsoon Wedding, Mira Nair breathed life into Delhi on celluloid almost two decades ago. And even today, Nair's eccentric, marigold-chewing PK Dubey remains unforgettable.
October is slowly turning into November, and in Delhi, the air is taking on a chill. In this city that is half new, half old, half colonial, half medieval, half native, half migrant, the seasons are changing, and so are the colours. Yet, this city with its walled streets and kebabi gallis remains, in many ways, still in a perfect Nolan-esque moment in time and space.
Except that the director who breathed life into this half-and-half city on celluloid almost two decades ago, was less Nolan, more Nair. Nobody has captured Delhi's ferocious velocity juxtaposed by an almost meditative stasis better than Mira Nair in Monsoon Wedding, and nobody symbolises its inhabitants, crafted in equal parts of ambition and eccentricity, like Dubeyji.
The Dubeyjis of the world exist on the fringes of our everyday existence as the atypical Dilliwallahs whom we've more or less forgotten about. The ones that while away precious years lazing around the house, waiting for a business miracle to happen (Ranvir Shorey from Khosla ka Ghosla), the ones who talk in hyperbole and have a proverbial outlook toward everything banal and commonplace (Bangali from Oye Lucky! Lucky Oye!), and the ones who may be tangential to the solar system you inhabit, but are the epicentre of a universe of their own. PK Dubey of Monsoon Wedding effortlessly merges all the shades of this quintessential Dilliwalla within him, even as he chews meditatively on marigolds.
Dubeyji is not the star of Monsoon Wedding. The movie, at its heart, is a coarse web of ever-changing relationships spun around an upper-middle class Punjabi family, whose cobwebs lie exposed at the end of a raucous three-day wedding celebration. Everyone has secrets and the narrative flows through them like an abrasive river in rage, amassing everything in its way, but settles slowly in a delta where many plots that are tangential to the central plot roam free. There, down below, like a subtle bass rhythm under blaring guitars, lies the love ballad of PK Dubey.
Dubey, portrayed by Vijay Raaz, is a character that perfectly embodied lower-middle class India at the dawn of the millennium. Dubeyji's fascination and idolisation of everything "phoren" like "pukka bills", white tents, and electronic mail is juxtaposed with a very desi stubbornness of not having the venue waterproofed and predicting confidently, "Mor nahin nach rahe hain, toh barish nahin hogi", prompting his flummoxed employer to ask, "Dubey, ganja peeke aaya hai?"
This eccentricity is what defines Dubeyji. He's a "kaamchor", as he's often referred to, but does not let go of his mobile phone (his trials with it are well-articulated throughout the film), neither does he pick it up (the opening scene in the film is of a harrowed Naseeruddin Shah frantically calling him). Dubeyji's classic quirk is evident in a scene when he enters the Verma bungalow with his entourage. Naseer is waiting for him, hurling the choicest of abuses. In typical Dubey fashion, he puts on a pair of sunglasses and immediately starts heckling his men, keeping a shrewd eye on his employer so that he understands, most clearly, who the boss is. And yet this hardcore hustler melts into a pile of marigolds at the sight of the gorgeous Alice, and Dubeyji's beauty comes to light.
Dubey, the twisted everyman, to us, is the soul of a migrant's view of Delhi with a mixed sense of belonging and alienation
Dubeyji's earthy, old school romance with Alice – their eyes meet in slow motion with "Aaj Mausam Bada Beimaan Hai" playing in the background – is the love story you want to root for. It is unbelievably fragile and impossibly distanced from the rapidly changing equations of those higher up in the social ladder.
Time slows down as marigolds begin to rain on this tender love story that changes Dubeyji irrevocably. This love brings calm and stability to the eccentric energy of Dubey's character. While he shows off mobile phones, newly printed cards, and an abridged version of his name, his heart is not in it. In one of his epic marigold-chewing moments of clarity, he is struck by how he has managed at least 200 weddings but has never thought about getting married. The meditative chewing of marigolds became the metaphor for Dubeyji's changing outlook toward life, and Dubeyji himself became the heart of the movie in which he should have been nothing more than a footnote.
Why do we continue to love Dubey? In Dubey, we see a relic of the past trying to grapple with the future. He fashions himself to keep up with the changing times, but it's not difficult to see why the Dubeys of a couple of decades ago have now been replaced by an army of wedding planners, caterers, and photographers. The men, who once played "half thekedaar-half manager" but would always tell you, "Sir, your daughter's wedding is like my daughter's wedding", and used words like "exactly and approximately" with utmost sincerity, have been extinct for a while now. Dubey, the twisted everyman, to us, is the soul of a migrant's view of Delhi with a mixed sense of belonging and alienation. The voice of the suburban social climber, who is eccentric and arrogant, slimy and lackadaisical, but is simple – a man with simple desires and simple accomplishments. He's not Vicky Donor or Piku; he's just a man on the sides constantly telling you to "take it easy na, sirjee".
Dubeyji and Alice, in spite of our trepidations, do end up coming together. The calm of the impending and profuse rainfall in the last scene signals a change. Dubejyi's eccentricity gives way to emotional stability as "Rabba Rabba Mee Barsa, Saddi Koti Taade Pa" resonates from the Verma bungalow, and everybody dances in rapture.
Parbatlal Kanhaiyalal Dubey dances too, in that terribly goofy, awkward way that we expect him to dance, as the fountain of life showers abundance on everybody and promises fresh beginnings that we hope will not be the end of the kaamchor, kameena Dubey who we can't seem to forget.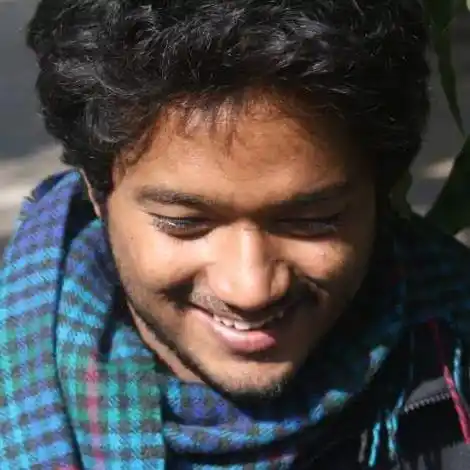 Anahad is the fourth most recognisable Odia after Biswa, Biswapati and Satapathy. He sold his kidney to get into college and every word you read gives him a grain of rice. Be Kind.