Right from the moment I heard "Lover", the titular track of Taylor Swift's seventh album, it felt like a kind of homecoming, that was at once, wholly familiar and deeply uncomfortable. In it, Swift finally sings of love and not about it, like a poet invested in creating poetry. Like love is not as much a lifeboat of her life, but life itself.
"Heartbreak is a national anthem," crooned Taylor Swift in 1989's "New Romantics" five years ago. In an excessively sanguine track that sounded equal parts motivational and equal parts dissection of the impatient, makeshift dating lives of an entire generation, it's this line that came the closest to defining Swift's pop-star id.
Over the last decade, Swift has made a seamless, exhilarating transition from country singer to a genre of confessional pop songwriting that has laid the foundation for a specific skin-close kind of romantic storytelling. In this universe, romance is assumed to be a fleeting frivolity ("This is me praying that this was the very first page, not where the story line ends") and break-ups are reality TV ("You're an expert at sorry and keeping the lines blurry") broadcast to the world as personal bookmarks. But it is heartbreak – the cruel, petty, imperfect, and selfish acts of the privileged heart – that was always the devastating memoir ("It turns out freedom ain't nothing but missing you"). 
A lot of people, especially the ones put off by her diaristic tendencies, are quick to accuse Swift of weaponising the insecurities and pitfalls of lovers to have the last word. Yet that's only partly true. In her discography, that spans seven studio albums, it's actually heartbreak – past, present, and future – ensconced in the folds of these tracks that remain the recurring motif. For someone who is perennially seen pleading against it, Taylor Swift has always been obsessed with endings, and more importantly, in outrunning them. These songs then, feel less like the actions of a withering lover and more like someone desperately trying to delude herself into believing that things, people, and feelings could outstay their expiry date. Heartbreak has not just strengthened but also sustained the singer's emotionally intelligent and at times, manipulative songwriting.
That is until Lover. 
It's an album that the singer has described as "a celebration of love, in all its complexity, coziness, and chaos". On an initial assessment, Lover, breathtaking as it is, doesn't seem to be breaking any new ground. This is not the first time that Swift has written about love or reflected on its consequences; by now, it's almost a staple diet for her legion of incurable fans. And yet, everything is different. Usually, when Swift sings about love, it's from a distance. Either they are stinging post-mortems of relationships ("Red," "Dear John") or wide-eyed escapist fantasies ("Love Story," "Everything Has Changed"). In all these songs, the singer obediently stars as the outsider ("You Belong With Me," "Enchanted"), if not the victim ("Style," "Teardrops on My Guitar") of her own story; one who deserves better. Essentially, over the years, Taylor Swift has been singing about love, engaging with it in much the same way as an actor acts out a role, or an agony aunt column dispenses life-advice – she's perceptive yet detached.
In "Lover", Taylor Swift finally sings of love and not about it, like a poet invested in creating poetry.
But in Lover, Swift ditches these crutches for what seems like the first time, in a long time: In it, the singer finally sings of love, like a poet invested in creating poetry; like it is not as much a lifeboat of her life, but life itself. There's no better evidence of this maddenning leap of emotional fortitude, than in "Lover", the album's eponymous title track, that to me, felt like the grandest and simultaneously, the most tender proclamation of the self-destruction that staying in love begets. The singer, at last, takes charge of her own story. If you, like me, look at Taylor Swift albums like time capsules that signpost sections of life, then Lover is about that time when you confront disaster, the same way Reputation was about that time when you dismissed it.
In one of my favourite essays about The National, Helena Fitzgerald writes that even though The National are her favourite band, she wouldn't necessarily mention them if someone asked her what music she liked and she didn't know them well. "That answer would reveal too much. Maybe I don't want you to know me that well; maybe I don't want to be that known," she says. I immediately thought of my relationship with Taylor Swift when I re-read these lines a month ago. Even though, I've been a hopelessly sincere listener for 13 years, willingly allowing Swift's voice to soundtrack my crushes, new relationships, break-ups, pangs of emptiness, rejections, battle scars, and walks of shame, I don't like to talk about her. Something about listening to Taylor Swift has always felt like an escape, carrying a suggestion that my fondness could very well be a stop-gap until I stumbled upon the music that would go on to define my life. A Taylor Swift love ballad is where I would go when I wanted to exert control over my life; when I craved the illusion of feeling an emotion ostensibly. And not when I wanted to drown into something with the entirety of my leaking heart.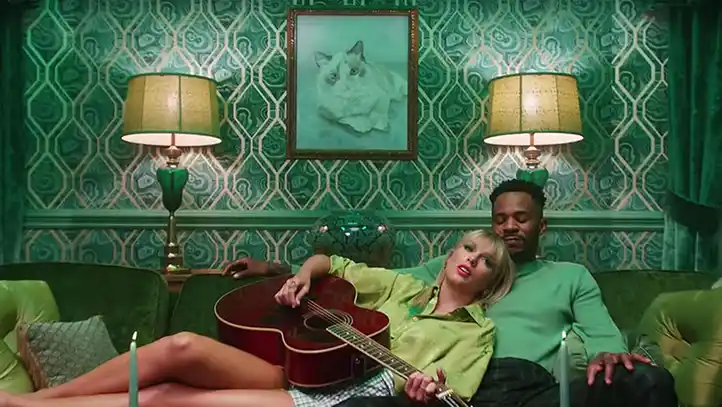 "Lover" is a track that pulsates with a kind of intimacy that can't be replicated without being thoroughly felt.
That's not what I can say about "Lover". I took to it like one would usually take to the comfort of rediscovering an old memory, replaying it and fixating on the tiniest details. Right from the moment I first heard it, "Lover" felt like a kind of homecoming, that was at once, wholly familiar and deeply uncomfortable. Just like the haunting "It's Nice To Have a Friend", "Lover" is replete with charged gaps, that don't tell as much as they show. It's one of the few tracks that isn't overtly embellished by the album's fantastic and sensual sound arrangement, which is dialed down to the minimum (the drums come in only toward the end) so that Swift doesn't have to sing over it. Instead it is shouldered by her electric, husky voice that elevates the intensity and urgency of the vague quality of the lyrics, astounding with the level of detail that they can possess, if you care to dig deep enough. 
One of the things I like and dislike about Swift is that she's a flamboyant songwriter – her lyrics contain a lifetime worth of information, infused with an enjoyable cheeky variant of camp and drama. Yet that also means, that you rarely get to read in between the lines; the singer is habituated to offering her life up on a platter. It's why I believe that how much a Taylor Swift track works for you depends severely on how invested you are in the messy terrain of her long list of lovers and the enemies she makes out of them. 
Curiously, that is is also the reason why most of her love songs come across as cunningly logical to me. They're always about something other than love: Most often than not, it's addressing the perception that the world has of her and retaining control, despite heartbreak and not in spite of it. Even the emotional honesty of "Delicate" and "New Year's Day", two of my favourite Swift ballads, get swayed by the singer's tendency to pre-empt the end. They predict farewells, with one foot already outside the door, in the guise of a greeting. A Taylor Swift love song, is then, foremost, about self-preservation that in some ways, remains at odds with the very idea of love.
"Lover" is a suggestion that the heart doesn't need to break to be a national anthem. Sometimes, it just needs to do its job.
In that sense, "Lover" preserves none of Swift. There's no attempt to decorate the length and breadth of the emotions documented in the song with logic, which is also the best thing about it. It is arguably, the first Swift-endorsed romantic declaration that feels vigorously committed to its sentimentalism. "Lover" is a track that pulsates with a kind of intimacy that can't be replicated without being thoroughly felt. It's that rare song that operates in the past, present, and the future. In it, Swift readily radiates a kind of embarrassing honesty, one that is aware that there is no way other than to go all in. 
It's possibly why every time I've listened to "Lover" this past week, I've undeniably been hit with a feeling that something is at stake. There's no deadline and yet there is. It's tender ("And, at every table, I'll save you a seat, lover"), overwhelmingly vulnerable ("Can I go where you go? Can we be always be this close, forever and ever?), self-reflective ("With every guitar string scar on my hand..") and even, surprisingly melancholic ("My heart has been borrowed and yours has been blue"). In the song, the singer doesn't shy away from letting every line in the track come across as her steadfast attempt to document the truths that she used to look away from; to confront not just the risky nature of love, but also her changing self (she shouts out to her past self who thought love was a "burning red"). It continues to stand out, because Lover tells me more about Taylor Swift than it does about her lover, and in a crooked way about myself and the ways I choose to love.  
But more than anything, why I suspect that "Lover" already has my whole heart is the fact that it is ultimately evidence that Taylor Swift can relinquish control at the cost of impending grief; that she now chooses to not look at love like a contest anymore. It is the suggestion that the heart doesn't need to break to be a national anthem. Sometimes, it just needs to do its job.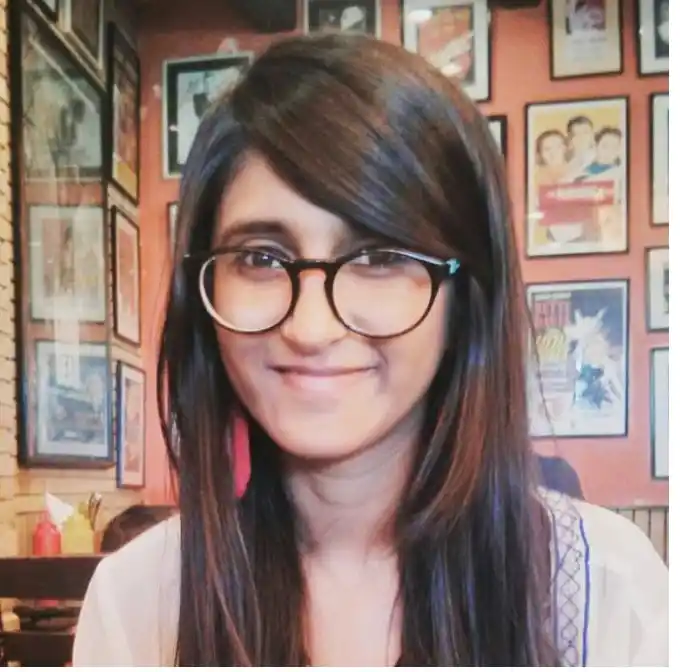 When not obsessing over TV shows, planning unaffordable vacations, or stuffing her face with french fries, Poulomi likes believing that some day her sense of humour will be darker than her under-eye circles.