Earth's mightiest heroes wore black today, to mourn the passing of Stan Lee. No bright reds, greens, or yellows, for the man who had so lovingly coloured them for all these years, lies buried, surrounded by the ones he brought to life.
"Mr Stark, I don't feel so good," said the teenager, turning to a man sporting facial hair that has inspired countless Reptiles of Kurla memes.
"You and me both, Spidey, you and me both," replied the man. "Say, you wanna grab a shawarma after this? Stan would've loved it," said Tony Stark to an inconsolable Peter Parker. Behind them a bald, angry man with an eyepatch mumbled, "Show some respect, motherf***er, we're at a funeral!"
It was a temperate November day, as Marvel's mourners shuffled past the freshly filled-in grave of their creator, Stan Lee, all dressed in sombre black. There were no bright reds, greens, or yellows today, for the man who had so lovingly coloured them in for all these years lay buried, surrounded by the ones he'd brought to life. And after the imagination of Stan Lee gave them life, they were able to save humanity countless times over, battling foes on paper and in the dreams of the countless millions who followed these new heroes' adventures with a religious fervour. Only a handful of mourners remain, standing around the mortal remains of their creator.
There were no bright reds, greens, or yellows today, for the man who had so lovingly coloured them in for all these years lay buried, surrounded by the ones he'd brought to life.
With a shock of red hair peeking out from behind her veil, Black Widow asked the question lingering on everyone's mind, "What now? Where do we go from here?"
"Wherever the road takes us," replied the uniquely American looking man with broad shoulders and blonde hair.
"Easy for you to say, Captain America. He didn't create you! Why are you even here? To gloat?" shot back Tony Stark. "He is here, as are we all, to honour the dead, and by Bast, I will not stand here and watch you sully his memory," said a man with a thick African accent. "Should I silence them for you my king?" said the bald African woman standing behind King T'Challa who had just spoken. "As much as I would like to see that, this is neither the time nor the place, Okoye," Black Panther solemnly replied.
"Well I don't know about you clowns, but I came out of retirement for this, I think I owe myself a drink," said the slight, unremarkable man who was almost unrecognisable without his trusty bow and quiver of arrows. "I'll join you," said Black Widow, "I could use a drink today." The quiet, bespectacled man offered to drive to the bar, prompting everyone to gasp in shock. Wasn't he always angry? Did he forget that the slightest smattering of road rage could turn him into an unstoppable monster? "The other guy isn't coming out today. Hulk no smash. Hulk sad," he reassured them.
No one said anything; the man who once filled their speech bubbles with snarky one-liners and iconic catchphrases had fallen silent himself. They could've flown to the bar, some of them could've gotten there faster than the speed of light, others had technology at their disposal that negated the need for traditional means of transport… yet today they were powerless. The mortality of the man who created them had rendered them as human as the people they fought to save on a daily basis.
"To Stanley Lieber, may he dine in Valhalla for all eternity," said the Scandinavian-looking fellow as he raised a cold beer to his lips. "Yes brother, to our friend Stan, without whom we might as well be lasagna-loving orange kittens. Skol!" said the dark-haired, sharp-featured man with a mischievous grin. Finally, Thor and Loki found something to agree on.
The door swung open and sunlight streamed into the dimly lit bar, making its patrons squint as if staring straight into a tractor beam. A tall figure in a cape floated through the doorway. "I came as soon as I heard. Dormammu and I were engaged in battle when I received the news. All battles are off today, there are no foes to fight, no villains to vanquish. Dormammu too agrees, there is to be a period of peace in this universe…"
"Strange you should deliver your elegy after the funeral, Doctor Strange," said Tony Stark.
"Stop it, the lot of you!" Everyone heard the old, bald man in the wheelchair scold them, but his lips never moved. "I couldn't agree more with Charles," said his old friend, as he pried away a fork stuck to his forehead. "A toast then, to the man who created his own universe and filled it with courage, bravery, and hope. Cheers!" Magneto continued.
"And old men who double up as fridge magnets," shot back Tony Stark. Everyone laughed together, young and old, god and mortal, human and alien, man and machine, they all just laughed. The man who gave their lives purpose was no more, yet strangely they felt an even deeper sense of purpose, to carry on and finish what the dead man had started: A mission to make the world less drab, to fill it with whimsicality and fun. Because as long as their brightly coloured lives went on, ours would be a little less dull.
~
In Loving Memory of Stan Lee. Excelsior!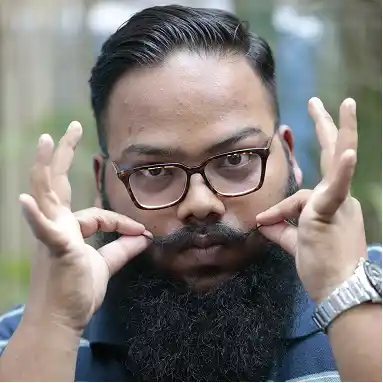 Damian loves playing videogames. If all the bounties he collected slaying zombies were tangible, he wouldn't need to write such bios. Seriously though, Damian used to be a cook who wrote, now he's just a writer who cooks.