YouTube, croon, copy. Repeat. The daily grind of Korean-pop hopefuls.
When the Korean Cultural Centre organised its first K-pop talent hunt in New Delhi in 2012, two handmade signboards placed on the small stage of the Jawaharlal Nehru University auditorium announced the event. Among the handful of people who showed up, there was a young fangirl from Mumbai's Kandivali suburb. Nikita Harnami travelled all the way to Delhi after preparing her performance of "Lionheart" in earnest for weeks. She had seen the video on YouTube a couple of hundred times, crooned in front of the mirror, memorised the Korean lyrics by rote before she boarded the train, with her father in tow. The sparse display that greeted her at JNU was far removed from the glitzy performances which had lured her into this world, but Nikita refused to be fazed. She got on stage with a hammering heart and with a crowd made up of not more than a few other contestants and their families. Nikita performed the K-pop track "Lionheart", just as she'd learnt from the YouTube video.
Her journey as a desi K-pop aspirant had begun.
***
''Please, I'm SO not like the other crazy fangirls," Nikita starts the conversation with a disclaimer. But something gives her away. It could be the tall boots, them funky leggings, that clingy stars-and-stripes tee. Or even the carefully drawn on cat eye and the carmine mouth. When the 22-year-old graphic designer walks into the crowded Mumbai mall and plops into a chair at a coffee shop, all around her, jaws drop.
When the K-pop fever gripped Nikita six years ago, South Korea was a blip on the map for her. If you had asked her to name the country's currency she wouldn't have been able to tell you, but now Korea is all that's on her mind. During a late night YouTube binge in 2010, Nikita stumbled upon the band Super Junior and saw their video "Bonamana". She fell in love with everything in this hallyu world – the twee, overly bright, kitschy-cute world of K-pop. Everything was enthralling – the choreography, the music that was similar to Bollywood and the boys who were way cuter. She watched the video on repeat that night and by the morning Nikita had sold her soul to Seoul.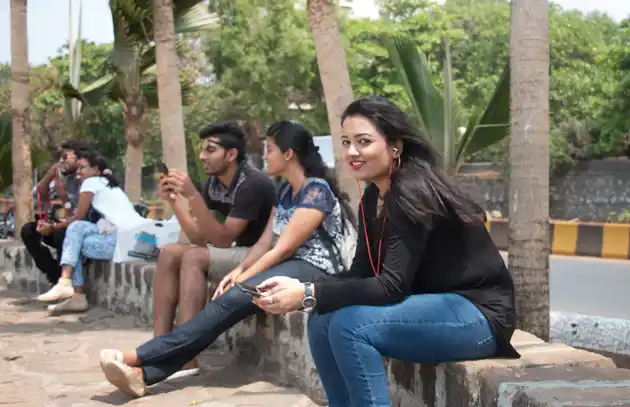 Nikita does not understand Korean but can sing all the hallyu chartbusters.

Pratik Gupta/ Arré
Nikita became a K-pop fangirl way before Psy, a spiffy, rotund man whipping an imaginary horse, who brought the K-pop revolution to India. "Gangnam Style", actually a jab at K-pop and its pastel palettes, animated animals, preppy high schoolers and hyper-stylised first love, exploded beyond its local bounds. India's been riding Psy's Gangnam wave for about four years now, but Nikita, like a true early adopter, is dismissive of the artist that has made her passion mainstream.
But even before Nikita got her early-adopter certificate in 2010, there was a whole generation of Indians who'd got there in the '90s. They all hailed from the Northeast.
Kevin Hrahsel grew up in Aizawl, flooded by South Korea's "biggest export". The 19-year-old with his floppy, bleached hair and slick moves is the embodiment of the South East Asian nation's obsession with hallyu.
He and his six-piece ensemble Frozen Crew, are prepping for a maiden trip to K-pop mecca – Seoul. The gang bagged a gold at the Korean Cultural Centre's contest in 2015 and performed with crews from around the world in the city. When N-Sonic, the first-ever Korean group to perform in India, came to Guwahati in January last year, Kevin was in the crowd, freaking out. This is living the dream; their shot at Korean pop stardom.
Nikita also got her shot at stardom in 2015. She was welcomed by a much bigger spectacle at one of Delhi's biggest auditoriums, when she went back and won a bronze with her rendition of 2NE1's "Come Back Home". Sponsors had jumped on the K-pop bandwagon by now and as Korean cutie Minwoo of ZE: A J handed her the trophy, a packed hall cheered her on. 2NE1 is now the altar that Nikita worships on and CL, the fierce frontwoman of the Korean girl band 2NE1, is her goddess. That her waif-like idol with porcelain skin and rainbow hair looks nothing like her isn't a deterrent.
"We share our birthdays, she's just a year older than me and when she's on stage, you simply can't look away." Nikita breathes, for her next declaration to get full play.
"I. LOVE. HER."
Nikita has found an enduring outlet for her passion. After her "Come Back Home" performance, she got plugged into Mumbai's Korean expat scene and fashioned herself into a regular crooner – performing at MNC sales meets and embassy events. Say the magic words "K-pop talent hunt" and she will mysteriously manifest.
Until then, Nikita dreams of Seoul. One day she will fly straight to her mecca and be one with her idols. That she may not understand a word they speak, is wholly irrelevant.
Kripa Krishnan is a Delhi girl living in Mumbai, she is a hunter-gatherer of information and has spent the past decade justifying her love of both Germaine Greer and misogynistic rap.