Shubh Mangal Saavdhan gives the relationship between sex and Indian parents a modern update. It's a clarion call to parents to have the fucking conversation with their children.
Over ten years ago, two awkward, ponytailed, eighth graders hatched a brazen plan during recess, one that had simmered to a boiling point on the back of a locker-room exchange. The culprit was an unremarkable basketball practice match, under the blistering heat that had rendered every player, bystander, and cheerleader into a pool of sweat.
As everyone rushed toward the changing room, desperately ridding their bodies of the garments that clung to them, forgetting the inhibition that usually enveloped the bodies of 14-year-old girls, the atmosphere changed in a split second. All it took was one loud smirk to seize the undivided scrutiny of a group of 40 teenagers. It was followed by unforgiving whispers that passed around the room like lightning, strung between a volley of laughs and pointed fingers, aimed at those two eighth graders who stood still, their chests heaving.
Stripped off a layer of clothing, their secret had unravelled, making public the fact that they were the only two girls in the room whose breasts were devoid of a brassiere, and were instead sheathed by a ganji. The humiliation spurred the two into taking matters in their own hands, and the duo made their way toward the market after school. As they entered a neighbourhood "bra-panty" store without any knowledge of cup sizes or their own bodies, their dreams came crashing after a salesman hastily dismissed their demand even before they could begin to articulate it. Shaken and scared, they rushed home, only to get another earful from their mothers, who ignored their daughters' fervent tear-soaked pleas of wanting to own and wear a bra, choosing to instead sweep the topic under a well-woven rug.
For their mothers, it was just another case of their daughters throwing a tantrum without any reason, but for those girls, their self-confidence was chipped. To be fair, it was just the kind of reaction expected of Indian parents, especially when it comes to matters of sex and sexuality. The complete opposite of Sugandha's (Bhumi Pednekar) Moti Bagh-residing parents in Shubh Mangal Saavdhan. These are the kind of parents, who in a parallel universe, would have guaranteed that the two eighth graders were equipped with a fair grasp of their bodies and its needs.
In a hilarious scene in the film, Vimla (Seema Pahwa), takes her daughter, whose wedding is just a few days away, to a lingerie store on the pretext of lehenga shopping. Lehengas will be worn only once, she tells her daughter, but it's actually what is inside that will seal the deal. Vimla takes forward her progressive stance on sex and the importance of ensuring that her daughter understands the needs of her body, and the pleasures of an active sex life at various points during the film. But, its essence is beautifully encapsulated in one pivotal scene where her husband prods her to investigate the cause behind Sugandha's perennial sadness.
Indian parents spend their whole lives pretending that sexual intercourse is a myth, but waste no time in expecting they consummate on the first night of their wedding, and bear them grandchildren.
On her part, Sugandha is reeling with the burden of having to single-handedly make sense of her fiancé Mudit's (Ayushmann Khurrana) "gents problem" — his inability to get it on during sex. As Vimla enters Sugandha's room, she reads out an erotic passage from her diary, which she confides in her daughter, are her thoughts from her suhaag raat after her husband had touched her, albeit a little too "gently". Then, in atypical Indian parental fashion, she proceeds to reassure her daughter, that she has nothing to worry as her "Alibaba will certainly find her cave". With that very exchange Vimla then shatters the quintessential Indian parent adage: Come to us with every problem in your life, save for queries about sexual desire.
Sugandha's mother isn't the only one who has striven hard to painstakingly negate the orthodox views regarding sex. Upon finding out about his future son-in-law's physical inadequacy, not only does her father set out in accompanying Mudit to finding ways to relieve him of his problem, but also reinforce it in his daughter's head that sex is an integral part of a marriage. He even encourages her to run away from her own wedding, because her future husband seems unqualified to satisfy her needs in bed. In doing so, they guarantee that they don't force their daughter into thinking of sex as a necessary chore, but an act that she deserves to derive pleasure from.
If Sugandha's parents represent a rare breed of forward-thinking parents who don't look at premarital sex as the worst crime their daughter could commit, Mudit's parents lie on the other end of the spectrum. They are an embodiment of yesteryear parents who flinch at the very thought of physical togetherness. Of course, their son is unable to confide in them. He too seeks to escape the hushed tones, the awkward exchanges, the immediate change of topic that meets every Indian kid who has dared to mention the existence of sex in the presence of their parents. As per his prediction, his parents immediately mourn the death of his masculinity with the dysfunction of his manhood once they are made aware of his problem. They proceed to seek refuge in superstition, denial ("Everything is fine with my boy"), and predictably put the blame on the girl.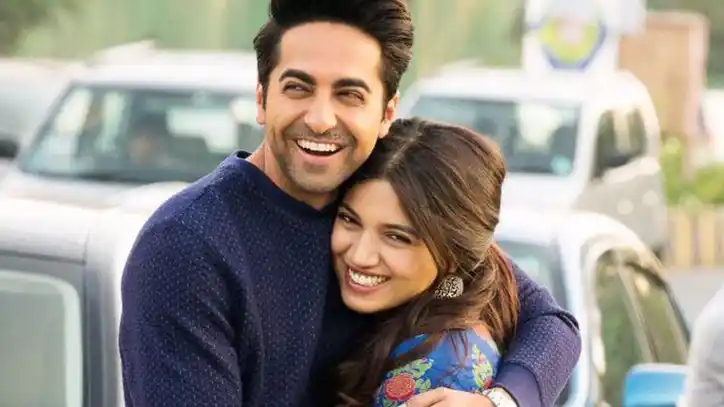 Sugandha (Bhumi Pednekar) is reeling with the burden of having to single-handedly make sense of her fiancé Mudit's (Ayushmann Khurrana) "gents problem" — his inability to get it on during sex.

Image Credit: Eros International
Mudit then gives a face to the generation of Indians kids who have grown up without the luxury of leaning on to their parents for help when it comes to understanding their bodies. They are then forced to take advice from unrealistic porn scenarios and the unreliable suggestions of friends. His parents represent the kind of Indian parents who spend their whole lives pretending that sexual intercourse is a myth, but waste no time in expecting that their children consummate on the first night of their wedding, and bear them grandchildren. Sugandha, on the other hand, despite being fortunate enough to have open-minded parents, is still embarrassed at them doing so, solely because years of normal convention has bred in her the thinking that parents were not meant to be that understanding. They weren't meant to explain to you that it's not necessary that you will bleed while having sex for the first time, or that there was no shame in not wearing a bra at the tender age of 14. She, like her friends, has lived all her life believing steadfastly that the internet was entrusted with the task of doing so, or for the less fortunate, the embarrassing trial-and-error method.
But, then going against conventional notion, Shubh Mangal Saavdhan takes the shape of a living and breathing reminder that parents don't always need to look away uncomfortably or leave the room when it comes to matters of the birds and the bees. That acknowledging their children's sexual health falls under the purview of parental care, and most importantly, the film stresses hard on the fact staring us right in our face: Indian parents are in dire need of getting over their embarrassment of having to talk sex with their kids. In highlighting two sets of parents — one we have come to live with, and the one we deserve to get, Shubh Mangal Saavdhan is then, ultimately, a clarion call on behalf of Indian kids to our parents to have that fucking talk.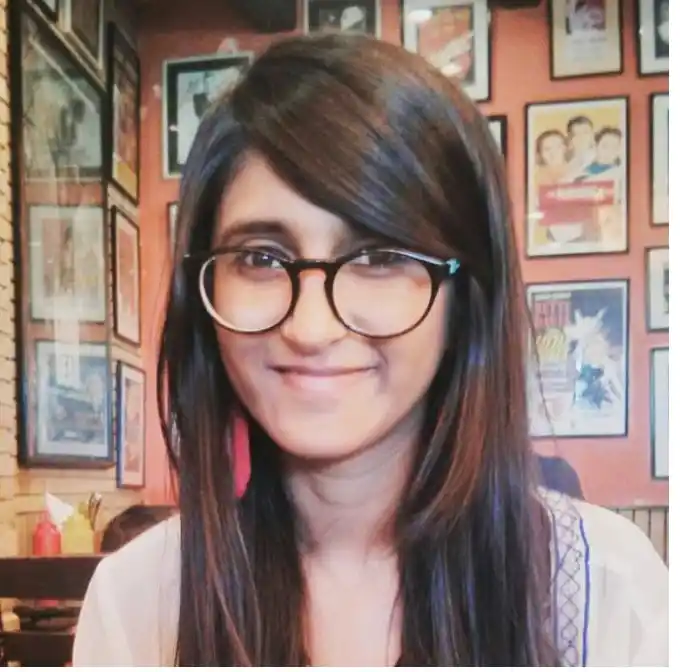 When not obsessing over TV shows, planning unaffordable vacations, or stuffing her face with french fries, Poulomi likes believing that some day her sense of humour will be darker than her under-eye circles.