Touted as a film on mental health, Dear Zindagi carried a pretty heavy responsibility. But what it did with that responsibility is, dressed it up in chic clothes and clichés.
There is a particular brand of film-making that is creeping up on us, much like the waves crept up upon Shah Rukh Khan and Alia Bhatt, as they played an odd kind of kabbadi in the newest Gauri Shinde movie, Dear Zindagi. (Kabbadi is a metaphor for happiness and chairs are a metaphor for men. That's just the way things are in here.) Let's call this brand of film-making Socially Conscious Movies that Make the World a Better Place (SCMTMWBP). (My apologies for not being able to make this acronym cool.)
Anyway, I like this wave of moviemaking. In addition to making me feel virtuous about movie-watching and justifying caramel popcorn as dinner, it also makes a die-hard cynic in me look at an issue in a new light. Pink made me wonder about the grey lines that surround the issue of consent. Even Ae Dil Hai Mushkil, a movie with characters as thin as crackers, made me wonder about whether love, no matter how much you will it, can ever be a willful act.
So, I learnt stuff from Dear Zindagi too. I learnt that if one has a mental health problem, one must say it out loud and proud. Ideally in front of party guests. I learnt that one must climb mountains only when one knows Chinese, "coffee friend" is a legit friend category, chairs must be tried before purchase, shrinks often take their patients cycling in pastoral by-lanes, and that women once stomped patriarchy with the hooves of a fine horse. But I came back with nada on mental health – the central issue the film purports to focus on.
Touted as India's first film on mental health, Dear Zindagi carried a pretty heavy responsibility. But what it did with that responsibility is, skirted it and dressed it up with really chic clothes, heavily art directed scenes, a profusion of clichés – all accompanied by a stream of gyaan in full spate.
What we got was a crash course in Pop Psych 101 with neatly tied happy endings achieved through one solid cry.
If Shinde had seriously tasked herself with the idea of making mental health a conversation in urban India, there were a million ways in which she could have done it. She could have done it by addressing depression (a raging illness in India) like Melancholia does by depicting how depressives have the job of putting together their shattered world afresh every single day, or the tortured path to recovery like Silver Linings Playbook, or with a fantastic plotline like Black Swan, which flirts with the boundaries between competitiveness and schizophrenia, something that the Indian youth faces in different degrees today. Shinde could have done it, by taking a hard look at the people whose job it is to care for the mentally-ill, as has been done in They Look Like People, or given a tender insight into people living with a condition they cannot control like John Nash in A Beautiful Mind, or the way What's Eating Gilbert Grape addresses how it's like to grow up with a depressed parent. Or, or… she could have moved away entirely from the darkness and yet shone a light on this black world, through a bright, funny, and yet heartbreaking story like Little Miss Sunshine.
But instead what we were subjected to is 140 flippant minutes of a millennial whining about boy troubles and lack of sleep over three days. And session after session of therapy with a shrink, who said profound shit, like, "We are all teachers in the school of life." What we got was a crash course in Pop Psych 101 with neatly tied happy endings achieved through one solid cry. Calling Dear Zindagi India's first film on mental health then, is like calling Dostana our first film on homosexuality.
Mental health is a dark and unchartered territory in India, which desperately needs dialogue, attention, coverage, and freedom from the crushing stigma. The role that literature and movies can play in this conversation is enormous. When Tim O'Brien wrote The Things They Carried, he changed the way America looked at war vets and PTSD. When Milos Forman directed One Flew Over the Cuckoo's Nest, the treatment of psychiatric patients in mental health institutions chilled the world. No amount of reportage, documentary making, or conferencing can usher in the change powerful mass movies can, and Gauri Shinde has squandered that chance. She squandered the chance to make a universal subject personal to us, which is sad because she once succeeded in making the intensely personal English Vinglish so vividly universal.
Dear Zindagi will do nothing to move the needle on mental health. In fact, it may even turn it the other way. Dear Zindagi may now put a generation of lost, broken-hearted, unable-to-cope-with-life millennials onto the couches of shrinks, who will be expected to come with the look and wit levels of SRK and take them biking and beaching in a bid to perhaps find a reason in their childhoods to blame for their dysfunctionality. Surely mom and dad have a role? Surely I'm not going to have to take responsibility for my fucked-up life?
I'm all for SCMTMWBP (I can safely predict this acronym will not catch on), but let them please at least attempt to move the needle, shine even the narrowest beam of light, bring the tiniest change in perception, and nudge it toward a little more of a significant outcome than playing fucking kabbadi with the waves.
Yes, yes, I know waves are a metaphor for happiness and chairs are for men, but since she does actually hook up with a chair-maker in the end, I'm assuming the concept of metaphors, just like that of mental health, is a little hazy .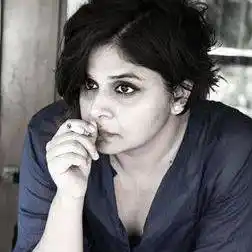 Sharan Saikumar is the Creative Director at Arré.