At the Golden Globes last night, Seth Meyers gave a powerful opening monologue. But even that couldn't hide the need for Tina Fey and Amy Poehler's collective comedic genius.
At the Golden Globes last night, the final segment in Seth Meyers' fiery opening monologue was a bit borrowed from his talk show: Called "Jokes Seth Can't Tell", a segment he does with his writers Amber and Jenny by stating upfront that Amber is black and Jenny is gay and they're both women. Seth is not, so, he reads the setup for jokes and they deliver the punchlines. A funny, irreverent comedic bit that lands not only because of the ingenious setup but also because of how uncomfortably delighted Seth looks every time Jenny makes a pun on the woodworking skills of lesbians or when Amber delivers a joke on police brutality with a straight face.
I always thought the idea that the writers on his staff get an opportunity to deliver jokes that are relevant to their culture and politics was revolutionary. Until I realised, courtesy the genius of Amy Poehler, that the idea of a white man allowing his female writers to tell jokes on his show, might be somewhat… problematic. At the Globes, when Seth Meyers attempted to complete his segment and went to Amy Poehler to give her a chance to chime in on a joke for Call Me By Your Name, things didn't go as planned. Poehler, if only jokingly, reclaimed her right to tell a joke without having it mansplained or prompted beforehand and went, "Said the peach in Call Me by Your Name, this scene is the pits."
There has never been a female late-night talk show host. Over the years, it has mostly been a slew of already successful white male comedians, and Amy Poehler demanding to tell her own joke – one that did not need a setup from a man – brought out the disparity in the opportunities provided to women even as male comedians continue joking about it, utilising their newfound white man's guilt around the same.
Of course, we cannot deny that Seth was in on the joke and deserves equal accolades. In fact, this segment was the only part of the monologue when he wasn't visibly apologetic and one could feel the relief bouncing off him when Jessica Chastain and Issa Rae took over and exemplified what was probably needed in the first place – female hosts.
So, while Seth's monologue was on point, the Golden Globes lacked the irreverence that could've been brought out by female hosts
Due to my undying loyalty to Saturday Night Live and the shrine dedicated to 30 Rock back home – I would say it should've been Tina Fey and Amy Poehler. One can never forget the golden era of award show hosting that was 2013-15, when Tina and Amy hosted the Globes. Their jokes were incisive, unapologetic, and of course, hilarious!
Who can forget the Gravity joke when Tina proclaimed that George Clooney would rather float into space and die than spend another second with a woman his own age. Or when they made light of Matthew McConaughey's transformation for Dallas Buyers Club by gently pointing out that losing 40 pounds is what actresses call "being in a movie".
And at a time when most people in Hollywood were reserving judgment on Bill Cosby, they took the bull by its proverbial balls and landed jokes that garnered priceless, meme-worthy reactions.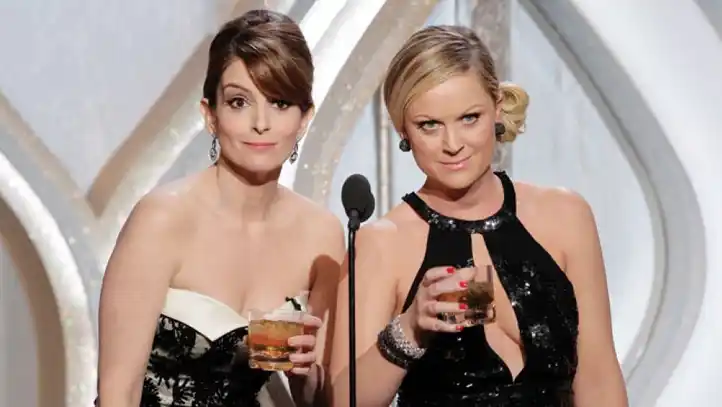 Imagine all the issues that would have been highlighted at the Golden Globes last night if Tina Fey and Amy Poehler did have that damn mic.
So, while Seth's monologue was on point due to his carefully workshopped jokes and respectful dialogue, the Globes lacked the irreverence that could've been brought out by female hosts. They could've probably gone the Oscar way when they hired Chris Rock to host the "whitest Oscars ever" or simply agreed with their current host that finally the time has come when there are certain jokes that Seth can't tell.
Fearless as Meyers' opening monologue and enjoyable as his hosting was, the night's most climactic moment was the one that came well toward the end of the Golden Globes when Natalie Portman came on stage. The actress arrived with Ron Howard in tow to present the award for Best Director. "We are honored … to be here to present the award for best director," Howard said, to which Portman sneakily and rightfully added, "And here are the all-male nominees" referring to the shameful exclusion of women directors like Greta Garwig (Ladybird), Dees Rees (Mudbound), and Patty Jenkins (Wonder Woman). It might have been a brief moment, but coupled with Portman's timing, it ended up being the moment that defined the subtle hypocrisy of the Globes itself.
That's a disparity only a woman could point out. Imagine all the issues that would have been highlighted if Tina Fey and Amy Poehler did have that damn mic.

Likes to pretend she doesn't know all the words to Badshah's Mercy and one day wants to make a TV show with a vague yet catchy title.