In Netflix's Sacred Games, Anurag Kashyap and Vikramaditya Motwane deliver a thriller that doesn't shy away from being an indictment on religion. The show argues that religion has always been used to shape politics, commit murder, and amass wealth.
In "Yayati", the explosive finale of Sacred Games — directed by Anurag Kashyap and Vikramaditya Motwane, and written by Varun Grover — Sartaj Singh (a superbly restrained Saif Ali Khan), its brooding anti-heroic cop is forced to learn a lesson in pain and faith.
Captured and tortured while chasing an antagonist, Singh howls in agony while his captor and assassin Malcolm (Luke Kenny, who spends most of the show being mistaken for a foreigner) tells him a tale. The story goes like this: Allah asks two brothers, Haabil and Qaabil for a sacrifice and both of them then present their respective offerings. He only accepts Qaabil's sacrifice and enraged by the rejection, Haabil kills his brother. His death however, doesn't go in vain because Allah gives him justice: Haabil becomes the world's first martyr. After all, he dies for a "sacred" cause.
"Yeh kahaani Bible mein bhi hai. Haabil Abel hai aur Qaabil, Cain. (This story is in the Bible too. Haabil is Abel and Qaabil is Cain)," Malcolm tells Sartaj. Once he's done with his story, Malcolm poses a question: Why do you think God wants us to make such sacrifices so often? And answers it himself. "Allah tang aa gaye hai humse (Allah is sick of us)." It's an electric scene that suffocated by the helplessness pervading the proceedings successfully switches its focus on the beating heart of the show: the business of religion. And let's face it, the show could not have chosen a better time to land.
But great timing aside, Sacred Games was always going to be a bit of a gamble. Being the first "Original Netflix Series" comes with its own set of burdens: There's a responsibility to represent the essence of a country and the pressure of distilling its individuality into an universally accessible language. It's no mean task, especially when it comes to translating the myriad, contradictory beliefs of over a billion Indians on screen. And by betting on faith, this adaptation of Vikram Chandra's critically acclaimed book pulls off a coup.
Sacred Games is a testament to two of the country's most talented directors adapting to the demands of the smaller screen.
The result is a show that looks and feels typically Mumbai (gangsters and their marked territories, mob-rivalry, the apathy of the city's police force), but also inherently Indian (characters talk in a mix of Hindi, Punjabi, Marathi, and English). As the show suggests, there is no better way of defining India than by laying bare the country's obsession with its longest running sham – religion. It's also what elevates Sacred Games from just a cat-and-mouse game between two individuals to a never-ending war between two religious communities. After all, how can you defeat a demon you've willingly chosen to follow?
The show sets its intentions straight from the start. The first words uttered by Ganesh Gaitonde (a mercurial Nawazuddin Siddiqui), the notorious crime lord who's been missing for 16 years, to Singh are, "Bhagwan ko mante ho? Bhagwan ko lund pharak nahi padhta hai. (Do you believe in God? God doesn't give a fuck)." As the show progresses, this indifference of God is juxtaposed with the fervent devotion of the masses to the debt they think they owe Allah and Bhagwan.
It's a good thing that Sacred Games is on Netflix, a medium seemingly without any censorship, not just because it can let its protagonists cuss with abandon (There is however, a secret pleasure in watching a Nawab utter "madarchod"). Or have ample nudity and sex scenes. But because it can extend the very premise of faith into demonic territory. Although, God and religion are significant themes in the book, the Netflix adaptation takes it up a notch by presenting the idea of religion being exploited as a pervasive and political weapon. It's the kind of freedom of expression that neither the country nor its CBFC board is literate in.
In a way, the show mirrors the time we live in, where the food on your plate could dictate your fate and where saffronisation is slowly becoming a collective language. It's also why the Sacred Games adaptation strays from the book and is set in the present replete with parallel flashbacks on Gaitonde's past years. But there's more. Sacred Games also argues that this regime, where routine lynchings are considered the only way to save religion, are not a new occurrence. Religion is, and has always been used to shape politics, extract revenge, cause enmity, commit murder, and amass wealth.
Sacred Games cleverly invokes this argument in an early scene where Gaitonde hides pieces of chicken in a vegetarian thali at a "pure Hindu" restaurant run by a Brahmin. All Gaitonde wanted was revenge from the restaurant owner, who refused to pay his wages for the last two months, but its end result is the owner getting lynched to death. In the show, this scene unfolds in the '70s, but in real life, several similar scenes are unfolding everyday in various parts of the country. The only difference is, right now, lynchings don't even need a reason.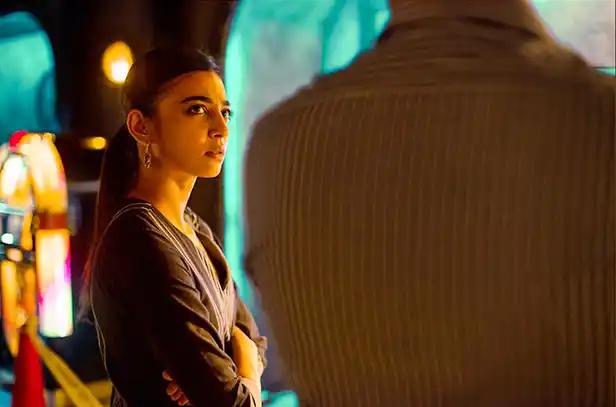 As a RAW agent, Radhika Apte is in fine form in Sacred Games

Image credit: Netflix
Deriving its names from Hindu mythology, each of the eight episodes seethe with religious overtones (Allah, Bhagwan, Granth Sahib, and Ramayana are frequently invoked in the show) and Hindu-Muslim rifts form the core of the show's major conflicts, including a betrayal by Gaitonde's Muslim henchman that tears his life apart.
The most damning indictment however, comes in "Atapi Vatapi", the third episode of Sacred Games where the legend of Atapi and Vatapi is used as a merciless metaphor for religion. Just like the demon brothers would invite tired travellers into their home, feed them a meal, and then destroy their souls, religion too invites naive devotees, satiates their lives, before holding their conscience hostage. "Dharmo ka yehi roop hai," says Guruji (Pankaj Tripathi) to a band of followers.
More importantly, Sacred Games is also a testament to two of the country's most talented directors showing an inclination to adapt to the demands of the smaller screen and its audiences. Unlike a host of generic web-series populating the internet, Kashyap and Motwane take the challenge as seriously as a feature film. Despite both of them shooting scenes independently (Motwane shot the Sartaj Singh bits and Kashyap the flashbacks involving Gaitonde), every episode comes together as a unified immersive experience, even though their distinct styles stand out.
The captivating universe that the show builds, the taut writing (the pilot is especially arresting), and incredible casting (Radhika Apte, Sunny Pawar, Jitendra Joshi, Neeraj Kabi, Aamir Bashir) guarantees one thing: That Sacred Games is the game that we've longed to play.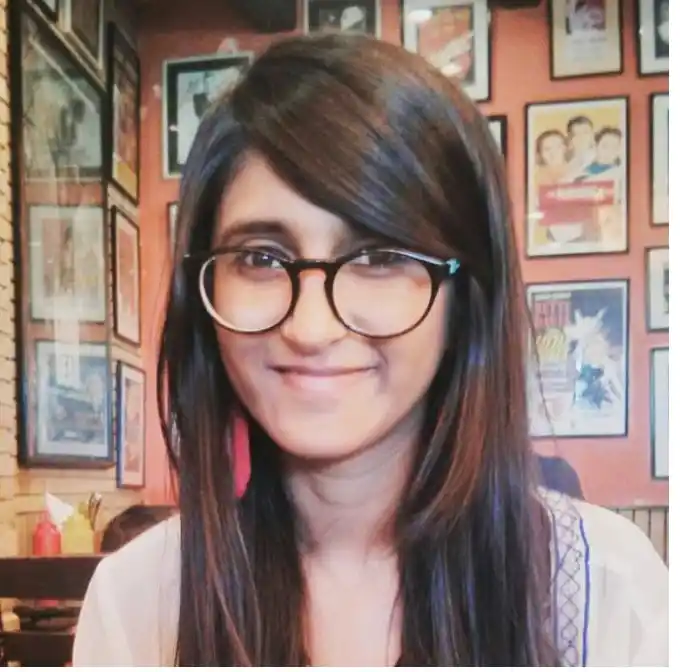 When not obsessing over TV shows, planning unaffordable vacations, or stuffing her face with french fries, Poulomi likes believing that some day her sense of humour will be darker than her under-eye circles.