We can continue to criticise the portrayal of women as mere pawns in the sacred games of men. But take a minute to look beyond the obvious. The women in the Netflix series aren't mere cheerleaders – they're controllers in their own right.
A tiny scene featuring secondary characters in episode four of Sacred Games, is an excellent demonstration of Shakti, the divine feminine energy, according to Hindu mythology.
Bada Badariya and Bunty, gangster Ganesh Gaitonde's men on opposite sides of the Hindu-Muslim divide, get into a communally charged scuffle in Kanta Bai's adda. Right before the whole thing escalates into a bloodbath, we see Kanta Bai hurl a handi of hot water at the hot-headed belligerents. Shocked beyond belief and with a new target to their anger, the men turn to her – she tells them she'll pour scalding hot oil on them the next time. Bunty and Badariya, both seasoned killers with hair triggers, cower away with a look of embarrassment and shame. These are uncontrollable men with an uncontrolled appetite for violence, who slink away like timid stray puppies when she-wolf Kanta Bai bares her teeth.
Cinematically speaking, few gangland experiments manage to really capture the essence of Mumbai. Netflix's Sacred Games, Vikramaditya Motwane and Anurag Kashyap's adaptation of the mammoth Vikram Chandra novel, is one of them. Capturing lightning in a bottle isn't easy, especially when the lightning in question is this over-exposed but storied metropolis. And one of the key elements of this sprawling narrative, are the women of Sacred Games.
Over the past few days, multiple debates have sprung up on Twitter. Users of the micro-blogging platform have called out the series' "trans representation", the lack of backstories of the female characters, and the fact that some of them… die. I've scrolled through these perspectives, but that is not the one that sticks out for me. For me, most of the women characters in Sacred Games are powerful in big and small ways, that go beyond the constraints of the narrative, the men they are surrounded by, and the time they spend on the screen.     
Kanta Bai, Subhadra, and Shalini are your typical, dyed-in-the-wool middle-class tais.
Let's start with the most obvious ones: RAW agent Anjali Mathur, essayed by Radhika Apte. The upper-class, no-nonsense career-focused woman holds her own in a world where the air is equal parts testosterone and oxygen. You'll occasionally catch a glimpse of a deer caught in the headlights on her face, but she's no Bambi. There's the enigmatic  Kukoo, the wily seductress, who holds the jewels of erstwhile Bombay's erstwhile bad boys firmly in her grasp. She has them convinced that their power stems from some magical place between her thighs.
But the ones that have me by the gullet are the women on the opposite end of the spectrum from the Anjalis and Kukoos of the world. Sacred Games' Plain Janes, Maharashtrian women who negotiate oppressive structures with an unexpected aplomb.
Kanta Bai, Subhadra, and Shalini are your typical, dyed-in-the-wool middle-class tais. Their hopes and dreams might be at the polar opposite of their more modern counterparts. But they're no less ambitious, even if that ambition is to have a sukhi sansaar.
Take Kanta Bai for instance. She is the epitome of the dheeth Maharashtrian kaaki you've inevitably encountered if you've lived in Mumbai. She manages pretty well by herself and has either lost her husband or didn't need one to begin with. In the series, she's the virgin Mother Mary to Gaitonde's mobster Jesus: You see him touching her feet before killing someone. She's also as progressive as they come, unafraid of exhorting Bunty to get his sister married to the man she loves, even though he is Muslim and Bunty a hardline Hindu.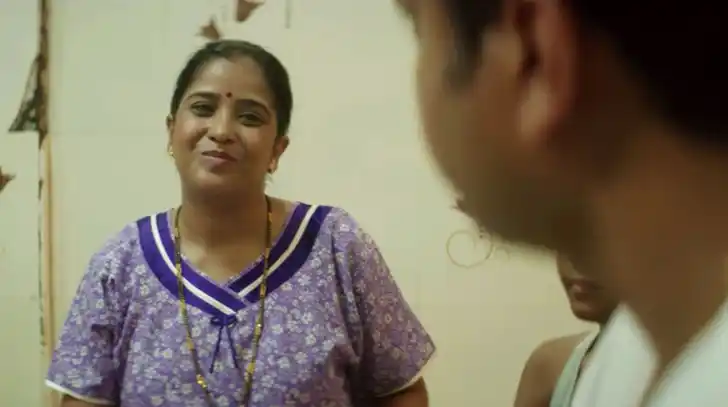 You can find a Shalini Katekar everywhere – in Mumbai's slums, chawls, and tenements, managing the homesteads of a new generation of blue-collar workers.

Image credit: Sacred Games/Netflix
Kanta Bai radiates power with her tough-nut act, an instinct she needs if she has to run a country liquor adda and deal with drunk men. Women like Kanta Bai have been romanticised in Mumbai lore as daaru waali aunties, and practically handled the illicit liquor trade because the men drank more liquor than they sold.
A close family friend, Poptin kaaki, ran one such racket and regaled us with stories of bad men with guns coming to her home for a drink. They'd tell her about the men they'd killed and the gold they'd smuggled. She's still pretty famous for her loud booming voice, which – when used to hurl insults – was the perfect tool to emasculate the macho mafia douches.
If Mumbai's spirit animal were a dragon, Kanta Bai would be Khaleesi. Kanta Bai is to Gaitonde, what Haseena Parkar was to Dawood, what Neeta Naik was to Amar Naik, and what Jenabai Daruwali was to Haji Mastan: Women in the shadows who influenced the actions of men who shaped the Mumbai underbelly.
Kanta Bai's Woman Friday, Subhadra, is another phenomenon best described as an incognito feminist until marriage – the wallflower who finally stands up to Gaitonde once she marries him. Subhadra's character is introduced as subservient to the point of being servile, but in reality she is as fierce and feisty as her mistress. We see this side of her only after her marriage to Gaitonde, where her critical analysis of the underlying cause of his impotence spurs Gaitonde into action, and leads to one of the defining moments in the series.
After a point, Subhadra is also the only woman who is able to "dominate" Gaitonde sexually. She breaks "Kukkoo ka jaadu," while casting a spell of her own – equal parts love and devotion tinged with just a hint of manipulation. As Gaitonde kills 80 people and talks about killing 800 to avenge her death, you can't help but marvel at the emotions Subhadra stirred up in a ruthless narcissist who believes himself to be God.
The Yin to Subhadra's Yang is Shalini Katekar, the dutiful Maharashtrian mai, the picture of wifely devotion who runs a family as best she can. Her husband, the goofy, loveable Katekar treats her more like a lover than a wife. Maybe that's how they manage to keep the spark alive despite being a lower-middle-class married couple with two kids, hemmed in to a tiny kholi.  
You can find a Shalini everywhere – in Mumbai's slums, chawls, and tenements, managing the homesteads of a new generation of blue-collar workers. In the world that Shalini and Katekar occupy, women assume the identities of their husbands. Women who are reluctant feminists: Fierce as tigers when it comes to standing up against the world, timid as lambs when demanding those same rights from their husbands. We see this when Shalini timidly asks Katekar where he's off to when his boss Sartaj beckons him in the wee hours of the morning. But this same Shalini, grieving yet powerful, brushes off Sartaj's attempts to pacify her after Katekar's murder.
The power these three (and other) Maharashtrian women have over men, transcends sex and physicality. It is deep-rooted in their psyche, hard-coded into their DNA. Women who get shit done, because they know no one else will step up to the plate. Women who simply walk up and seize power, wrapping it tightly in the many pleats of their sarees. We'll continue to criticise the portrayal of women as mere pawns in the sacred games of men, but take a minute to look beyond the obvious. These women aren't mere cheerleaders – they're controllers in their own right.

Damian loves playing videogames. If all the bounties he collected slaying zombies were tangible, he wouldn't need to write such bios. Seriously though, Damian used to be a cook who wrote, now he's just a writer who cooks.