Viewers are led to understand that Raees places itself in the tradition of the anti-hero popularised by Bachchan – but it isn't as if the movie gives you a chance to doubt that.
The key to understanding how Raees perceives itself lies in a scene that isn't originally from the film. About halfway past the runtime, Shah Rukh Khan's character, the eponymous Raees apprehends a corrupt mill owner watching an Amitabh Bachchan film at a drive-in theatre. Raees is a bootlegger by day who smuggles IMFL into Gujarat, but whose heart beats for Fatehpura, the mohalla he grew up and will probably die in. At the drive-in, he demands that the owner pay his workers, who are his friends and neighbours, even as Bachchan makes the same request of Prem Chopra, a mine owner, on screen.
It's a clever juxtaposition and also a canny one. In this one sequence, the viewer is led by the nose to understand that Raees places itself in the tradition of the disgraced/anti-hero popularised by Bachchan in the '70s – but it isn't as if the movie ever gives you a chance to doubt that. It's also a handy device that allows you to forget some of Raees' troubling excesses: His instigation of a communal riot, for instance, in Gujarat. The framing of the riot as a mere goon-ish show of strength is so straightforward, so pat, as to be astonishing. You'd assume that the director of the film, Rahul Dholakia, would know a thing or two about what a riot can cause in Gujarat, considering he won a National Award in 2007 for Parzania, a film based around the 2002 Gulbarg Society massacre.
But in the Raees universe, nuance and logic have taken off on a long walk. No excuses are offered for Raees' schizophrenic existence as a man ruthlessly protective of his mohalla, but cold-blooded about killing and murdering with impunity. No explanation for how he manages to straddle his dream of building a commune for his neighbours and his hubris of not being considered a bhagoda (a runaway), even when it endangers that same community. No elucidation offered to support why he sprouts a conscience over a series of bomb blasts in the city, but none for a riot in the mohalla. Your only excuse, explanation, or elucidation is the character of Raees himself.
The stalker-revenge dramas that Khan was such an intrinsic part of in the '90s worked because they elicited a genuine sense of unease from the viewer.
One would imagine that this would be reason enough, if only for old times' sake. Khan, after all, took the pass from grey hero Bachchan and ran with it. Some of the films that catapulted him into popular consciousness in the early '90s were ones where he essayed characters that tilted black rather than white. In his breakout trilogy, Baazigar, Darr, and Anjaam, he frequently stole the spotlight from his co-stars with his portrayal of disturbed, and disturbing, characters. SRK's ability to empathise with and humanise problematic personalities – obsessive stalker or vengeful, murderous types – was unparalleled.
After several turns as the lover-boy and Mr Goody-two-shoes, Khan returned to familiar stomping grounds in the mid-2000's. In the frighteningly ambitious Don and Don 2, Khan stepped into Amitabh Bachchan's large shoes and hit a nostalgic sweet spot on two counts: Not only were these films modern updates of a beloved classic, they also marked Khan's return to the grey area.
This is a territory that Khan is most familiar with; these films become him. You see a glimpse of that in the opening fight sequences of Raees set in an abattoir, where relentless blows are rained down on Khan whose mouth gets bloodier by the minute. But he refuses to look away from the camera, making you wince along with each punch, strongly reminiscent of sequences in Darr and Anjaam.
Except now, it's one too many. Except now, you continue to watch Khan the superstar on screen, not Khan the actor.
The stalker-revenge dramas that Khan was such an intrinsic part of in the '90s worked because they elicited a genuine sense of unease from the viewer. You knew you were watching a terrible character, perhaps a heightened, crazed manifestation of our own basest desires, and yet you couldn't look away because it was Shah Rukh on screen. Most importantly, you weren't called upon to treat him as some hero. Raees, on the other hand, is so involved in ensuring that we view its leading man as a champion that every act of ruthlessness is quickly followed up by one of kindness, bravery, or beauty. It's like watching the events in a film being shovelled into a skewed weighing scale with pans labelled "good" and "bad". It feels derivative, yes, but that's ok; that it feels insincere, is not.
Khan is possibly the sharpest superstar we have – he's also the only one who can play a character and simultaneously parody it, as evidenced by his work in Main Hoon Na and Om Shanti Om. Unfortunately, Raees has none of that characteristic smartness. What it has, is a superstar copout.
With inputs from Karanjeet Kaur.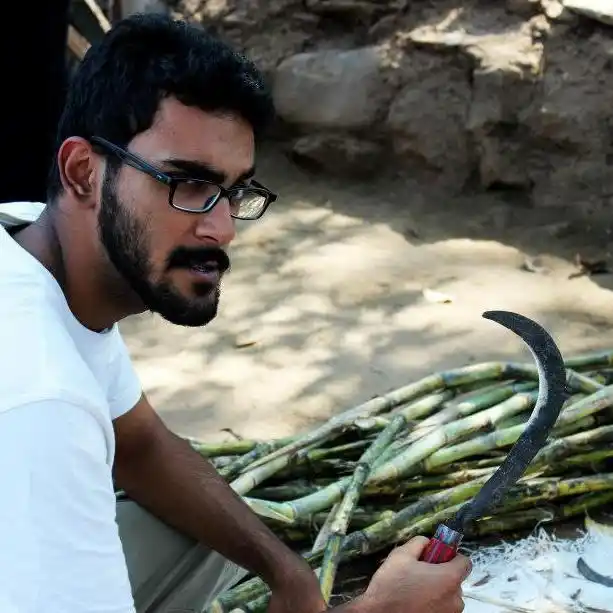 Dushyant Shekhawat really likes his mustache. He grew it himself. You can find him on Twitter at @SeriousDushyant.