Pixar's short film Purl is a commentary on bro culture that thrives at workplaces. It is a story that most working women today know all too well, where they devise ways to be "accepted" in offices often dominated by men. But why should women have to dress like men or crack crass jokes to fit in?
Pixar's short film Purl begins with a montage of a typical workday at B.R.O. Capital, where Purl, a bright pink excited ball of yarn is about to begin her first day. Within seconds, Purl realises that this is going to be a difficult place to work in. The office is full of men who look and dress the same. They show affection to each other in the form of fist bumps and high fives; laugh at sick jokes by the water cooler; and talk about gym and sports, among other Manly Man™ things. As Purl is being escorted to her cubicle, she is met, not with warm handshakes, but with confused stares and hushed whispers.
Purl has a hard time fitting in, despite being the most qualified for the job. Her colleagues don't understand her jokes, think that her solutions for the failed Brojections are "too soft", and keep her out of their drinking plans. Completely isolated, she finds a way to weave her way into the boys' club. She knits herself a new personality and becomes more like her male colleagues – cracking vulgar jokes, using expletives as a sign of aggression, being obnoxious and loud during meetings.
Growing up, I've known many such Purls, women who've had to work twice as hard as the men to be recognised for their efforts; woman who've had to take on a steely, aggressive persona to be taken seriously by their colleagues. One such Purl is my aunt. Having worked for a company for nearly 20 years, I've often heard her complain how she still gets talked over at meetings by her male colleagues. She still misses out on important updates regarding projects that are shared by her boss during impromptu "non-work related gatherings" from which she is left out.
Purl is a story that most working women today know all too well. When not worrying about how to avoid the creepy boss who is always too keen to give a hug or pat the back, they have to devise ways in which they can be included in the discussions among their male colleagues.
The casual sexism that usually goes unnoticed contributes in alienating women and depriving them of opportunities.
The prevalence of bro culture at the workplace is merely one of the many ways in which toxic masculinity manifests itself. It functions as an exclusionary tool that relegates women to the margins. Several modern workplace offer a microcosmic representation of how patriarchy and toxic masculinity operate in the larger context. As long as your bro has your back, you need not worry about women or funny-looking balls of yarn taking over your jobs.
Like everything else on the internet, Purl is being ridiculed by anti-feminists for spreading "anti-men propaganda" and for "creating issues even when there aren't any". This just goes on to show how important and well-timed Purl is.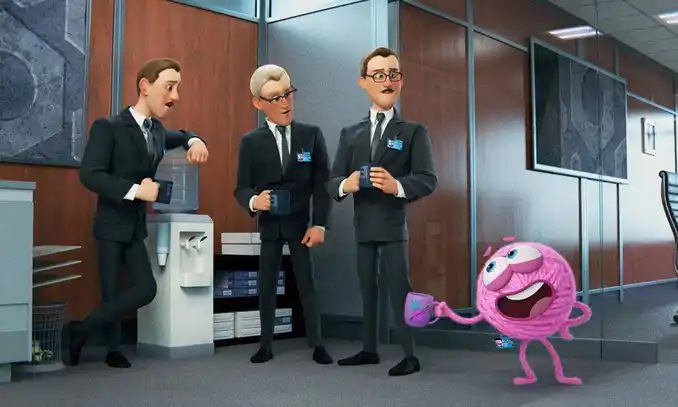 Pixar Animation Studios
It's an attempt to look inward by Pixar which has a reputation for being "Hollywood's boys club". It wasn't until the unravelling of the sexual harassment allegations against its now ousted COO John Lasseter, that Pixar's notoriety came to the forefront. In fact, the company has historically been known to have a toxic work environment, with a lack of women animators and stories with women protagonists. Purl's director Kristen Lester has admitted how the film is inspired by her own experiences as an animator.
In the film, Purl has to alter her entire physical structure in order to be taken seriously at work. She has to mould her personality to become more like her colleagues to be acceptable – something a lot of successful women do.
Barbara Annis the founder of the Gender Intelligence Group, a consultancy that strategises to transform their work cultures into ones that are friendly to both men and women, recalls how she emulated "very male behaviour" when she was the only woman salesperson in Sony in the '80s. "Inside the company, I became one of the guys," she tells The Atlantic.
The prevalence of bro culture at the workplace is merely one of the many ways in which toxic masculinity manifests itself.
The image of a successful woman that we are most familiar with is of one who thinks like a man, talks like a man, and sometimes even dresses like a man. Even someone as powerful as Angela Merkel began openly addressing issues related to feminism and female representation in politics very recently, after eyeing an impending exit from her political life, as this New York Times article points out.
Purl doesn't have very clear answers about creating an inclusive workplace environment for women, but it asks some very important questions. When a new ball of yarn, Lacy, joins the team, Purl has to make a tough choice. After having successfully infiltrated the boys club, should she break open the gates for others like her to follow through? Or should she continue to reap the benefits while leaving the rest of us behind? The answer to this question is obvious, but for many successful women, attempts to dissolve the boys club could lead to their own expulsion from it and a total disintegration of everything that they have carefully built over the years.
In a post-#MeToo world, Purl has an important lesson for us. Sexual harassment is not the only way in which a woman's dignity is violated. The casual sexism that usually goes unnoticed contributes in alienating women and depriving them of opportunities. The bro culture does not care to accommodate women with their "annoying gossip, high-pitched squeals and pathetic vulnerability". Its foundations lie in extremely misguided and stereotypical definitions of masculinity and femininity.
We teach our girls that the whole world is theirs to conquer, yet one of their greatest obstacles often turns out to be a group of man-children who refuse to let them into their cliques. Purl is a resilient force that dares to dream differently and nudges us to do the same, and for that I am grateful.

When Sanjukta is not clicking pictures of flowers or looking for the crunchiest leaves to step on, she writes about the things that matter to her. She enjoys spending her time by overthinking, planning her workout routine but never actually doing it, and pretending to understand jazz music.