Beginning with Frances McDormand's stunning speech, "speaking up" about diversity, inclusion, and the gender gap was a duty left to the women. Not one male Oscar winner so much as touched on #MeToo or harassment.
Alittle over three hours into the 90th Academy Awards, came the night's most defining moment. The stage was set for Jennifer Lawrence and Jodie Foster to present the Best Actress honour, which was to be the second last award of the ceremony. (Last year's Best Actor winner Casey Affleck, who has been sued for sexual assault, withdrew as presenter.)
As expected, Frances McDormand, the beating heart of Martin McDonagh's vigilante comedy Three Billboards Outside Ebbing, Missouri walked away with the top prize, winning over The Shape of Water's Sally Hawkins and Lady Bird's Laurie Metcalf. After the perfunctory thank-yous in her speech, McDormand bent down, placed her gold statuette on the floor, and made a simple request: She asked the women nominees in the audience to stand up.
"The filmmakers, the producers, the directors, the writers, the cinematographers, the composers, the songwriters, the designers," she pleaded. And once there were enough heads, McDormand continued her invocation by asking everyone to look around and understand that these women not just had stories to tell, but also projects they needed financed. She further invited producers, directors, and studios to invite women to their offices and give them a hearing, ending her speech by advocating "inclusion rider", effectively adding two new words to our vocabulary. (An inclusion rider is a clause that actors insert in their contracts that necessitates the cast and crew of a film "to meet a certain level of diversity".)
A powerful, rallying call for the need for more opportunities for women, McDormand's fiery speech and gesture also laid bare the lack of these very opportunities. Most of the categories that the actress gestured to in her speech, had few to no female nominees.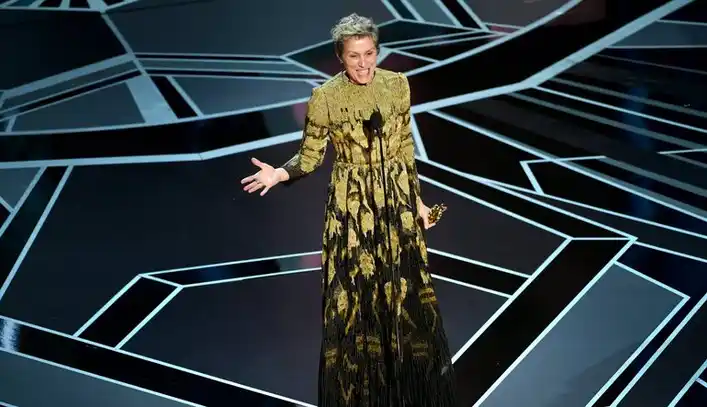 A little over three hours into the 90th Academy Awards, came the night's most defining moment when Frances McDormand took the stage.

Image credit: Academy Awards
Take Mudbound's Rachel Morrison, for instance, who was the first woman nominee in the cinematography category. In 2018. Greta Gerwig is the only woman director to be nominated for the Oscars this year, and only the fifth in the Academy's 90 years of existence. This year, there were also no women nominees in the Original Score, Sound Mixing, Sound Editing, or in the Adapted Screenplay categories. It's why the women artists – including Meryl Streep – standing, hugging, cheering, and getting teary-eyed during McDormand's speech was as much an act of solidarity as resistance.
Before McDormand's declaration, Emma Stone introduced the Best Director nominees by pointing out the lack of diversity and calling out the Academy's most male-dominated category with a sneaky, "These four men and Greta Gerwig created their own masterpieces this year." Then there were the Weinstein accusers Ashley Judd, Salma Hayek, and Annabelle Sciorra taking the stage to present a #TimesUp special, promising "limitless possibilities of equality, diversity, inclusion, intersectionality". There was also Allison Janney's delightful acceptance that started off with, "I did it all by myself"; a claim that although intended to be hilarious is also painfully true. And, who can forget Taraji P Henson possibly shading Ryan Seacrest at the red carpet?
What also made speaking out against sexual harassment and the widening gender gap in the backdrop of #MeToo and #TimesUp all the more imperative, was the fact that only six women took home Oscars, including the two women winners as compared to 33 male winners. It's the lowest number of female winners since the Oscars in 2012, coming upto a little over 15 per cent.
And, yet this duty of speaking out was left solely to the women.
The men of the Oscars on the other hand, save a few exceptions, seemed to be in no mood to use their positions, voices, or the year's biggest stage to legitimise a unique moment heralded by their colleagues. Not one male Oscar winner so much as spelt out #MeToo or harassment. Hell, even Jimmy Kimmel, in his opening behaviour referred to Weinstein and ilk's abuse as mere "bad behaviour". In doing so, haven't the men of Hollywood failed their female peers?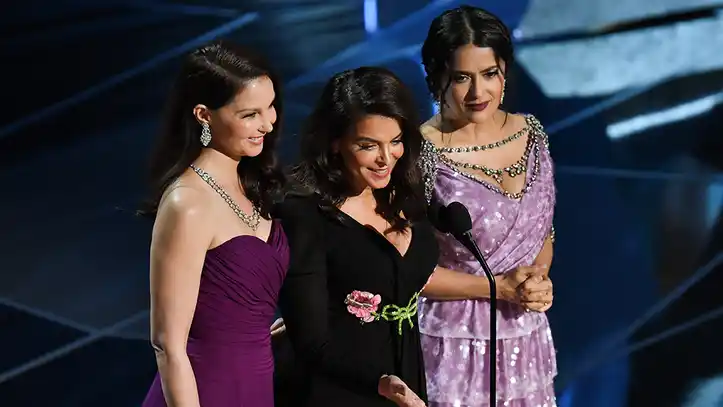 At The Oscars, the Weinstein accusers Ashley Judd, Salma Hayek, and Annabelle Sciorra taking the stage to present a #TimesUp special.

Image credit: Academy Awards
It's a familiar scene in the last few months, which makes it especially jarring. While women have tirelessly campaigned for a violence-free Hollywood and brought down powerful men from their position of power, the men have preferred protecting their peers and shying away from even touching upon topics of inclusion, harassment, and diversity. If the Golden Globes proved that the men of Hollywood were incapable of taking a stand against known perpetrators and make the industry abuse-free for women, the Academy Awards reinforced that idea.
It started with a defiant Ryan Seacrest, who headlined E! Red carpet coverage despite being embroiled in sexual assault allegations, in the same year as the Academy dedicating a special section to #MeToo. In fact, the words Time's Up were also rarely uttered on E!, with Oscar planners following suit and dissuading #MeToo or #TimesUp related protests or statements at the Awards, instead of wanting to focus on "the nominees' successes."
If that weren't enough, the Academy also went ahead and awarded two powerful men accused of abuse in the very same year that it was lauded for not having Casey Affleck presenting an award and snubbing James Franco.
This year, only six women took home Oscars, including the two women winners as compared to 33 male winners.
Former basketball player, Kobe Bryant won an Oscar for Dear Basketball, a documentary short he wrote and narrated, despite being charged and arrested for sexual assault in 2003. Joining his esteemed company was Gary Oldman, who won Best Actor, despite a reputation marred by domestic violence allegations in the past. What was even worse was that both of these wins were met with a casual shrug for their misdemeanors and fervent applause for their achievements.
In choosing to behave as if neither man has a history of sexual assault, the Academy Awards and its audience not only undermined the collective rage of female actresses, but also implied unwillingness to fight the system.
The nominees at Oscars this year then, didn't just wear a much less integrated rebellious vibe than was showcased at the Golden Globes, but also made a complete mockery of the stage that they were afforded. This collective hypocrisy of the selective support against harassment, both by the Academy and its male nominees, is indeed the night's greatest tragedy.
It's proof a lot remains to be fixed in Hollywood. While we are it, can we start with getting a damned female host?

When not obsessing over TV shows, planning unaffordable vacations, or stuffing her face with french fries, Poulomi likes believing that some day her sense of humour will be darker than her under-eye circles.