The wondrous bit about Oscar-winner Olivia Colman is that she fits in as easily as an everyday person as she does as a royal. She is an unlikely hero, who has, through her performances, turned the non-glamorous parts of humanity, the usual disgruntlement of our existences, into art.
The first time I came across the sheer brilliance of Oscar-winning actress, Olivia Colman was while watching The Lobster. In this Yorgos Lanthimos absurdist black comedy, people turned into animals if they couldn't find love within 45 days. In the film, Colman essayed the manager of the hotel that houses many such scared individuals desperate to partner up. She goes about her business with a poker face, never once betraying her interest or emotions for the guests or the old man she calls "partner". It's almost impossible to not grin stupidly when Colman tells David (Colin Farrell) very matter-of-factly that he needs to think properly before choosing which animal he will become when he ends up alone. "A wolf and a camel could never live together, nor could a camel and hippopotamus. That would be absurd," she advises him with zero hint of irony. It was a screen presence so steeped in irreverence, that the limited runtime of her performance ceased to matter.
After The Lobster, I gobbled up everything I found with Colman in it. If Meryl Streep makes ordinary scripts extraordinary simply through her silver-haired, gorgeous presence, then Colman does the same, but with her everydayness – that delightfully quotidian manner of being; of stating the most obvious things without making any brouhaha about it. And in doing so, Colman – set to replace Claire Foy as Queen Elizabeth, the world's most famous matriarch in Netflix's The Crown – blends the banality of real life into her signature talent.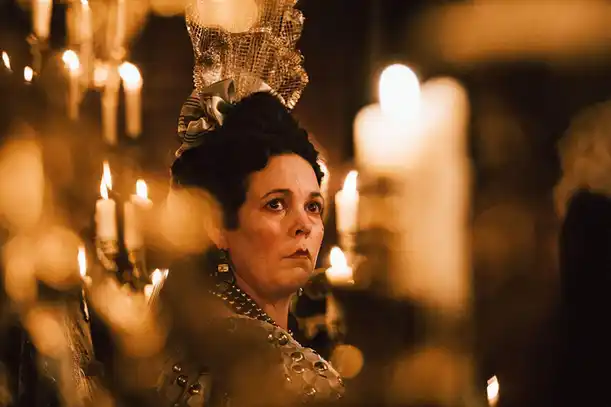 Element Pictures
Typically, a good actor does two things – they either make their performance look so effortless that you forget about them until a film is over. Or you keep staring at them in disbelief; such is their grasp of the game. Colman is an actor who does both. So when she wins an Oscar pitted against legends like Glenn Close, you know you are lucky to be born at a time when this artist is at her professional peak.
In Lanthimos' The Favourite – which lapped up 10 Oscar nominations – Colman plays England's dowdy Queen Anne and proves her mettle by donning the hat of an impulsive, frequently unwell, and vulnerable matriarch as efficiently as her turn in The Lobster. If she was supremely confident in the skin of the detached manager, she exists on a completely opposite spectrum in The Favourite – constantly doubting herself, awfully dependent on her lovers, and alternating between being angry and happy like a child.
And although, she believes she may never win an Oscar again, how can you not choose to differ?
As the ruler with tremendous baggage and sexual tension between her lovers, Colman's outing in The Favourite is her best to date. In the film, she loves her women on a whim although her affection for her pet rabbits is more permanent, as is her sorrow at losing 17 children. She rules with both lethargy and sudden bursts of energy, throwing a tantrum to exert her dominance over the cousins sparring for her favour. She cries at the drop of a hat at being called a raccoon and chuckles like a kid when making out with a lover dangerously close to the royal guards in the next room. It's a role that is so wickedly delicious, that seems almost tailored for Colman, whose career spans extraordinary work in films and television for the last 20 years.
For the British theatre's darling, 44-year-old Colman's personality is all kinds of delicious too. In her Oscar speech, she apologises to Close – nominated for The Wife – saying, "This is not how I wanted it to be" hinting at her surprise win after fangirling over the veteran actress like the rest of the world. At the Golden Globes a month ago, she termed co-stars Rachel Weisz and Emma Stone "ma bitches" and couldn't stop raving about flying on a private jet and eating a lot while shooting The Favourite. It's no secret that Colman hates wearing heels or clothes that are uncomfortable, doesn't think anyone wants to see her make out on screen, and loves that she gets to take on roles of detectives and officers without having to wonder about her gender. It makes sense, given her talent shines through when she plays characters that are perfectly imperfect – the unappreciated cop, the troubled detective with a fading personal life, or the wife of a depressed man.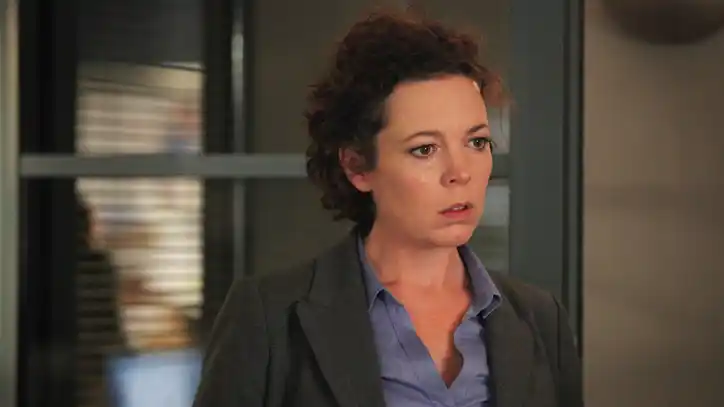 Shine Group
Most Indians know her from Night Manager, the Tom Hiddleston-Hugh Laurie thriller that has them on each other's tails. And yet it is Colman's Angela Burr, the cop obsessed with catching the criminal Richard Roper (Laurie) who makes the show delectable. She plays the heavily pregnant no-nonsense officer with a secret maternal instinct, with elan. In Broadchurch, another crowd favourite, Colman plays a detective who is robbed of a promotion and made to work with the rude senior who took her job. As Ellie, she is at once pissed by him and in awe of him; making both the emotions work in tandem. And although her personal life is in smithereens, with her husband being accused of a heinous crime, she still runs the show with a superb mix of dignity and professional curiosity. And in Flowers, a show primarily about dysfunctional characters, Colman plays the wife to a depressed and suicidal man. In what is a satisfyingly dark show, the manic grin that accompanies Colman's Deborah at all times conveys how she expertly depicts her misery at not being able to meet her husband at a middle point.
The wondrous bit about Colman, who once worked as a cleaner, is that she fits in as easily as an everyday person as she does as a royal. She is an unlikely hero, who has, through her performances, turned the non-glamorous parts of humanity, the usual disgruntlement of our existences, into art. And although, she believes she may never win an Oscar again, how can you not choose to differ? In a world where the inimitable Meryl Streep is the sweeping queen of hearts, we need an Olivia Colman, the queen of everydayness.

A freelance journalist by day and a sitcom addict rest of the time, Runa believes that animals come first. When not petting or feeding dogs, she is reporting on their state in the country among other things. Movies, ramen and reading up on Game of Thrones theories make her feel complete.