For years, Bikram Chowdhury used his successful yoga franchises to rape and assault innumerable female students. Even though this has been public information, the yoga guru is yet to face his comeuppance. The clear directive of Bikram: Yogi, Guru, Predator is to be a searing call-to-action that guarantees that he does.
The closing minutes of Eve Orner's Bikram: Yogi, Guru, Predator succintly sums up the motivations of the Netflix documentary that catalogs the litany of sexual abuse allegations against Bikram Chowdhury. It includes a montage of archival footage that feature the 75-year-old yoga guru going about life with the nonchalance of someone – as a character puts it in the documentary – who considers himself "above the law".
There's a 2017 video where Chowdhury – then in Thailand – is seen yelling at the man attempting to serve him a legal notice. He swears indiscriminately and claims that legal notices are like "toilet paper" for him. It's followed by another video announcement from the same year – this time Chowdhury is in India, his mood remains comparatively chirpy, as he talks about the new venue for his teacher training class. The picture that comes on screen next is a group photo of that class in Mexico in 2018. In a matter of seconds, there's a similar photo: It's from Chowdhury's recent teacher training class in Spain that took place this May.
It's the implications that make these shots even more chilling: More than half these classes are filled with women and in both these photos, the yoga guru flashes a triumphant smile. It's almost as if Chowdhury's history as a sexual predator – allegations against him surfaced way back in 2014 with as many as five women suing him for harassment – has been ineffective to cause any dent in his reputation. Back then, the Los Angeles District Attorney chose not to pursue any criminal charges against him, despite women coming on record, allowing the yoga guru to flee the country and start over. And today, yoga studios around the world continue sending women to a known sexual predator. Essentially, Chowdhury – the founder of Bikram Yoga, a 90-minute hot yoga routine of 26 postures and two breathing exercises – is yet to face his comeuppance. And the clear directive of Bikram: Yogi, Guru, Predator is to be a searing call-to-action that guarantees that he eventually does.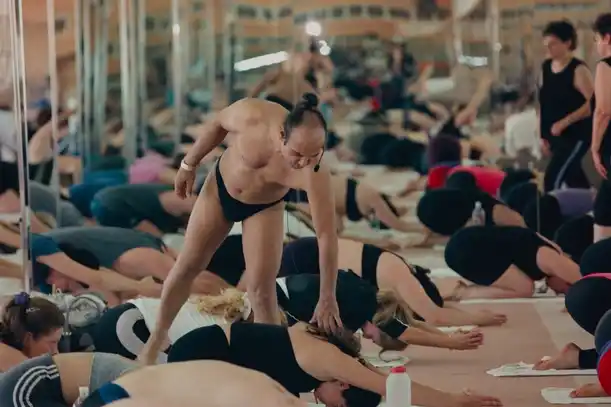 Orner details in Bikram: Yogi, Guru, Predator are new – the yoga guru using his successful yoga franchises to rape and assault innumerable female students has been public information for a while.

Netflix
When Bikram: Yogi, Guru, Predator premiered at the Toronto International Film Festival earlier this year, Orner described it as a "pre-Me Too story in a post-Me Too world". It's a persuasive summary, given that at its heart, the documentary is concerned with being an examination of what used to be the norm: powerful, well-connected sexual predators conveniently eluding justice.
There's a thin line separating Harvey Weinstein from Bikram Chowdhury, even though both cases mirror each other: they are sordid tales of unchecked sexual assault, misconduct, and rape carried out by men who fostered a culture of co-dependence on the women they preyed. Not only did they create a space that embraced their victims and gave an impetus to their passion, but they also exploited that very space by trapping them in it. Yet, the fate that met these two men are starkly different: If Weinstein's abuse of power precipitated a movement that hinged on the tenets of solidarity and punishment, Chowdhury managed to game the system itself. The timeline of Chowdhury's assaults may have unfolded in an era that had yet to find a vocabulary for legal redress but his redemption is playing out right in front of our eyes now. This is the question that Orner strives to put forward in Bikram: Yogi, Guru, Predator: In an age where the boundaries of inappropriate behaviour and power imbalances are so cleanly etched out, is selective justice a worthy cross to bear?
The documentary opens in Los Angeles 1998 after Chowdhury emigrates to the States and professes the healing powers of hot yoga. Orner spends a considerable chunk of the 86-minute-documentary to show us what the world saw in Chowdhury who used to show up in classes wearing nothing but a revealing black speedo. At her disposal is a treasure trove of impressive archival video footage culled from yoga classes, trial depositions, and interviews that is intercut with testimonials from a dozen subjects – former students, victims, and attorneys. Back then, as Chowdhury started amassing a following and celebrity clout, largely due to his own mythmaking, he decided to double up his fortunes by franchising Bikram Yoga. Anyone could open a franchise; all they would need was Chowdhury's approval and enroll in a gruelling nine-week teacher training class inside a Los Angeles hostel that cost a steep $10,000. It is in this very hotel – in particular, the presidential suite where he lived with his wife and two kids – that Chowdhury raped and harassed women as hundreds signed up for his teacher training classes.
As the documentary posits, Chowdhury was keenly aware of the power that he wielded over everyone who took his classes. In here, he did as he pleased, normalising a culture where he could inappropriately touch female students without being questioned (a classic pose that Orner frequently returns to has Chowdhury climbing on a female student's stomach as she lies bent on all fours) and hurl demeaning slurs at them. Soon, it devolved into him demanding massages from female students after class which escalated into him inviting students to his room at night under the guise of watching Bollywood movies and then forcing himself on them, even raping one student. Through the testimonies of his victims – one claims that she wished him "goodnight" after he attempted to rape her – Orner establishes the extent of Chowdhuey's hold over them. 
Bikram Chowdhury used his successful yoga franchises to rape and assault innumerable female students.
All of the subjects in the documentary are unanimous in their assessment of him. They call him a showman, someone who knew how to market himself in a way that was financially profitable for him – he self-described himself as the last living yogi, bragged about Richard Nixon gifting him a green card and counted Elvis Presley, George Harrison, and Frank Sinatra as his students; they confirm that his yoga improved their lives and could heal injuries besides attesting to his powerful teaching voice and exaggerated charisma. But they also remain united in seeing him as a sexual predator. This is perhaps the biggest paradox of Chowdhury's legacy – the polar opposites between the man and the influences of his work.
None of the allegations that Orner details in Bikram: Yogi, Guru, Predator are new – the yoga guru using his successful yoga franchises to rape and assault innumerable female students has been public information for a while. It's why Orner skimps on narrative ambition (the documentary hardly spends time in acquainting us with the lives of the victims) instead dressing it up as a straightforward overview that aims to take a jab at your conscience.
In that sense, Orner remains less interested in joining the dots in Bikram: Yogi, Guru, Predator as much as ensuring that the collation of evidence acts as a response against the fickleness of public memory. The documentary pulsates with urgency only in the film's last 30 minutes when it seems for a moment that the megalomaniac yoga magnate might just be punished for his crimes. Yet even as Orner picks holes in his origin stories (the hot yoga he claims to have invented turns out to be plagiarised), Chowdhury doesn't really lose much. For instance, after the first set of accusations against him surface in the public, the hot-headed Chowdhury laughs off the charges in a TV interview, claiming that he wouldn't need to assault anyone for sex, for women simply "volunteer".
The documentary culminates into a shocking climax: Orner closes with a video recording from inside his teacher training class in Spain. Chowdhury sings to his class in his trademark abandons and climbs on the stomach of a female student to thunderous applause. After he gets down, he proceeds to hug her. On his face is a triumphant smile. In that moment, Bikram: Yogi, Guru, Predator is both an accusation and a reminder that we're repeating a pattern: Bikram Chowdhury will keep getting away with it all only because the world is once again allowing him to get away.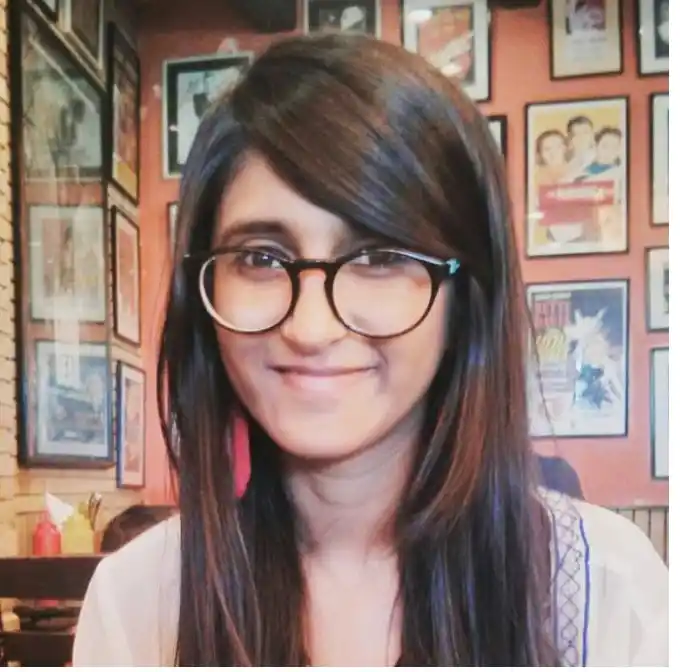 When not obsessing over TV shows, planning unaffordable vacations, or stuffing her face with french fries, Poulomi likes believing that some day her sense of humour will be darker than her under-eye circles.