I am an incurable Christopher Nolan fan; I took a two-day train journey to watch Interstellar, the way he wanted us to. I never thought I'd really meet him. So when I chatted with the director about film projectors while he was shooting Tenet in Mumbai, the moment felt unreal.
In the times we live in, fandom has acquired a dishonourable reputation. It's almost as if you're calling yourself out if you admit that you're part of one. I suppose, the internet has altered the definition of what it means to be a fan. A superfan is now known by the hashtags he uses to declare his devotion for a film or by the number of defensive replies he types up to counter a criticism of his favourite actor. He is a person who is obsessed, sometimes without reason and by extension, is someone who is taken less seriously. I'm not challenging this definition of superfans – I am certain there exist fans who behave in this exact way. But, sometimes, in focusing on these online fandoms, we tend to neglect the other kind of superfans: The ones who live out their entire life affected by an artist and his art and pine to meet him, until he does. I am that kind of a superfan.
My story began someday in June 2005. I was 15, preparing for medical school, and had been a recluse for almost a year. My only sources of entertainment were the music programmes on radio stations and the updates about movie releases in the newspaper. On one such day, I saw a picture from the premiere of a film called Batman Begins. I don't remember what enamoured me, but enamoured I was. 
It would be a year until I rented a copy of Batman Begins. I didn't know it then, but this was the beginning of my fandom. I was awestruck at how the film managed to drastically alter my expectations from a comic-book movie and I kept going back to it – on days I was happy, on the days I was sad, and on the days I was lonely. On one such day, after I'd moved to Bhavnagar for college, I found myself in my  
sacred place – a local video store, which I'd visit everytime I would crave for company. Here I chanced upon a DVD with the words "From the Director of Batman Begins and Memento" written on it in bold. And then my eyes fell upon the title –  
The Prestige. Watching the movie felt a lot like witnessing a magic trick. It was then that I took note of its director: Christopher Nolan. A name that for me would cease to be just that.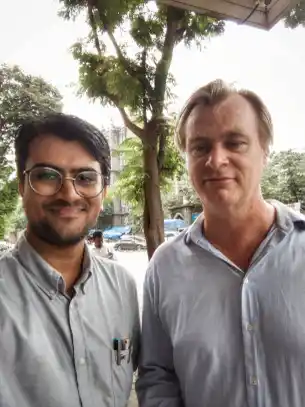 Last year, when Nolan visited India for an event dedicated to film preservation, I found myself in the audience.

Mahek Raviya
From then on, I obsessively dug out Nolan's earlier works, read up everything about him that I could find, and counted out my spare time in the number of hours I would spend discussing and defending his cinema. I lost count of the number of times I watched The Dark Knight in theatres. By the time it was 2010 and Inception was around the corner, I had become an incurable fan, so much so that I travelled a couple hundred kilometres to watch the film on 35mm. 
The years that followed are marked in my memory as the period that I spent anticipating the release of the next Nolan wonder. In 2012, I ended up travelling over 1200 kilometres to experience The Dark Knight Rises, the way Nolan himself had intended and reached the only Indian theatre in Hyderabad that was screening the film in that format. For Interstellar, I undertook a two-day train journey. These trips were my personal pilgrimages and Nolan had become the only person I placed my unerring faith in. That's the thing about fandom, you snigger at the craze it creates until it happens to you. By the time Dunkirk released in 2017, I wanted to meet the man behind the magic. 
I have often been asked by puzzled friends, well-wishers, and even acquaintances to articulate my admiration for Nolan in recognisable terms that can be dissected and more importantly, calculated. But our response to art is rarely that black and white. In all these years, what I have loved about Nolan's films is how they marry the sensibilities and creativity of independent cinema with the appearance of a tentpole, blockbuster motion picture event. Nolan is arguably, the most humane filmmaker I know: The way his films meditate on the nature of time, memories, dreams, and hope isn't just affecting but it also pushed me to dive deeper to learn more about the human psyche. Art is after all, our gateways to empathy, and for me Nolan's films acted as much as a window to the lives of others as it was a mirror to my own.
So last year, when Nolan visited India for an event dedicated to film preservation, I found myself in the audience. There were countless fans like me surrounding him, desperate to get his attention. In those celebratory moments, I saw myself as a part of a common feeling that tied every person present inside those auditoriums as one. Even though I got to ask him a question, I didn't get to meet Nolan. Not the way I had imagined, returning home with the posters of his film and the disc of his first film, unsigned.
It's funny how I'd always dreamt about meeting my idol, but I'd never really thought about what I'd actually say when I really did.
It's been two years since that encounter. I live in Mumbai now, the same city where he is currently shooting Tenet, his next film with Robert Pattinson, Dimple Kapadia, and John David Washington. And there was no way I'd let this opportunity pass. But what if I am met with disappointment again? I was reluctant until a friend convinced me that it was probably my only chance to have my personalised Nolan moment. I clung to the idea like a hopeless addict. 
So last Saturday, we travelled to Colaba to watch the shoot. As we got off the taxi in front of Regal cinema while being semi-engrossed in banal banter, I glanced across and saw a man in a blue shirt and black trousers walking toward us from across the street. It took me not more than a fraction of a second to realise that this man is no one but Nolan himself.  
Not wasting a second, we approached him. I fumbled when I tried requesting him for a picture but somehow managed to catch his attention. Nolan, the man who meant so much to my life, stopped in front of me and asked "Yes?" I froze. It's funny how I'd always dreamt about meeting my idol, but I'd never really thought about what I'd actually say when I really did. I guess, I'd assumed that meeting Nolan would always remain outside my reach. But here I was.
In the next few seconds, I gathered myself and introduced myself to him. I told him how much I have admired his work and how I have travelled thousands of kilometres to see his films in the format he intended them to be seen. I spoke and he listened earnestly. And then when we were talking about whether there were any working film projectors in the country, he caught me off-guard by asking, "Would you like to take a photograph?" That moment felt surreal.  
As I was trying to process this miracle, I realised that we were standing opposite Regal, an age-old cinema hall that is in danger of being demolished. It's perhaps fitting that it is in this backdrop that I talked to Nolan about preserving the traditions of cinema. When I think about it, the strangest thing is that now that this dream of mine is real, the memories of this reality feels like a dream again. I guess I should spin my totem, just to be sure.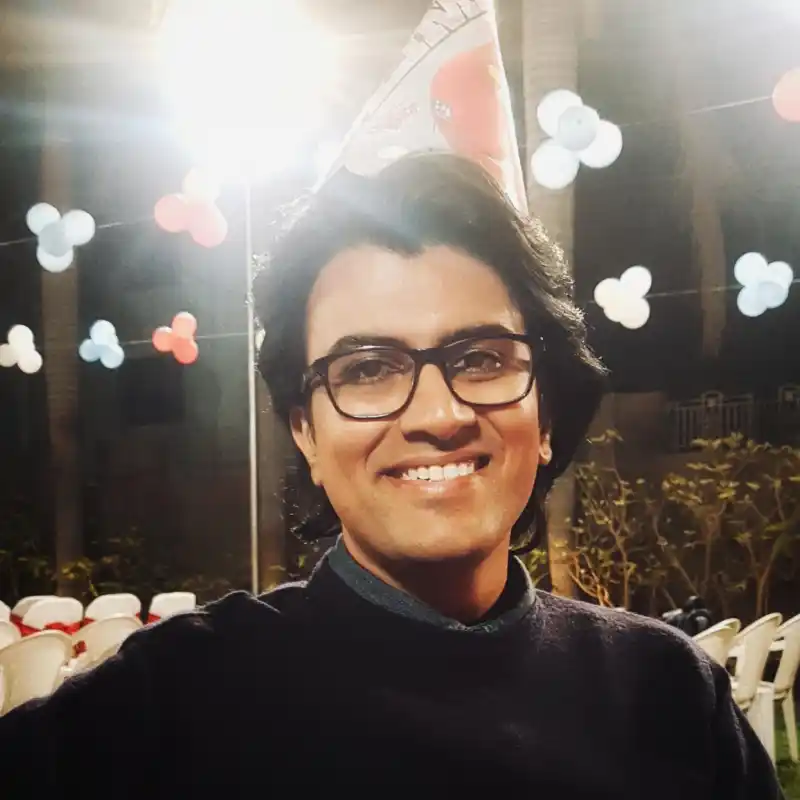 When he is not busy with the patients, he's probably at the movies or enveloped in books and music. Tweets at @DoctorRadiohead