Masaba Masaba, where celebrity mother-daughter duo Neena and Masaba Gupta play fictionalised versions of themselves, isn't the most perfect show, but it remains immensely watchable. Set around late 2017, Masaba Masaba takes the candyfloss "girls can have some fun too" approach.
Masaba Masaba, Netflix's latest original series centred on the lives of celebrity mother-daughter duo Neena and Masaba Gupta, who play fictionalised versions of themselves, really starts off with a boisterous scene that has Neena Gupta inside a car. She's taking a driver's test with the seasoned confidence of a F1 driver. On the passenger seat is a terrified driving instructor, "Why don't you hire a driver?" he asks her. What he means is this: Surely, this isn't the age for you to experiment with driving. "I'm not even 60 yet," the actress shoots back, adding that she has decided to try her hand at all the things that she's always wanted to do, like swimming, getting a tattoo… and playing a lead role in a film.
The callback is as obvious as it is instant. I was immediately transported to Neena Gupta's career-invigorating turn in Badhaai Ho, the 2018 film where she did in fact get a starring role after years of being out of work. The point of this scene in Masaba Masaba is an act of foreshadowing: the makers recreate Neena Gupta on the sets of Badhaai Ho (and use it as an excuse for a delightful Gajraj Rao cameo) in its finale episode. It's a terrific dig at how older women are expected to eschew any desires or ambition once they cross a certain age. Life for them then, is meant to be spent only in the confines of the backseat.
Set presumably in late 2017, Masaba Masaba takes the candyfloss "girls can have some fun too" approach to its storytelling, templatised by big-screen outings like Aisha, Veere Di Wedding and recent small-screen affairs like Four More Shots. Yet, I'd argue the six-episode show, directed by Sonam Nair (Gippi), isn't just a blank statement: It's charming, self-aware, and occasionally witty.
But where it scores over its counterparts is in its emotional resonance: the idea of the sisterhood being vital nourishment. Masaba Masaba isn't just the coming-of-age tale of a highly successful millennial designer, it's the story of two talented women whose individual accomplishments are incomplete and impossible without each other.
The six-episode show isn't just a blank statement: It's charming, self-aware, and occasionally witty.
The perils of being famous
If the legacy that Masaba Gupta has single-handedly managed to create for herself stems from her mother's steadfast refusal to submit to the conventions of a society that can't handle female independence, then Neena Gupta's comeback to the movies is a direct result of having the backing of a daughter who reminds her to never second-guess herself only because the world can't keep up with her. In that sense, Masaba Masaba investigates the perils of being a famous woman burdened with living up to impossible standards of public scrutiny, as well as the strenuous task of being famous in the first place.
Co-written by Nair, Nandini Gupta, and Anupama Ramachandran (Punya Arora is credited for additional screenplay and dialogue), the premise of Masaba Masaba is obviously located in the National Award-winning Neena Gupta's now-viral Instagram post about being on the lookout for work. At the time, it was dubbed bold, courageous, albeit a little naive.
But seeing Masaba Masaba fictionalise the moment, born out of Neena Gupta's dissatisfaction with being passed over for roles, it becomes clear that it was nothing but an ask of dignity; an exercise in asking to be remembered. That to me, is the primary reason that Masaba Masaba works, even when it goes a little overboard with its millennial fixations (a bisexual stoner artist subplot is as dull as they come and Masaba's new collection is literally made hashtag-friendly: #HotMess). Ultimately, it reveals itself as a show that is dedicated to being a record of the successes of women as much as the successful women themselves.
There's also the fact that Masaba Gupta, in her debut as an actor, has incredible screen presence, livening up even the most cliched lines of dialogue and filmmaking decisions. The show opens with the breakdown of her marriage, one that is handed in such a fuss-free, empathetic manner that it almost came as a shock. It's laudable how the writers stop themselves from diving into the details of the separation or even squarely blame it on anyone, highlighting instead the fact that sometimes it's normal for even the most loving relationships to come to an end.
It's even clever how Masaba Masaba uses Instagram as a device for emotional communication.
Neena Gupta is a queen
It's even clever how Masaba Masaba uses Instagram as a device for emotional communication. In scene after scene, Masaba broadcasts her feelings to the world even before she allows herself the time to process it. There's an especially bittersweet moment that captures how easy the internet has made it for the world to be nosy about the tragedy of strangers. On a car ride back home, Masaba and her husband jointly decide to break the news of their divorce on Instagram to bypass incessant questions and nagging suggestions. Masaba reluctantly agrees and cross checks the caption by him. He has one suggestion: Could she make it seem like they're more sad about it?
But the biggest reason that the show, despite its storyline devolving into abject ridiculousness in the last two episodes, remains immensely watchable is because of Neena Gupta. Playing a possibly watered-down version of herself, the actress gives a performance that carries in it a lightness of touch as well as the incomparable high of watching someone casually make a meal out of improvisation.
There's no doubt about how effortlessly she can light up the screen with the subtlest of gestures, but Masaba Masaba truly unlocks her generousness as an actor. Some of her best scenes are the ones where she shrinks herself to allow her co-actor reach their fullest potential. Granted, it isn't the most perfect show but when you have the distinction of having Neena Gupta star in a music video where she admonishes millennials for calling her "aunty," you can't be much far from it.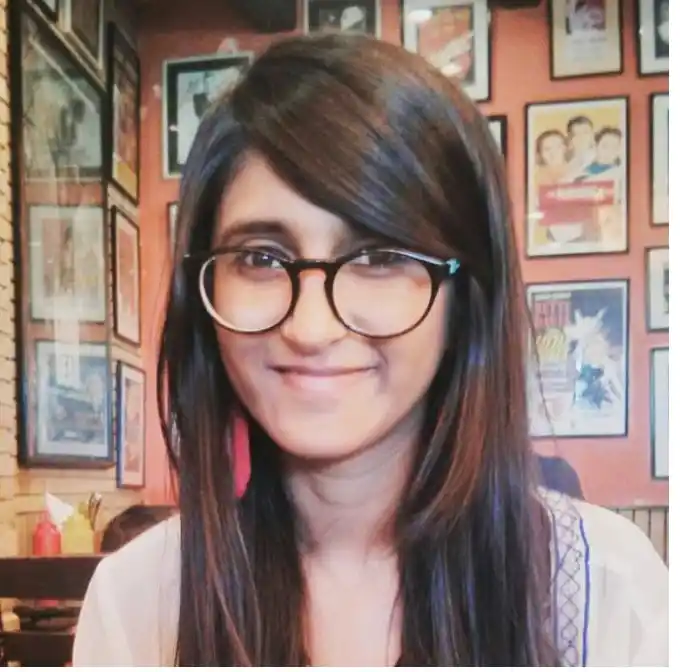 When not obsessing over TV shows, planning unaffordable vacations, or stuffing her face with french fries, Poulomi likes believing that some day her sense of humour will be darker than her under-eye circles.