In the Marathi film Bucket List, Madhuri Dixit plays the sweet vahini from a regular upper-caste Maharashtrian Puneri neighbourhood. What happens when Bollywood's most famous diva lands in an industry in the midst of a beautiful churn? Her stardom becomes a stumbling block.
In a scene in Tejas Prabha Vijay Deoskar's Marathi film, Bucket List, its lead Madhura Sane, a 40-year-old middle-class homemaker, poses an odd question: "Who will look at me?" The character is reminiscent of the lovable Shashi, played by the late Sridevi, in English Vinglish who feels invisible to her own family – and by extension, the world.   
In any other case, the ordinariness of the character would have been enough to accept the reality of this complaint and believe that no one would indeed look at her. But when your character is played by Bollywood royalty Madhuri Dixit, it's actually impossible to look away from her.
In the times that we live in, some of the most interesting films being made in regional Indian languages, are either in Marathi or Malayalam. Where Malayalam films are stunning viewers with a new visual grammar, Marathi cinema has broken ground with refreshing narratives. Films like Sairat, Kaksparsh, Walu, and Killa, featuring talent gleaned from theatre and television, have demolished stereotypes and present a new trajectory worth emulating.
But what happens when Bollywood's most famous diva lands in an industry in the midst of a beautiful churn? Her stardom becomes a bit of a stumbling block.
Of course, Madhuri (it's also her Marathi film debut) hasn't done this intentionally. Her Mrs Sane is the sweet vahini from your regular upper-caste Maharashtrian Puneri neighbourhood. After a life-altering heart transplant, all she wants is to fulfil the bucket list of the 20-year-old donor who gave her a second life. She's the kind of person who doesn't know what type of bread pita is or the point of a bro fist. She believes viral is something to recover from and has never tasted tequila. So naturally she's never heard of a bucket list either. It's a role every Joshi, Kulkarni, and Deshpande vahini in the audience can identify with.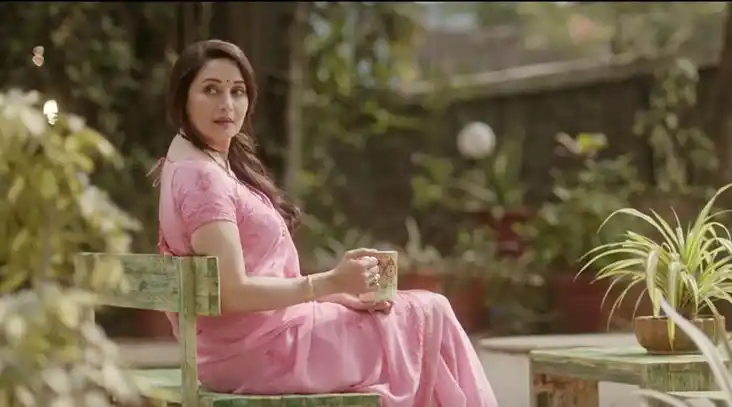 But what happens when Bollywood's most famous diva lands in an industry in the midst of a beautiful churn? Her stardom becomes a bit of a stumbling block.

Image credit: Dharma Productions
Which is precisely why, there's so much more ground Mrs Sane could have covered. But Madhuri doesn't.
On paper, Mrs Sane is the Maharashtrian Everywoman — outwardly happy but inwardly struggling for self-expression. In any other equally competent but less self-absorbed hands, Mrs Sane would have blossomed and tested her boundaries by leaving the audience with the umpteen contradictions that make up a middle-class homemaker. Instead, what the movie does is glorify her devotion to domesticity.
Naturally, as is the case with this specific brand of women-led underdog films, she also "finds" herself along the way. By bending a few social norms, blending in with the aspirations of the younger generation and topping it off by rubbing her family the wrong way. It's all wonderfully "feel good" in a way that a Dharma Production starring the country's favourite dhak-dhak girl can be – but also a little dishonest at the same time.
Then there's the fact that Madhuri never lets you forget that she's the diva. Right from the million-watt smile to the graceful dance moves, Mrs Sane finds its impossible to hide the fact that she's Madhuri Dixit. As a result, Bucket List tiptoes around her persona even in its most poignant moments. The plot – that carries a strong whiff of English Vinglish – betrays its very essence by being unable to probe the depths of Mrs Sane's soul and understand what truly makes her tick. But more importantly, she leaves you exasperated with her subtle acquiescence to patriarchy.
Naturally, as is the case with this specific brand of women-led underdog films, Madhuri Dixit's Madhura Sane also "finds" herself along the way.
Unfortunately for Mrs Sane, the women who preceded her in the landscape of Marathi cinema in recent months have done a far better job of making the audiences introspect. Gulabjaam's short-tempered Radha munched on popcorn while watching a film alone in a Pune theatre, explored her need for companionship with a far younger man, and found expression in her culinary skills. Nude's Yamuna showed us the world through the eyes of a nude model who was unapologetic about the routes she exploits for financial and emotional independence. And, Amhi Doghi's Saavi questioned her lack of emotional attachment even as her stepmother Ammi fought her own destiny with a quiet and dignified resilience.
These women, from different strata of society, were emerging voices who pushed boundaries. They were fallible, vulnerable, and acutely real. Unlike Madhuri in Bucket List, none of the actors portraying these feisty women allow – or have – a screen persona that can overpower their characters.
Which is a shame because Mrs Sane could have given Madhuri Dixit ample scope to go where no vahini had trodden before. Instead of just playing out her fantasies of meeting Ranbir Kapoor in a pub, getting wasted, and learning to ride a Harley, she could have explored her equations with the family and even probed those feelings of desire that disappointingly just get a nudge-nudge wink-wink mention in the screenplay.
Until the very end, I waited with bated breath to see if Mrs Sane would throw caution to the wind and complete the last wish on that bucket list: kissing the boyfriend of her dead donor. It could have opened the door to a long-overdue discussion on the unsung, unspoken needs and desires of the middle-class married Indian woman.
But Madhuri never lets Mrs Sane get there. Instead, Bucket List gets our vahini to settle for a tame embrace with the husband instead.
Aparna Joshi likes to travel, observe and meet different folks. When the mood is right, she writes too.