Karan Johar made the mistake of believing he'd invited Kangana Ranaut of a decade ago to Koffee with Karan. No longer the awkward outlier, the actress dropped several truth bombs.
In the unapologetic and achingly opinionated world of Kangana Ranaut, revenge is a dish best served on national television. It took the three-time National Award-winning actress all of Koffee with Karan's 47-minute runtime to call out Karan Johar on his nepotism, disdain for outsiders, and the absolute frivolity that is the hallmark of his show.
Seated on the very couch that has manufactured many a controversy, broken friendships, and witnessed unending jokes on her accented English, Bollywood's Revolver Rani dropped one truth bomb after another, almost as if channelling Jaanbaaz Julia, the protagonist of the much-awaited Rangoon.
It would be easy to surmise that Kangana is yet another star waltzing down the crowded lane of magically finding a spine just before the release of her film just the way many have before her. This, after all, is the era of time-sensitive social conscience (yes, we're looking at you Amitabh Bachchan). But Jaanbaaz Julia seems like the culmination of this avatar rather than a conscious attempt.
In the movie, Kangana slips into the character of Miss Julia, a fiery 1940s stunt woman, who finds herself in a romantic love triangle between an army officer and a filmmaker, played by Vishal Bharadwaj favourites Shahid Kapoor and Saif Ali Khan. The role – which required the actress to bring in equal measures of strength and vulnerability – best mirrors the off-screen persona of Kangana, who has never shied away from openly voicing the hurdles that every Bollywood outsider faces, but chooses to sweep under the rug. She has simultaneously held her ground with courage, every time a man has tried to malign her reputation in the past.
But, the road to her resurrection as Bollywood's Queen hasn't happened overnight – unlike Sonam Kapoor's obvious PR dress-up disguised as a "diplomatic avatar". In Kangana's case, it took numerous small roles, failed movies, standing up against Bollywood bullies, and bad relationships for her to reach the pinnacle of her career. Now, not only can she command a role bigger than two leading Bollywood stars, but also deliver the highest-grossing Bollywood movie featuring a female protagonist.
Johar, who has made an entire career out of riding on the coattails of one of the Khans, was shaken to the soles of his very shiny Louboutins.
Kangana Ranaut came into our collective consciousness as Bollywood's go-to girl for hysterical characters with mild tones of schizophrenia and substance abuse. From Simran, the alcoholic woman caught in a romantic triangle between a gangster and a friend in the eponymous Gangster; to a schizophrenic character based on yesteryear actress Parveen Babi in Woh Lamhe; and the junkie supermodel trying to cope with her sinking career in Fashion, Kangana owned crazy like nobody else in the city.
Going from there to the ignominy of bit parts in big films like Krrish 3 and Kites, the Kangana we know now as the singular force who guides a film toward box-office glory, came to us with Tanu Weds Manu and from there with Queen. What we had with us by the time Tanu Weds Manu Returns happened, is a version of Kangana far from crazy and much closer to confident.
For a girl fighting against everything – from a language she was yet to master to a star-sperm-driven industry she couldn't enter and a love affair she didn't want to deny – confidence was a battle worth fighting. And with Rangoon, she's here to tell us that she's won it and that the Janbaaz has arrived.
Unfortunately, it appeared as if Karan Johar, so involved in his Dharma universe, didn't get that memo. His mistake was assuming that the Kangana sitting on his couch was the same Kangana who had entered the industry a decade ago.
He set himself up to be chastised on his own show with a slew of stupid questions, most tellingly the one he shot during the now-tired rapid fire round. When asked which one of the three Khans (Shahrukh, Salman, or Aamir) Kangana would like to work with next, the actress replied "None" much to his shock. Johar, who has made an entire career out of riding on the coattails of one of the Khans, was shaken to the soles of his very shiny Louboutins. In his head, he must have gone "Bloody Hell".
And in her head, Kangana must have laughed her characteristic sharp laugh. Long live the Queen.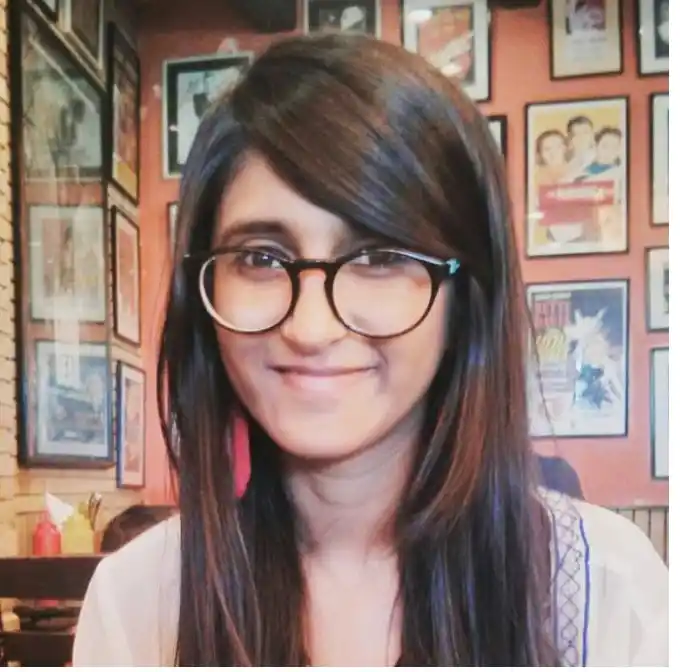 When not obsessing over TV shows, planning unaffordable vacations, or stuffing her face with french fries, Poulomi likes believing that some day her sense of humour will be darker than her under-eye circles.