By making the audience stare right at a system that keeps enabling fascism right from birth, through the deception of comedy, Taika Waititi crafts Jojo Rabbit as a call-to-action against hate.
Taika Waititi's Jojo Rabbit opens with archival black-and-white footage of frenzied Hitler-worshipping crowds, including squealing wide-eyed women – scored to the upbeat German version of the Beatles' "I Wanna Hold Your Hand". It's at once alarming and comic: the undeniable hold of a dictator filtered through the tunes of the most influential band of all time. The tonal dissonance of this montage defines the film. Just like this scene, Jojo Rabbit is ultimately a juxtaposition of what makes fascism shockingly pressing with what makes its worldview an object of absolute ridicule. Waititi, who pegged Jojo Rabbit as an "anti-war satire," recasts the act of indoctrination not as an incident, but as an enduring lifestyle, arguing that sometimes even the luxury of hindsight can't stop history from repeating itself.
Based on Christine Leunens' 2004 novel Caging Skies, Waititi adapts the story in the truest sense, ditching Leunens' sombre tone for his trademark absurdist candidness, infused with a touch of self-aware comedy. The film has been in the making for a while: Waititi is said to have first written the script almost a decade ago. That its journey to the big screen hinged entirely on Waititi's garlended Hollywood reputation post Thor: Ragnarok's blockbuster success is in itself a testament to the tightrope that Jojo Rabbit walks just by its mere existence. This isn't the first film that flirts with Nazism, Adolf Hitler, or mining both for laughs. But Jojo Rabbit does exist at a time when comedy – especially the kind riffed off unspeakable atrocities – is answerable to reasonable expectations of political correctness. Waititi's screenplay doesn't seem diluted by that demand; instead it stretches the rubber band of his vision as far as it can go.
Set in the waning days of The Third Reich, Jojo Rabbit follows Johannes "Jojo" Betzler (a scene-stealing debut by Roman Griffith Davis), a 10-year-old German boy who by his own admission is "massively into swastikas" and whose imaginary friend of choice is none other than the Führer (Waititi, in an inspired move of casting) himself. Jojo lives with his mother Rosie (Scarlett Johansson) in a lonely house close to the town-square; his father is lost at war and his sister is dead. Jojo is a timid, if naively buoyant boy, crippled not just by loneliness but also by a visible craving to adhere to a paternal influence and as it happens, Adolf Hitler fulfills this very vacuum. The film's extraordinary first scene has Hitler train Jojo on how to fittingly heil him in a rousing voice, a clever play on the pressures of masculinity and in another scene, he comes to the little boy's rescue when he is in dire need of a pep-talk. Through every crisis, Jojo has visions of Hitler, who doubles up as his surrogate father, guide, as well as his unflinching idol – a companionship that comes under threat when Jojo strikes up a friendship with an enemy.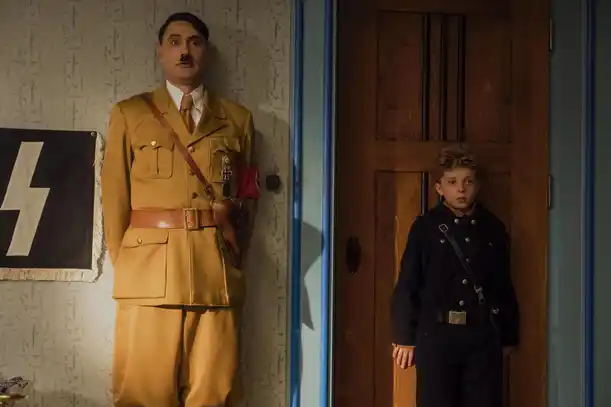 When Jojo Rabbit begins, Jojo and Yorki, his equally indoctrinated best friend (a pitch-perfect Archie Yates) set off for the "best weekend" ever, which turns out to be a Wes Anderson-esque Youth Hitler boot camp. It's run by a goofily disillusioned Captain Klenzendorf (Sam Rockwell) and his bumbling associates, Finkel (Alfie Allen) and Fräulein Rahm (Rebel Wilson). Here, the assembled kids are taught lessons in warped bravery – girls get to learn "how to get pregnant" and boys get to fight with guns and grenades. The clincher is the camp giving a face to its beliefs and identifying the enemy: Jews. The kids are taught not just how to spot a Jew, but also effectively offered a vocabulary to other and devalue their existence, which Jojo readily clings onto. An eventual freak grenade accident cuts his dream of serving as one of Hitler's personal guards short and Jojo is sent home from camp bearing a scarred face and a hampered walk.
Jojo's blind fanaticism is really tested when he discovers Elsa (Leave No Trace's breakout star Thomasin McKenzie), a Jewish girl who his mother has kept hidden in their house. Initially, Jojo is taken by the Nazi rhetoric, entertaining the idea of reporting her to the Gestapo agents on more than one occasion. The film finds a compelling emotional anchor in Elsa and comes on its own in these sequences as it draws out the deceit in practicing extremism as a collective as opposed to putting it in practice individually. As the narrative charmingly progresses, the film slightly changes track to chart Jojo's coming-of-age, revealing a conscience in him that remains unshakeable by propaganda. Throughout, Waititi relies on biting farce and visual humour to enliven his comic set-pieces (a tense scene with a group of Gestapo agents has a surprisingly laugh-out-loud beginning and a German shepherd gag is bound to elicit a giggle) that often emanate the feeling of the film being nothing more than just an extended sketch.
Yet, thin as Jojo Rabbit's satire might be, it's not entirely toothless. Even though, it's more of a nudge than a punch, it lands, in part due to the affecting performances of its two child actors – Davis in particular, shifts between eliciting pathos to evoking laughs with an alarming ease. By unfolding the film and by extension the world of Nazis, through the perspective of a 10-year-old, Waititi counters more than half of the criticism against Jojo Rabbit's innate goofy tone. The excess and nonchalance falls in line with exactly how a child would internalise both desire and tragedy. That also helps explain the lack of any real brutality in the atmosphere (Waititi depicts the Nazis as a little too bumbling) and the underdeveloped origins of the film's rendition of good vs evil. As a result, the biggest argument against Jojo Rabbit can be that it merely makes one uncomfortable as opposed to its reflection of the human capability of perverseness, causing any genuine discomfort.
But despite its occasional emotional stuntedness, Jojo Rabbit does hit some right notes about the weaponisation of prejudice and hate that is nauseatingly chilling because of how recognisable it is even today. Its grimness is at times, elevated by the in-your-face humour. Take for instance, the fact that the irreverence of Jojo Rabbit's universe can be read as a metaphor for the power of extremism itself: how it can force well-meaning adults to freakishly behave like gullible kids unable to grasp the true intentions of a dictator, blindly subscribing to a herd mentality in search for a semblance of belonging.
In fact, Jojo Rabbit's charm lies in the fact that it doesn't seek to be a condemnation of tyrants as much as remind how easy it is sometimes to forget just how insidious the ideologies of tyranny can continue to be. Across generations and continents, the setting and the players may change, but the modus operandi of a system that enables preying on the young and weak continue to remain unchanged. It's an uproariously entertaining and timely call to action that gets very close to being a moving piece of cinema, such as the closing sequence that reimagines freedom as an ingenious dance duet.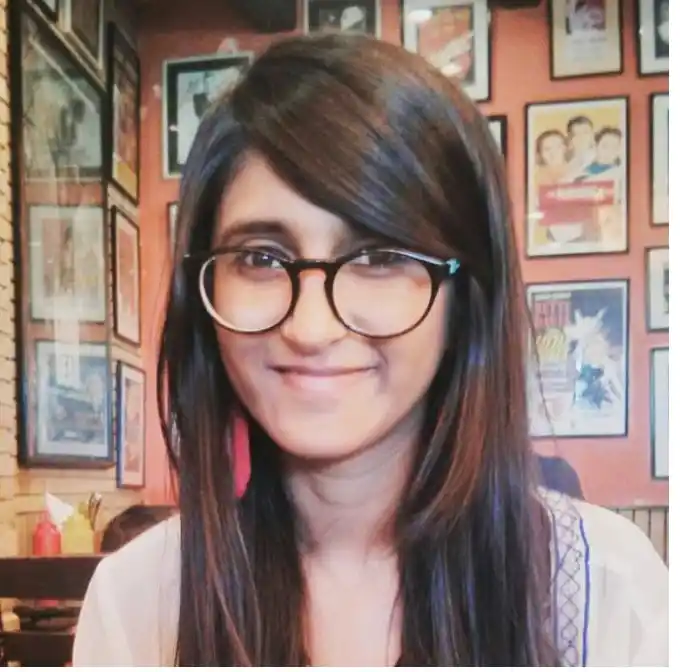 When not obsessing over TV shows, planning unaffordable vacations, or stuffing her face with french fries, Poulomi likes believing that some day her sense of humour will be darker than her under-eye circles.