Mansoor Khan's second cinematic outing is not just a film. Jo Jeeta Wohi Sikandar is a lesson in filmmaking. In many ways, it is a lesson in life.
1992 was a great year in the history of Indian cinema. The chart-busting "O Krishna You are the Greatest Musician of the World" from Meera Ka Mohan came into our lives, as did Amrish Puri playing a trumpet, sitar, and drums in "Shom Shom Shamo Sha", from Anil Sharma's Tehelka. Govinda and David Dhawan found each other with Shola aur Shabnam and Madhuri Dixit found her tits with "Dhak Dhak Karne Laga" in Beta. For people with more discerning taste, Rahul Roy became a tiger in Junoon and Salman Khan wore a golden-coloured wig to pirouette with his inner Thor in Suryavanshi.
1992 was also the year of Jo Jeeta Wohi Sikandar.
Mansoor Khan's second cinematic outing offered a straightforward story. Sanju is a happy-go-lucky boy, smoking cigarettes and bunking classes, leading a carefree life with his carefree friends in Dehradun. His father Ramlal is the sports teacher at the lowest-on-the-rung Model School. There is a clear class divide between the hill town's elite schools and their local counterparts – nowhere more apparent than the bicycle race on which the movie hinges. When Ratan, Sanju's elder brother, has a near-fatal accident while preparing for the inter-college race, it falls to Sanju to take over and defeat Shekhar Malhotra, the flashy champion from Rajput College. Sanju feels the combined agony of his father and brother, turns around, prepares for the race, and in the process, discovers himself. Jo Jeeta Wohi Sikandar. End of story.
But despite this basic storyline, Jo Jeeta… is the only movie to have survived the test of time from 1992. Today, more than two decades later, if you happen to watch anything made that year, you will be taken to a world that is distant, jagged, and often embarrassing. The stencilled heroes waltz between the plastic and the profane, flaunting a rather coarse machismo challenging Mr Richter. The heroines wear conical bras, their Saroj-Khan-nominated cleavages heaving extra hard to seduce them heartless heroes and their zipped muscles. The villains are odd, outlandish, and over-the-top, and perhaps the most entertaining architectural remains of the era gone by. The films speak a language that is totally different from anything around or about us at present.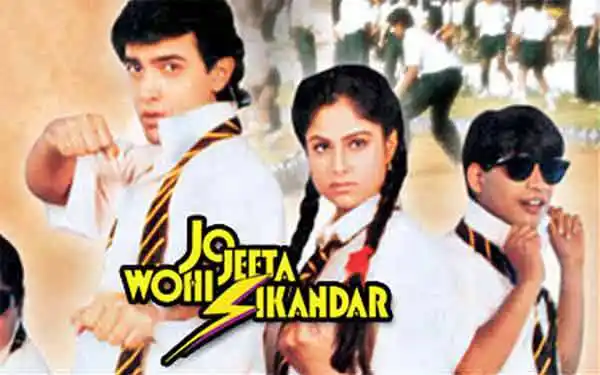 But not Jo Jeeta. Tag it with the "Smoking is Injurious to Health" warning, cut Deepak Tijori's hair short, ignore some of the fashion faux pas that are the vestiges of the horrible '80s, and hell, it'll pass off as the real deal even now. It remains as fresh and relevant today as it was quarter of a century back. The simple story, the key messaging and its aftereffects, the lovely everyday characters, the bonding and affiliations, the victories and defeats, the joys and sorrows, the aspirations and ambitions… all of it is universal and identifiable.
Your heart beats for Sanju because there is a little bit of him in all of us. Or there is a little bit of Sanju that all of us want to be.
In the multi-layered backdrop of teenage yearning and aspirations, of silent, unrequited and failed romances, of the angst stemming from class divides between the haves and have-nots, Khan recreates the world of Archie comics in an Indian avatar, sans any artificial pompoms and cheerleaders. Just a dash of Farah Khan and Jatin-Lalit freshness, and that's it.
Sanju is vain, selfish, and twisted. He exploits Anjali, his best friend, because he knows she is secretly in love with him. He takes Maqsood and Ghanshu, his close confidantes and partners in crime, for granted while playing their ring leader. He cons Devika into believing he is the son of the multi-millionaire Thapar. He actually instigates a fight at his father's cafe and gets it totalled. Sanju is everything a hero should not be.
But there is something about Sanju that only heroes can be. He is a non-conformist. The defiant cry of "Jo sab karte hain yaaron woh kyon hum tum karein" is inspiring if you don't subscribe to the thought, and comforting if you do. Your heart beats for Sanju because there is a little bit of him in all of us. Or there is a little bit of Sanju that all of us want to be. Precisely why you feel sorry for him when he gets exposed in front of Devika. Or when Thapar yells at him in front of all of his guests. Or when Ramlal throws him out of the house.
Ramlal is a strict father. He is also guilty of playing favourites. Which explains Sanju's continued insubordination and insolence. The father is the system, the man. Sanju is the rebel, while Ratan follows the norm. To such an extent that when Sanju leads the pack in the "Sheher Ki Pariyon Ke" song, the elder brother plays second fiddle. The love between the siblings is not cardboard, melodramatic, or overtly emotional. And yet, when Ratan is admitted to the hospital, "Rooth Ke Humse Kabhi" tugs at your heartstrings and tears the ventricles out.
The rich-poor divide and the continuous hostility toward the poor – the pajama chhaps – is a recurring theme in the film. Khan chooses a rather interesting cinematic device to reveal Sanju's poverty to Devika. A dance sequence featuring a Chaplinesque Sanju, complete with tattered clothes. But you see the light at the end of the tunnel when you hear the Model School team mouthing the lines, "Yeh mana abhi hain khaali haath, na honge sada yahi din raat, kabhi to banegi apni baat, arre yaaron, mere pyaron." It is almost poetic, Devika's changing expressions while Sanju lives up his penury!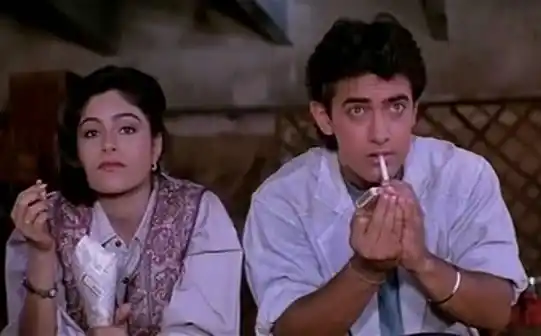 Jo Jeeta… appeared at a time when the reforms that would result in opening up our economy had just been initiated. We were still reeling from the garishness of the '80s, but the theme of class inequality that populated the films of the '70s still endured. Jo Jeeta… was perhaps the first film that brought home class inequality the way many of us actually experienced it. Not the way Amitabh Bachchan did, raging against the machine and the system. You weren't fighting for scraps on the streets or refusing to pick coins off the road, but you did feel a twinge of jealousy when you saw someone in a nice car you couldn't own.
Jo Jeeta Wohi Sikandar is not just a film. It is a lesson in filmmaking. It is a lesson in character-building. It is a lesson in constructing narratives. It tells us not to take shortcuts. It teaches us the values of hard work. It inspires us to take risks, not follow the norm, be ourselves, and be happy. Jo Jeeta Wohi Sikandar is, in many ways, a lesson in life.
Thank you, Mansoor Khan.
POST-SCRIPT: 1992 was also the year a numerically sound Ajay Devgan checked on the audiences' Jigar, Sunil Shetty made his debut in Balwan, Akshay Kumar started playing the Khiladi, and Sanjay Dutt figured the joys of dry-humping the wet sari in Yalgaar.

Vaibhav Vishal is a writer based in Mumbai. He tweets as @ofnosurnamefame and can be found on www.ofnosurnamefame.com when nobody is watching.