Dear Janhvi Kapoor and Ishaan Khattar, this is the first day of the rest of your famous lives. Here's how it unfolds.
Welcome to Bollywood, Janhvi and Ishaan. This is the day 99 per cent of India only dreams of, and you get, thanks to your Fairy Godfather. Had it not been for him you would have spent many years sitting in a cramped apartment somewhere between Andheri and Jogeshwari, sharing a mattress with five other strugglers while striving to make regular appearances at the neighbourhood CCD and Gold's Gym, before you got here.
But you took the fast train, thanks to KJo. The good news is that you're on this cramped bogey — the bad news is that until you have proven yourself (sadly K Jo can't help here), you will have to settle for being lumped together with Boney ka Launda and Shuturmurg, the last "ek ke saath ek free" offer that we still  haven't recovered from.
Ishaan, your breakout moment is going to come when you star in the 2023 remake of Dil Maange More in place of Shahid Kapoor, because even fictional characters need to have real blood ties to the industry. At this point in your career, you will shift from playing goody-two-shoes chocolate boys trained in dancing by Shiamak Davar, to grim anti-heroes trained in brooding by Vishal Bhardwaj. Just like Shahid bhaiyya. A couple of tabloid-fodder relationships with upcoming starlets later, you're going to win a National Award, because that's how we deal with actors who've overstayed their welcome but aren't getting the hint. Just ask Saif.
Fame is fleeting, you wide-eyed ingénues, and one day, both of you will wake up and realise that the poster of Dhadak released over 30 years ago
Janhvi, your story is going to play out slightly differently. Of course, your last name ensures that you will outlive the five-year expiry date that other Bollywood heroines get stuck with. Like Alia Bhatt, and Kareena Kapoor before you, you can play as many Poos and Shanayas as you want to before getting your Veera from Highway moment. After which, you will be taken seriously as an actor, and will be able to take liberties no other showbiz women your age would, like getting married if you feel like it. Even if motherhood keeps you out of the spotlight on screen, you can rest easy in the knowledge that entertainment bloggers will keep an eye on your maternity wear and airport attire with more diligence than anyone did on your career.
But fame is fleeting, you wide-eyed ingénues, and one day, both of you will wake up and realise that the poster of Dhadak released over 30 years ago. You will reminisce over the hysteria it caused for absolutely no reason. By this point, you will probably have children of your own, who are beginning to remind you of your youthful selves on the Dhadak poster. All the years of parties at Mannat and Galaxy, film premieres at Inox and PVR, endorsement deals and hand-out Filmfare Awards will come rushing back to you as you remember the poster that started it all.
Thirty years from now, a phone will ring at the offices of Dharma Productions. Yash Johar II will answer the call with a cat on his lap and his father's oil painting on the wall. "Oh Janhvi babe! Hello! Your daughter is finishing school next year? Of course we have a script… no, no, we can dump that theatre actress no problem. Have her on set by 5 pm tomorrow! Toodly hoo!"
Because once upon a time someone wisely said, "Nepotism rocks."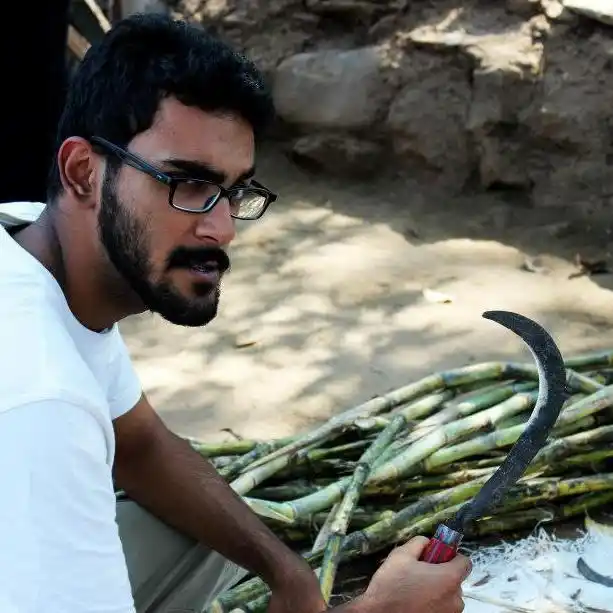 Dushyant Shekhawat really likes his mustache. He grew it himself. You can find him on Twitter at @SeriousDushyant.