A short decade ago, Himesh Reshammiya was performing sold out shows at Wembley and singing almost every second Bollywood chartbuster. Today, as the man — nay legend — celebrates his 46th birthday, it's worth asking, "Where the hell did Himesh Reshammiya go?"
"I love you,
O Sayoni.
Koi Shak, What's Up?" 
— Himesh Reshamiya, circa 2006 
About 15 years ago, a new and improved nightingale was making its voice heard across the country. This bird wasn't just melting hearts with its catchy "lyrics" and flowery plumage, but also boasted of a Fashion Street cap collection that would put boys on Anjuna beach to shame. Boasting of a unique ability to sing exclusively from its nose, this Harbinger of Spring, lit up both nightclubs and Ganpati celebrations with its strong vocalising. It didn't matter if we were asleep, at a vipassana session, or on our deathbed — just one mention of the words "Naam Hai Tera" was enough to bring us to our feet and sing on loop for the next few days.
In the late naughties, you would have heard this fabled voice if you ever turned on the TV, travelled by rickshaw, or stood close enough to the nightingale's Lokhandwala nest. While the rest of the country tuned into Shashi Tharoor's demand for colonial reparations, our star singer was setting the stage for modern-day colonisation, by selling out at Wembley stadium, a feat not many European football clubs are capable of. Years before Bollywood realised Deepika Padukone's talents, she had already made her debut in one of the vocalist's music videos. Such was the power of Himesh Reshammiya — he had a voice that travelled continents before settling firmly back in our ears, sometimes for three to four days at a time.
Reshammiya never really boasted of the best looks, especially when pitted against the other Bollywood actors he would sing for, like Harman Baweja or Upen Patel or Emran Hashmi. He never did look like he visited the gym, and didn't bother following the hairstyle code for men at the time. Still, he rose above the chaff, cementing his place as the most unlikely actor of his time.
So it was as sudden as it was depressing when Himesh Reshammiya simply disappeared from the public eye altogether. Going by a cursory view of MTV's greatest hits between 2003 and 2010, it seemed almost impossible that he would ever leave us. In fact, he was well on his way to cementing a place in India's Rock and Roll Hall of Fame. Instead, Himeshbhai went missing, robbing the country of countless more hours of driving neighbours up the wall with our suroors. What happened to this great artiste? Did he travel to another planet and set up a singing school? Did he finally realise caps were seriously uncool? Today, as the man — nay legend — celebrates his 46th birthday, it's worth asking, "Where the hell did Himesh Reshammiya go?"    
An outrageous claim, considering his Filmfare worthy performance in I Hate Luv Stories!
The last time Reshammiya made as many headlines as Nickyanka, was during the release of Karzzzzzzz (give or take a few "zs"), a film that was, rather unfairly rated 2.1 on IMDB. No one was entirely sure what the movie was actually about, but that didn't stop hordes of fans lining up with fake wigs and gaudy red caps for the premiere, whistling every time the star appeared on screen. There was something about the sounds that came from his nose that united us like no other singer could. 
Sadly, just a decade later, when he got his next big break in Tera Surroor (a movie about no one owning any shirts, apparently), his time in the spotlight was done.
Which isn't to say the man hasn't done his bit for publicity. In 2011, the beginning of Reshammiya's dark ages, he picked a fight with none other than superstar Salman Khan on the sets of a popular reality TV show. Years earlier this would have been front-page entertainment news. Even Viviek Oberoi wouldn't be able to predict how this would affect his career. But it didn't get to many tongues wagging. But Reshammiya is not the one to give up. To this day, he posts images of Salman Khan with the caption "love you bhai", in between images of himself looking pretty fly. Looks like someone's trying to make a comeback… 
In fact, he did actually make some kind of comeback in 2014 in a film with another nightingale, Honey Singh, called The Xposé. Months before the release, the singer made a surprising confession, claiming in an interview that he had failed as an actor because he just wasn't devoted enough to the craft. An outrageous claim, considering his Filmfare worthy performance in I Hate Luv Stories! Anyway, the singer assured his fans that The Xpose would bring his career back on track. Alas, we all know how well that worked out… Badly, in case you weren't sure.
By 2016, it seemed like the sun finally set on the Himesh Empire. He had resorted to posting pictures of him holding eggs on Instagram, and even decided to get spiky hair in a bid to stay relevant. I mean if this was 1999, social media would be all over that. Considering the entertainment journalists of today leak everytime they see Tiger Shroff wearing blue pants with a blue shirt, it's not like they're running out of things to cover. But the sad truth was, Reshammiya had gone out of fashion, and no number of selfies of him working out in the gym would hurl him back into the limelight. 
Himeshbhai also has a new movie coming out this year Happy Hardy Heer, and a couple more in the pipeline for the future.
The death knell was sounded the day he left his wife of 22 years to marry a TV actress named Sonia Kapoor… and literally not a single fuck was given anywhere in the world. We're talking about the same media that waited for a sneaky drone shot of Deepika Padukone and Ranveer Singh's wedding just so they could see what colour her their juti was. The fact that "a scandal" of this nature couldn't make the former icon trend, was final proof that Reshammiya wouldn't make the front page of Bombay Times again. 
Still it's not all bad news for the former star, though. As he continues his role as a judge on the hit singing show Sa Re Ga Ma Pa, Aap Ka Surroor went on to officially become India's highest selling non-Bollywood album of all time — it sold just 10 million copies fewer than Michael Jackson's Thriller. Himeshbhai also has a new movie coming out this year Happy Hardy Heer, and a couple more in the pipeline for the future. Maybe it's time for a Himesh Reshammiya comeback. I for one, know that I'll be there on the first day, cheering as hard as I did back in 2006. As they say, distance makes the heart grow fonder.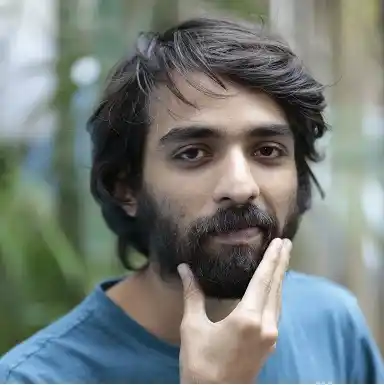 Sagar has lived in Mumbai for most of his life. You can often find him complaining about potholes and local trains when he isn't out having a mediocre time.