Fantastic Beasts And Where to Find Them is an exercise in how art and advertising screw with emotions, and an example of how we fall for it every time.
 A
s we were about to end our long session in 1920s New York brought to us by JK Rowling with people lining up outside a bakery, my eight-year-old cousin leaned in and whispered, "Are these people also lining up in front of an ATM?" He seemed bored, I was too.
I don't think anyone expected Fantastic Beasts and Where to Find Them to be a great film. It is, after all, helmed by the missionary position of filmmaking, David Yates, but the rather unsubtle attempts to recreate Harry Potter and the overt attempt at playing with nostalgia, was a surprise. From the outset, the foundational text of the protagonist, Newt Scamander, is similar to that of Harry's: jittery, self-aware, underconfident in conventional social situations. In a Hollywood world where IP is everything, this film is more legacy-quel than a prequel, more fan servicey and box-office oriented than the previous Potter films.
Movies these days are expected to be engines of economic and cultural currency and have to drive expanded universes, merchandise, memes, etc. They're expected to resonate in all these different ways in our lives and our cultures and that's the bet Rowling makes with the first Fantastic Beasts film. It's not a great film, it's not supposed to be. It's meant to divulge just enough for you to come watch the next four. Welcome to the world of film-baiting, Warner Brother Style. (Side note: Warner Brothers lost the Harry Potter series and Christopher Nolan's Batman movies in 2012 and is trying to revive both brands.)
Milking an invaluable IP like Harry Potter, is an art, and Rowling, who has tried to use the Potterverse to print more money (Look up Pottermore, Harry Potter and The Cursed Child), uses Fantastic Beasts to set up the four upcoming (Welp!) films in the series, by name-dropping the premier Potter characters on the intriguing scale every 20 minutes – a slight mention of Dumbledore here, Newt's apparent relationship with a Leda Lestrange who could be Bellatrix's mother, the moment where Newt says, "I want the quiet life for me", and more. Rowling, once again, unabashedly proves that she knows the way to her fans heartstrings better than anyone.
Her fans, mostly born between 1985 to 1995, people who breathed Potter, are reaching that mid-20s to early-30s phase where the desire to go back becomes irresistible. They remember, like I do, a simpler time when the concept of happiness entailed standing outside a book store in Connaught Place early morning to get my copy, run back home, and binge read it that day so no one at school spoils it.
Whatever her intention may be, it kind of works in a twisted, guilty pleasure way.
Of nostalgia, Milan Kundera once said, "The Greek word for 'return' is nostos. Algos means 'suffering'. So nostalgia is the suffering caused by an unappeased yearning to return." And make no mistake, Fantastic Beasts is suffering.
But still I watched the film. Because I'm not ready to let go. When the Potter books finished with Deathly Hallows, Harry Potter's story ended but not everyone else's. Heck we didn't even get their beginnings. I remember talking to countless fellow Potterheads about narrative restrictions because of the story revolving around Harry and how that left many unexplored stories in that universe, and how we weren't ready to leave it behind.
Albus Dumbledore's rise and his relationship with Grindelwald, Grindelwald himself who was essentially Voldemort before Voldemort, the full curve of the rise of the dark side, the Sacred Twenty-Eight, the makings of Bellatrix, Severus Snape after he finished school and joined the Death Eaters, how on a basic level the wizarding community functioned before Voldemort broke it into two, and everything about Dobby, Nymphadora Tonks, and countless others, in addition to the politics of adulting in the wizarding world, left everything to the imagination.
Rowling gets this, hence the continuous efforts to monetise and get back. Perhaps, she herself isn't ready to let go. Whatever her intention may be, it kind of works in a twisted, guilty pleasure way. Her Potter books changed language and the way a generation made references for a decade; Fantastic Beasts intends to do just that, as we move into a different part of our lives. The characters are older, the problems are samefferent and muggles are no-majs.
Is the movie good? No, but it does enough to put you in that space again, to take you back when you were restless and easily excitable and checked out clouds and threw things just to see them fall down. Fantastic Beasts And Where to Find Them is an exercise in how art and advertising screw with emotions, and an example of how we fall for it every time.
And, as much I hate admitting it, I think I'm going to rise to the bait again. Unless, of course, I'm obliviated.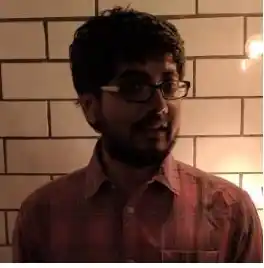 Lover of baby animals, Arsene Wenger, Damien Rice, Peggy Olsen and overly long podcasts. Tweets at @parthsarora.
Confused about most stuff. Writes things.