Rohit Shetty's Diwali offering, Golmaal Again, described as a horror comedy, is neither scary nor any kind of funny. But it does represent the worst of Bollywood. It's time the franchise got an instant funeral.
Thanks to the Supreme Court cracker ban, we may not have had the pleasure of watching bikes and cars go up in flames this year. But, Rohit Shetty came to our rescue and helpfully destroyed approximately 17,000 cars on screen in his latest offering Golmaal Again, giving us reason to cheer this lacklustre Diwali.
But Golmaal Again is not just about large-scale car destruction. It is more that that, according to lead actor Ajay Devgn. Days before the release of the fourth installment of the franchise, the man went around town giving interviews mocking the "intelligent crowd" who dismiss the Golmaal series as "brainless comedy" when it's not. According to Devgn, these are the very people who have not just watched, but also enjoyed the films. He called them his "closet audience".  This fictitious "closet audience" sounds a lot like the "imaginary friends" some kids insist they have. But when it comes to children or Ajay, it's safer to indulge the delusion.    
And delusional he is. According to Devgn, "Golmaal Again is a horror comedy which is not scaring you, but it is really funny." As someone who endured the painfully terrible 151 minutes of Golmaal Again, I can attest to the fact that neither of the two statements have an iota of truth. Golmaal Again is far from a horror comedy, and it is not any kind of funny. The only time the film makes you feel absolute horror is when the almost 50-year-old Devgn goes to sleep every night only on Shreyas Talpade's lap after his face is lovingly caressed, and a childish lori is sung to him. It is a truly horrific sight, no less than the one where Devgn attempts to make his body match steps to a re-engineered version of Ishq's "Neend Churayi Meri" with Parineeti Chopra. On the other hand, the funniest part of the film is its interval.
Essentially, Golmaal Again is an origin story of Gopal, Lucky, Madhav, and the two Laxmans; a story that we neither needed nor wanted, but one that is gifted to us anyway. The film is a direct repercussion of stretching an already unfunny joke for far too long. Golmaal Again starts off in typical Rohit Shetty fashion, who, after contributing to the downfall of Shah Rukh Khan, is back to his full-time occupation of giving some semblance of a career to four out-of-work grown men (Shreyas Talpade, Kunal Khemu, Tusshar Kapoor, Arshad Warsi) by making them behave like juvenile delinquents.
Essentially, Golmaal Again is an origin story of Gopal, Lucky, Madhav, and the two Laxmans; a story that we neither needed nor wanted, but one that is gifted to us anyway.
Naturally, the opening sequence features a host of cars in every colour imaginable, Ajay Devgn replicating his famous pose by straddling two cars, and a title song that has the cast miming the number "four" with their hands. It's a telling shot of just how much intellect Rohit Shetty assumes his audience is likely to possess. The film offers nothing new than its previous counterparts; Ajay Devgn is still awful, and his fetish of cracking any finger that is pointed at him continues, as does Tusshar Kapoor, and Shreyas Talpade's frighteningly insensitive portrayal of stammering and mute people. Arshad Warsi is still an afterthought, and Kunal Khemu goes "Woah" at everything, as if a reaction to his surprise at finding out that he is still offered roles.
In trademark Shetty fashion, the gags also remain pedestrian. They either come from Sanjay Mishra misspelling peace as "piss", Tusshar Kapoor lighting Kunal Khemu's ass on fire, Shreyas Talpade and Tusshar Kapoor dressing up in Ku Klux Klan costumes, or Ajay Devgn electrocuting Shreyas Talpade and Tusshar Kapoor. The newer additions — Tabu (with a constant frown on her face, clearly regretting her decision to be in the film), and Parineeti Chopra — have hardly anything to do except stretch the film for two hours when it could have been done with in less than an hour.
Over the years, the Golmaal series has cultivated a reputation of spoiling a lot of things, but with Golmaal Again, the list gets considerably extended. As of now, besides destroying the comedy genre, the fourth installment has also triumphantly ruined the memory of Tabu, the nostalgia of the peppy "Neend Churayi Meri", all respect for Prakash Raj (his reasons for returning the National Award could include acting in this film), the tranquility of Coonoor (where the film is set), any hope left for Parineeti Chopra's career, and the sanctity of Diwali. But most importantly, this dreaded franchise has made it acceptable for filmmakers to reduce comedy to multi-starrers that ride on absolute buffoonery like eliciting laughs out of a character being stuck inside a washing machine.
In fact, it is the unprecedented box-office success of the Golmaal franchise that has also kickstarted a cottage industry of infuriatingly mediocre comedy ensembles like Housefull, Humshakals, Kya Kool Hain Hum, Maastizaade, and Grand Masti. All of these film take refuge in crass jokes, pride in their lack of logic, and as a result, their ability to be "an out-and-out entertainer". These comedy multi-starrers constitute the worst of Bollywood, and the fact that they manage to rake in the money despite their shoddy filmmaking is testimony to how incredibly low our standards and expectations of Bollywood comedy has fallen.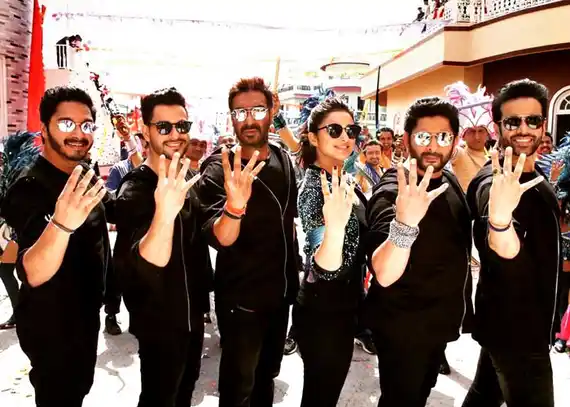 The film opens with the title song that has the cast miming the number "four" with their hands. It's a telling shot of just how much intellect Rohit Shetty assumes his audience is likely to possess

Rohit Shetty Productions/Mangal Murti Films
It's now been over 10 years since the first (half-funny) Golmaal came out. From there on, the sequels Golmaal Returns (2008), Golmaal 3 (2010), and Golmaal Again, have each sincerely contributed to chipping away at the collective intellect of an audience. There can be no better proof than the tasteless sequence in Golmaal 3, where step-brothers play a game of gesturing what they would shove into the other's bum, sitting across from each other. This unfunny gag goes on a for a good few minutes, and comprises fruits, plants, and lamps in the list. Not a word is uttered, with the two actors expressing how painful it would feel to be sodomised with these objects. It was as insensitive as possible and yet I remember the theatre collectively bursting out in laughter, heralding it as the "funniest scene" of the film. The fact that we are conditioned to be satisfied with "comic scenes" like these says a lot about why the Golmaal franchise needs an instant funeral.
One could argue that the long shelf life of the Golmaal series is a classic case of "We accept the films we deserve", but if in the next 10 years there continues to be more offsprings of this franchise, it'll be the manipulation move of the century. In Golmaal Again, Tabu keeps on repeating one line that sounds like it's come straight from Rohit Shetty's brain: "Jab God ki marzi hoti hai, tab cheezon mein logic nahi, magic hoti hai." It's a line that might sum up the reason behind Golmaal's popularity. But as reality that we're forced to endure every other Diwali, it is just plain tragic.

When not obsessing over TV shows, planning unaffordable vacations, or stuffing her face with french fries, Poulomi likes believing that some day her sense of humour will be darker than her under-eye circles.