Unlike the bleep-worthy, angst-ridden music icons of the millennial, Ed Sheeran's music is disarming and wholesome. It's why his charm transcends the teeny-bopper demographic.
My name is Priya, I'm 40 plus and I've been a Sheerio for two years and three months.
What? It's not a crime to fancy the same bloke your teenage daughter does, especially when it's not some ripped, testosterone-dripping, expletive-dropping, spiky-haired pretty face (no offence, Teddy, you have a pretty heart). Also, what's not to like? The kid sings with his heart on his sleeve, his lyrics are totally comprehensible, the emotion is raw (in a good way), his voice is fabulous, and his personality is so refreshingly tousled and just-rolled-out-of-bed honest. And FYI, I have company. Lots of it. The mommies at the Divide concert were pretty upfront about grooving to the shape of Sheeran. The alpha daddies pretended to wear pained expressions at having to escort their minors, but their hips gave them away. Hips don't lie, remember pops?
GQ's worst-dressed man strolled on to the Jio stage at 8 pm sharp, in a Divide signature blue kurta and jeans, and unleashed all the faves, sans theatrics. No trampled toes by aggressive dudes showcasing their moves, this concert was a massive sing-along. The young couple next to me had a few strained moments during "Perfect", with the boy struggling to film Sheeran without breaking the embrace with his beloved during "their" song. What you gonna' do, love's a giant compromise. And who knows that better than Sheeran.
So here's what makes yours truly and many from my… ahem, advanced demographic, happy Sheerios. I mean, how can you not like a guy who refused to play "my sword is bigger than yours" in Game of Thrones and chose instead, to slay with Celtic folk ditties. (Calm down, I said ditties, you pervs!) A guy who loves to hang out with Lloyd, Felix, Cyril, Keith, Nigel, and James the Second, i.e. his motley collection of christened guitars. Ed edited all expletives out of his lyrics at a cab driver's request, because said cabbie's daughter was a Sheerio. His cat has a massive Twitter following (@GrahamShizza) and his first single "Sing", a zippy R&B track, was picked by the legendary Elton John. Eric Clapton and Van Morrison are ardent fans.
Unlike the reigning music icons of the millennial, Ed Sheeran's just being himself, the guy next door, and doing the only thing he's good at.
You see? This is a guy who spends his 25th birthday looking up at the Northern lights, not throwing up in Snoop Dogg's blingy toilet. He's ditched his iPhone and is a hardcore believer in digital cleanses. He shares a bro-tattoo with Harry Styles. No, it's not a B-minor or an aborigine God, it's Pingu the penguin. Grown up on Tolkien, writing a song for The Hobbit: The Desolation of Smaug, was Ed's fantasy come alive. Ok, to celebrate, he did strap himself to a WW2 plane owned by the director Peter Jackson, and go airborne, but hey, we all have our thrill fixes, don't we? Yep, the spicy in him is alive and well, and Nando's vouches for it with its "Ed's special Peri-Peri Sauce".
Unlike the reigning bleep-worthy, angst-ridden, tripping-on-substance music icons of the millennial, Sheeran's not battling disorders and depression, or hogging social media with edgy statements about his angst or genius. He's just being himself, the guy next door, and doing the only thing he's good at. "I've never been good at anything before," he confessed to The Big Issue in 2015. "Never won at sports or any academic awards. This is the only thing in my life that I can win at. Unless Adele's about, obviously!"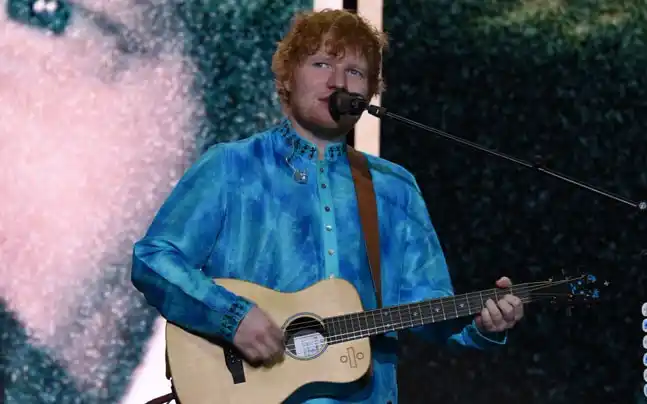 Ed Sheeran's voice is fabulous and his personality is so refreshingly tousled and just-rolled-out-of-bed honest.
Disarming, much? This utter lack of guile is what shines through in all his songs, whether they're penned for Robbie Williams, Diplo, or One Direction. Unlike the others, he's genre-agnostic in his sound, equally easy with R&B as he is with electronica, rap, pop, folk, or hip-hop. Which explains why a Tom Petty fan felt comfortable swaying next to a Belieber half her age or less, at the Sheeran gig. And why both look forward with the same enthusiasm to Minus, the next in his series of mathematically titled albums and a purely acoustic, stripped-back affair. (Minus the production aspect, get it?)
Speaking of which, getting home from this teddy bear's picnic was no teddy bear's picnic. The Uber app caved at 10 pm sharp under the weight of all the Sheerios. And thousands took to the streets of BKC singing, "I know I've grown, but I can't wait to go home…"

Priya Mirchandani is an independent writer and editor. She has a curious but incurable condition – her funny bone has outgrown the femur. Which means whether it's celebrity profiles, politics or just life situations she writes about, you could end up infected – with chuckles.