It's important to stay famous, but here are some things Dhinchak Pooja could've done instead of entering the Bigg Boss House.
Dhinchak Pooja dropped her fifth single "Aafreen Fathima bewafa hai" last weekend, and much to her surprise, it tanked miserably even in the cringe-pop genre. Before the rest of India could say the words "cringe pop is dead", Pooja shed her Dhinchak moniker and entered the Bigg Boss House.
It was a bad move.
The experience of a celebrity in the Bigg Boss House is so insular and the light so glaring, that there is no hiding. We can laugh at Dhinchak Pooja in a three-minute video, but what happens when we meet a girl who is as interesting as cardboard? You want to laugh but you can't. The "legend of cringe" turns out to be a less-than-ordinary girl with "lice in her hair" and zero self-awareness, which is difficult to hide under the 24X7 gaze of reality TV cameras. When we see her fighting for attention from nightdress wearer and marriage-breaker extraordinaire Arshi Khan, we can't help but wonder at ourselves because we created her.
Dhinchak Pooja, the legend of virality and the high priestess of the cringe-pop movement, should have spared herself this fate. Yes, it's important to "Stay Famous", but this one she could've easily sidestepped using other moves from the "Stay Famous" playbook.
Here are some things Dhinchak could've done instead of going to Bigg Boss.
1) Get political
The anti-Modi wave is just getting started, and no Hindi entertainment star has come out and given it public support. Dhinchak could get Mersal levels of hype with just one anti-Modi comment, perhaps a remix of "Selfie Maine Le Liya" to "Selfie Modi Ne Le Liya", which will send the think-piece industry into a tizzy with explanations of the profoundness of her lyrics, using words like "megalomania" in headlines. This would've surely flooded the internet.
Dhinchak Pooja's spiritual ancestor Rakhi Sawant came back from the dead last year with her celebrity swansong when she got major airtime for wearing a dress with PM Modi's face in very specific places. One off-handed comment and Dhinchak too could get on prime time TV shows, and perhaps even a retweet from the suddenly woke Rahul Gandhi.
We can laugh at Dhinchak Pooja in a three-minute video, but what happens when we meet a girl who is as interesting as cardboard?
2) Go on Koffee with Karan
Rakhi's decision to appear on Koffee with Karan at the absolute apex of her celebrity backfired massively. She turned out to be #tooreal for young India, talking in Hindi about casting couches and plastic surgeries. It was reported that an estimated eight crore mothers cupped their children's ears while watching the episode. But if Dhinchak were to come on the show and drop the same kind of fire as Rakhi, and perhaps talk about India's credibility in judging any ability after we made heroes out of Om Prakash and Anu Malik, she would be termed "authentic", a currency hotter than the dollar right now.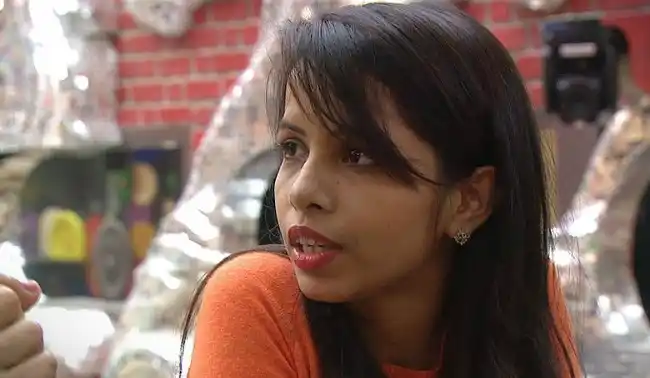 Dhinchak Pooja won't be eliminated from the Bigg Boss House anytime soon
Image Credit: Bigg Boss
3) Date a cricketer
This technique has never failed for any celebrity ever. From Kim Sharma to Anushka Sharma, dating Indian male cricketers keeps people in the headlines, expanding their brand exponentially. Sure, people might blame Dhinchak Pooja when India loses a game, "Ye aur Virat sirf selfie lete rehte hai," but this keeps her in the parcha, which means she will always be in charcha. But who will she date? Hardik Pandya immediately jumps off the page as a viable candidate. He dated little-known model Lisha Sharma before (WTF is up with Indian cricketers and Sharma girls?!), is a staple fixture in the team, and also a good-looking dude who definitely enjoys taking selfies. It's a match made in headline heaven.
4) Appear on MTV Shows
This is a more recent phenomenon, one with varying degrees of success. Esha Deol did a season of Roadies and it didn't up her fame, which is nearing a Fardeen Khan level of anonymity. The stint couldn't keep Neha Dhupia in the public's mind either, who seem to have forgotten that Roadies exited the industry of cool about five years ago. But the one MTV stint which works, is Splitsvilla. Sunny Leone might not have added to her fans, but she keeps the 18-25 male with 3G to burn in her back pocket. Dhinchak could've given adequate romantic advice on Splitsvilla as she has shown a keen understanding of the materialistic nature of modern love in the visual cues of her songs: Big cars, phones with good front-facing cameras, and social media.
Dhinchak Pooja is an inspiration, a leader, a living legend, and she won't be eliminated from the Bigg Boss House anytime soon. Her fans are already trolling her haters on Twitter, but her choice of entering the House is a disappointing one, especially for intellectualising the life cycle of hype, for it might turn out that from the precipice of world domination, her unruly descent has already begun.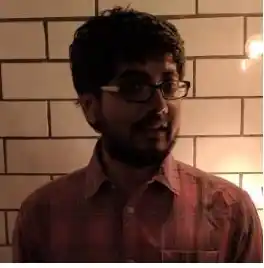 Lover of baby animals, Arsene Wenger, Damien Rice, Peggy Olsen and overly long podcasts. Tweets at @parthsarora.
Confused about most stuff. Writes things.