Welcome to Comment of the Week, where we psychoanalyse ourselves and try to understand what people are trying to tell us. Brought to you by Arré's resident psychoanalyst and therapist, Sigmund Fried.
Another week, another seven days of frothy action over in the Arré comments section. We've never been ones to shy away from a spot of good-natured mudslinging. But between Wednesday's controversial Sadhguru piece, which called out his pseudoscience, and our latest #HotTake where we schooled folks on the correct way of being a woke liberal, it's been more like a horror remake of the sludge pit from Dum Laga Ke Haisha. Still, they say, shit floats, and despite some seriously strong contenders this week, one comment rises above the mire. We've been truly #blessed to receive public recognition from a national treasure: Shri Vivek Agnihotri.
Mr Agnihotri took to Twitter to call out an article that looked askance at Kangana Ranaut's recent declaration of patriotism at a News18 conference. The author had pointed out that like many Bollywood celebrities on the promo circuit, Kangana's newfound nationalism just happens to coincide with her upcoming release of Manikarnika: The Queen of Jhansi. Kangana is also known for her outspoken feminist views, which couldn't have endeared her to the fire-starting wet blankets at the RSS. So how did she land up on the same side as those chaps?
Naturally, Agnihotri had a nuanced, thoughtful answer to the author's question that squares off with the rest of his Twitter feed.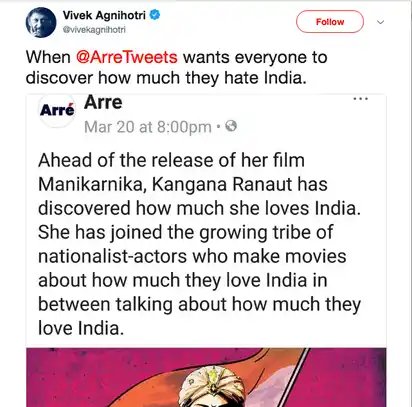 The real problem, Dr Agnihotri diagnosed, was that we at Arré nurture a deep and abiding hatred for our Bharat Mata. He wasn't the only commenter who took umbrage: Many others wondered why we'd hate on a beloved actor whom we've covered fondly in the past.
In an age where everything from miniskirts to momos is polarised between left and right, patriotic and anti-national, it's tempting to view the world as a war zone and shifting opinions as a sign of weakness. After praising Kangana time and again for both her work and her politics, she's become a part of "our" battalion, not someone we have the right to throw under the bus. Like Swarajya Mag and the BJP, "librandu" media and Kangana are supposed to be best buddies.
But letting your clique decide your worldview for you isn't the function of a media organisation, as much as it is a description of a cult.
There are a couple of things to unpack here. As a living, breathing media outfit, we don't have a Xenu to worship without question, or a Kangana Ranaut to staunchly defend, whether we agree with her or not. Coming off the heels of #MeToo, we've seen media outlets all over the world figuratively kill their darlings. Of course, Kangana is no Kevin Spacey, but her status as an Arré favourite doesn't make her, or anyone, untouchable.
Besides, criticism of an actor does not constitute hatred, either for her or for the entirety of India, just like your father doesn't hate you when you score 98 per cent and he asks where the other two per cent has gone. When the fourth pillar of democracy turns into a magnetic pole, all positive and negative with nothing in between, there's no space for give-and-take discussions that go beyond the binary.
Accusations like Mr Agnihotri's suggest that a media entity should be a glorified fan club, whose chief responsibility is to pick a side and stick to it. Sorry not sorry, Mr Agnihotri. We respectfully disagree. Now if you were trying to reach Republic TV, you've got the wrong number.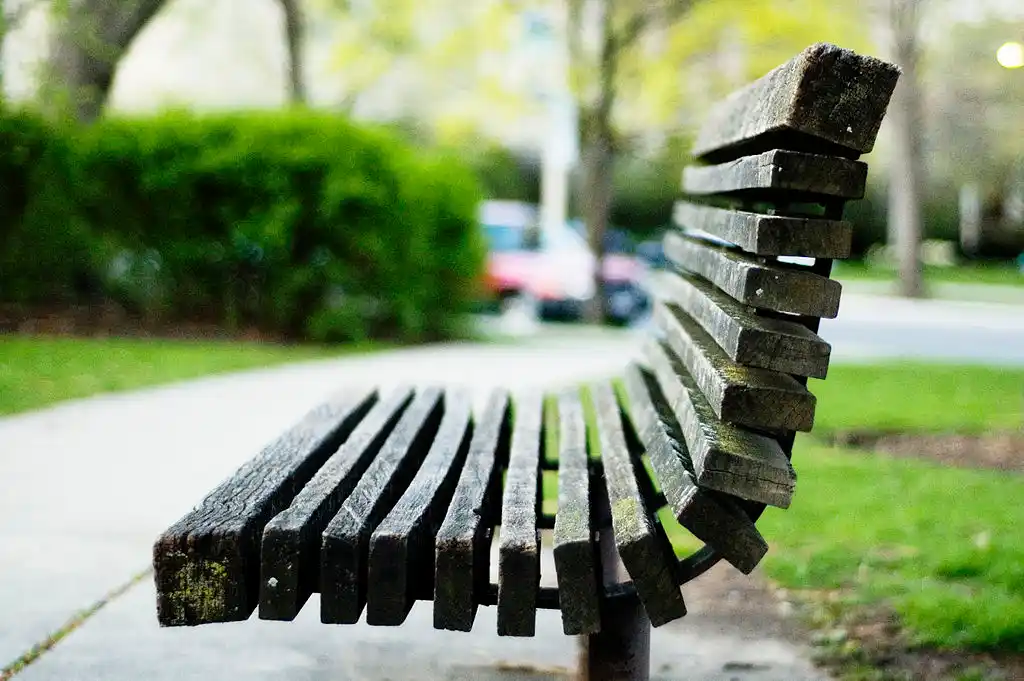 The Arré bench delivers stories that mattress. It hasn't achieved much sofar. But it's getting bedder.