Book Club – starring Acting Avengers Jane Fonda, Diane Keaton, Candice Bergen, and, Mary Steenburgen — puts the limelight on the sex lives of older women, normalising their desires and insecurities.
At first glance, Bill Holderman's Book Club feels like a crossover event that needs to be celebrated with as much fanfare as Avengers: Infinity War. After all, it's not everyday that you get to witness four female legends, the "Acting Avengers" — Jane Fonda, Diane Keaton, Candice Bergen, and Mary Steenburgen — unite in one film. That too for a funny, warm sex comedy about women over the age of 60.
Although, it might not seem like the most polished product, the Book Club's greatest achievement is that the film's charm is almost impossible to resist. Even when the premise of the film's plot sounds like a joke nervously delivered by a struggling stand-up comedian at a noisy open-mic. Imagine this: A group of friends have emotional and sexual reawakenings after reading the Fifty Shades of Grey trilogy in their book club.
As ridiculous as it sounds, the literal gimmickiness of milking Christian Grey as a reference for the romantic and sexual adventurousness of the film's elder protagonists is a clever touch. More so, because in an age of millennial romcoms, you'd be hard pressed to stumble upon a film that's essentially an update on Sex and the City, 20 years later.
The film paints the lives of its four complex leads with as much casual irreverence as thoughtful empathy.
Barring the odd Amour, The Best Exotic Marigold Hotel, Grandma, and, the recent Victoria and Abdul, it's rare to see older women headlining films on any side of the Atlantic. In a culture obsessed with youth, age is either used as a crutch for punchlines or inevitable eccentricities are caricaturised. Older protagonists are more or less incidental to film plots and afforded thankless roles with a screen time lesser than some props. In this scenario, Book Club is a corrective step. Not only does it feature older women, it makes their sex lives the film's focus, normalising their desires and insecurities (and in a highly enjoyable subversion, populates its universe with token young characters).
The film paints the lives of its four complex leads with as much casual irreverence as thoughtful empathy. Vivian (Fonda) plays the Samantha of the group; slutty, successful, unattached, but also emotionally handicapped. Carol (Steenburger) is wholesome yet paranoid about the lack of sex in her marriage. Then there's Sharon (Bergen) whose divorce has made her believe that sex is out of her reach, and finally Diane (Keaton) whose overbearing daughters have sounded the death knell on her desires since she became a widow. If the fact that these characters are played by women whose ages range from 65 to 82 isn't extraordinary enough, then there's also the fact that they get to romance younger men.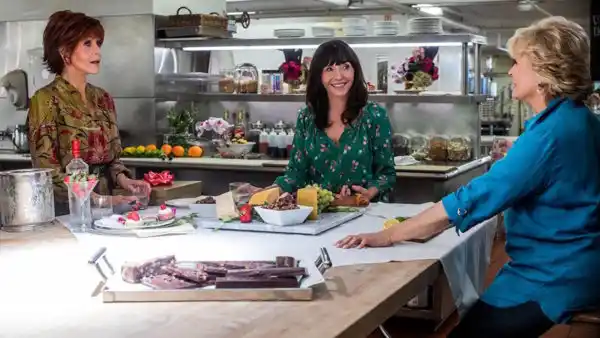 Image Credit: Paramount Pictures
But, what is undoubtedly the beating heart of Book Club is Jane Fonda's unlikeable yet vulnerable Vivian. As the multi-millionaire hotel owner and expert heartbreaker, Fonda has the most difficult task at hand: to ensure that her role isn't reduced to caricature. She is required to be overtly loud, without coming across as garish. And, Fonda's deft mastery over her craft ensures that she balances it with her emotional fragility. Even the tiniest reveals about Vivian take you by surprise – whether it is how naively she freaks out on realising that she has broken her one rule by falling asleep in the presence of a man, or, when she sulks in her bathrobe after her ego forces her to reject the love of her life, for the second time. But through it all, her Vivian is the face of those countless older women who are willing to let their old age define their sexual drive.
It's a stark contrast from what she essayed in her previous outing as Addie Moore in Ritesh Batra's Our Souls At Night. In the film, Fonda plays a widow, who, consumed by her loneliness, strikes up a platonic relationship with her next-door neighbour to sleep next to each other. It's ironic that if in one film, she was defined by her inability to sleep next to a man, in the other, she is craving the trained comfort of having a partner in bed. And, yet, both these roles have demanded something similar from her: Giving a voice to the various shades of old age.
Like Vivian, who rejects the idea that she doesn't deserve some good old sex, Addie rejects the notion that her husband's death will be the death of companionship in her life. In a way, that's precisely what Book Club attempts to do in the first place: make older women realise that the doors of expectations — be it in bed, or in their love lives — are always open.

When not obsessing over TV shows, planning unaffordable vacations, or stuffing her face with french fries, Poulomi likes believing that some day her sense of humour will be darker than her under-eye circles.